Orthopedic care
Orthopedic doctors, called orthopedists, take care of bones and joints. This includes knee pain, total joint replacement, issues that impact your spine and more. You might need to see an orthopedist if you have arthritis or osteoporosis, or if you've had a recent sprain, strain or broken bone.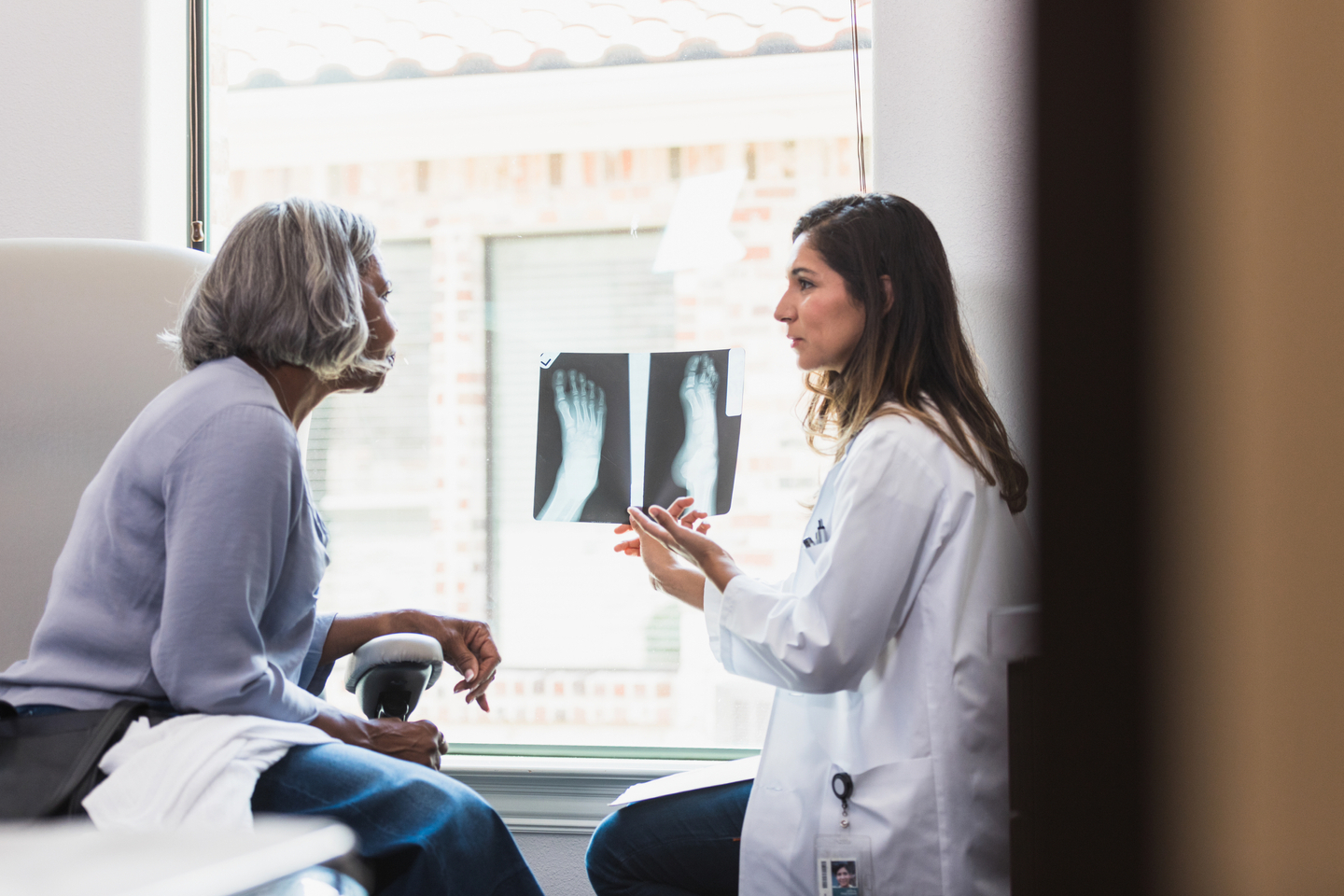 Orthopedic care in Miami-Dade County
Whether you have a broken bone or joint pain, our orthopedic team takes time to provide an accurate diagnosis and personalize a treatment plan just for you.
The Orthopedic and Spine Institute at HCA Florida Mercy Hospital offers comprehensive orthopedic and spine services. We provide inpatient and outpatient rehabilitation programs to help you recover from conditions and injuries affecting your bones, muscles, tendons, nerves and ligaments.
How are your joints?
Learn more about how your knee and hip health may be affecting your quality of life.
Learn more about how your knee and hip health may be affecting your quality of life.
Our orthopedic services
Our goal is to help reduce pain and regain mobility. We do this through surgical and nonsurgical treatment methods, depending on your needs. When surgery is necessary, our facility is equipped with private patient rooms, an inpatient rehabilitation gymnasium and other amenities that allow us to provide complete care in a relaxing environment.
Orthopedic care
We offer the following orthopedic treatments and services:
Arthritis diagnosis and treatment
Arthroscopic surgery of the knee, shoulder and hip
Complex reconstruction
Complete spine care
Fracture care
Joint reconstruction of the shoulder and knee
Orthopedic oncology, including bone and soft tissue cancer (sarcoma) treatment
Total and partial knee replacement surgery
Total hip replacement surgery (anterior and posterior approaches available)
Total shoulder replacement surgery
Specialized spine care
Our team of neurosurgeons and orthopedic spine surgeons specialize in treating back and neck disorders.
Some spine-related conditions we treat include:
Arthritis of the neck
Back pain
Back sprain
Back strain
Bulging disc
Degenerative disc disease
Herniated disc
Lumbago
Sciatica
Scoliosis
Spinal fracture
Spinal stenosis
Spinal tumor
Spondylolysis
Whiplash
Spine treatments we offer
Our multidisciplinary spine team consists of surgeons, pain physicians and nurses working together to provide a treatment plan tailored to your needs.
Surgeries and procedures we offer include:
Cervical spine surgery
Compression fracture treatment
Degenerative disc disease surgery
Degenerative joint disease surgery
Disc replacement
Lumbar spine surgery
Spinal fusion
Spinal stenosis treatment
Orthopedic and spine surgery classes
If you or a loved one is interested in orthopedic or spine surgery, we have a variety of educational classes about the surgical services we offer. We will talk about the warning signs and symptoms of disease and what to expect before and after surgery. Topics include:
Hip replacement
Joint care
Knee replacement
Shoulder replacement
Spine care
Orthopedic and spine patient navigator
Our orthopedic and spine patient navigator is a trained nurse who is there to walk alongside you throughout the surgical continuum of care. They will provide you and your family with case management and emotional and educational support.
Your patient navigator is available to answer preoperative surgery questions and update your family about your surgery progress. In addition, your patient navigator will be there for you after you are discharged from the hospital. They will follow up about future care and can answer any additional questions you may have.
Orthopedic rehabilitation services
We provide comprehensive orthopedic rehabilitation services in both inpatient and outpatient settings. Our physical therapists and rehabilitation specialists work as a team to help you regain function and independence while recovering from an orthopedic injury or condition.
Looking for a Location?
We also offer quality care at these other locations in our extended network.
The Healthy Living Blog
Fresh knowledge and insights in and around healthcare industry.