Physical therapy and rehabilitation
Rehabilitation refers to the process of helping a patient recover from a serious injury or illness. Patients often have to regain strength and learn new ways of completing normal, daily activities. Physical therapy, a branch of rehabilitation, focuses on building strength and mobility after disease, injury or surgery.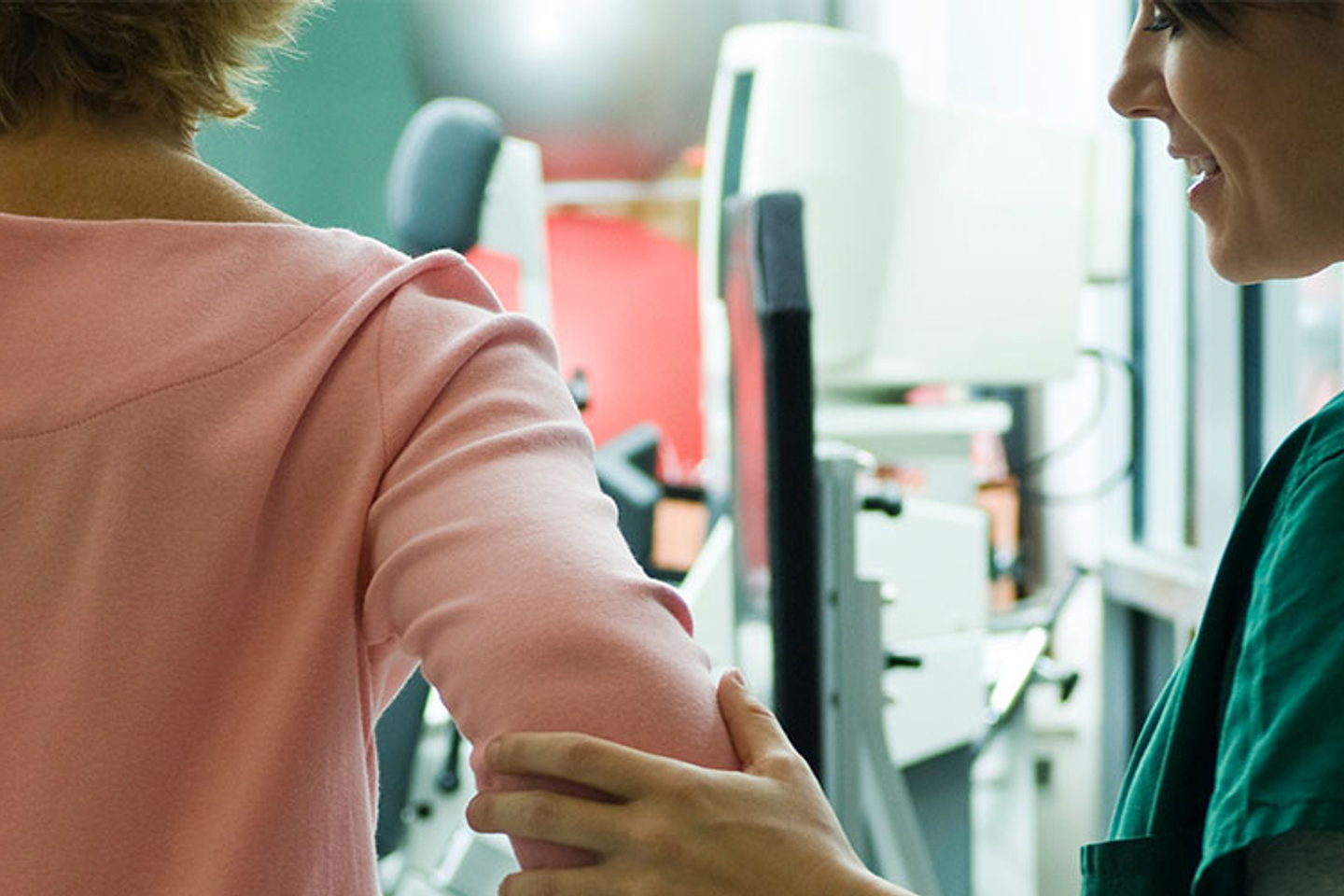 Rehabilitation centers in Miami
At HCA Florida Mercy Hospital, your recovery is in highly skilled hands.
Our team of dedicated rehabilitation therapists and physicians work together to develop tailored rehabilitation programs to meet your individual goals for healing. We offer both inpatient and outpatient treatments at two different rehabilitation centers. This allows us to customize a plan to support you throughout the recovery process.
Conditions helped by rehabilitation
Our goal is to improve quality of life by promoting function and independence while providing professional medical care. Through compassionate care and evidence-based practices, we help patients recover and return home safely after experiencing medical conditions such as:
Amputations
Arthritis, including rheumatoid arthritis
Brain injuries
Burns
Congenital deformities ("birth defects")
Lymphedema
Major multiple traumas
Neurological disorders, such as multiple sclerosis and Parkinson's disease
Orthopedic conditions, such as hip fractures and back injuries
Post-surgical recovery
Significant functional decline
Spinal cord injuries
Strokes
Traumatic brain injuries
Vestibular disorders
Our therapy and rehabilitation services
We offer inpatient and outpatient rehabilitation services to ensure you receive the type of care that's right for you. 
Inpatient rehabilitation center
Bay View Rehabilitation is certified by the Commission on Accreditation of Rehabilitation Facilities (CARF). Here, we provide a complete continuum of rehabilitation services and 24-hour medical management for patients requiring intense inpatient rehabilitation. Our program uses the expertise of a diverse team of specialists to evaluate the patient's medical needs and determine the best course of treatment to return them home as quickly and safely as possible.
For more information on our inpatient rehabilitation center, call (305) 285-2775.
Features of inpatient rehabilitation
We offer the latest in inpatient rehabilitation technologies, allowing our specialists to work with patients to improve balance, coordination, mobility and transfers. We have a gym with different areas that have been specially designed to simulate activities of daily living (ADL), including a bedroom and bathroom where therapists can set up a mock home environment.
We also have an ADL training park where patients can practice new skills meant to be used outside the home while maintaining therapeutic safety and experiencing a pleasant change of environment.
Outpatient rehabilitation center
At the Kohly Center for Outpatient Rehabilitation, our goal is to help patients overcome their disabilities, regain their independence and lead healthy and fulfilling lives, while functioning at the highest level possible. Our specialized team treats adults of all ages with a wide range of rehabilitation needs. The center employs a unique interdisciplinary approach to rehabilitation services, blending the expertise of many highly skilled professionals to achieve maximum results.
For more information about our outpatient rehabilitation center, call (305) 285-2966.
Features of outpatient rehabilitation
The following are some of the services offered through our outpatient rehabilitation program:
Lymphedema treatment
Occupational therapy
Orthotics/prosthetics
Physical therapy
Social services
Speech-language pathology
Strength and conditioning
Stroke therapy
Vestibular therapy
Vocal intensity therapy
Multidisciplinary rehabilitative care
Our team approach to care plays a key role in helping our patients rehabilitate successfully.
Our therapy and rehabilitation team
Our multidisciplinary team works together to address your physical, cognitive and emotional needs. Family and caregiver involvement is also welcomed and encouraged as part of your treatment plan.
Members of this multidisciplinary team include:
Physiatrists (medical doctors with a specialty in physical rehabilitation)
Nurses
Physical therapists
Occupational therapists
Speech-language pathologists
Specialty physicians, such as cardiologists, pulmonologists and neurologists
Wound care nurse
Nurse navigator
Pharmacist
Social workers and/or case managers
Dietitians and nutritionists
Pastoral care
---
Our therapy and rehabilitation team
Looking for a Location?
We also offer quality care at these other locations in our extended network.