Breast cancer
Breast cancer is most common in women, but can also affect men. Often, breast cancer is detected through a lump in the breast or a noticeable change in the size, shape or skin of a breast. Mammograms are crucial for diagnosis and early detection of breast cancer.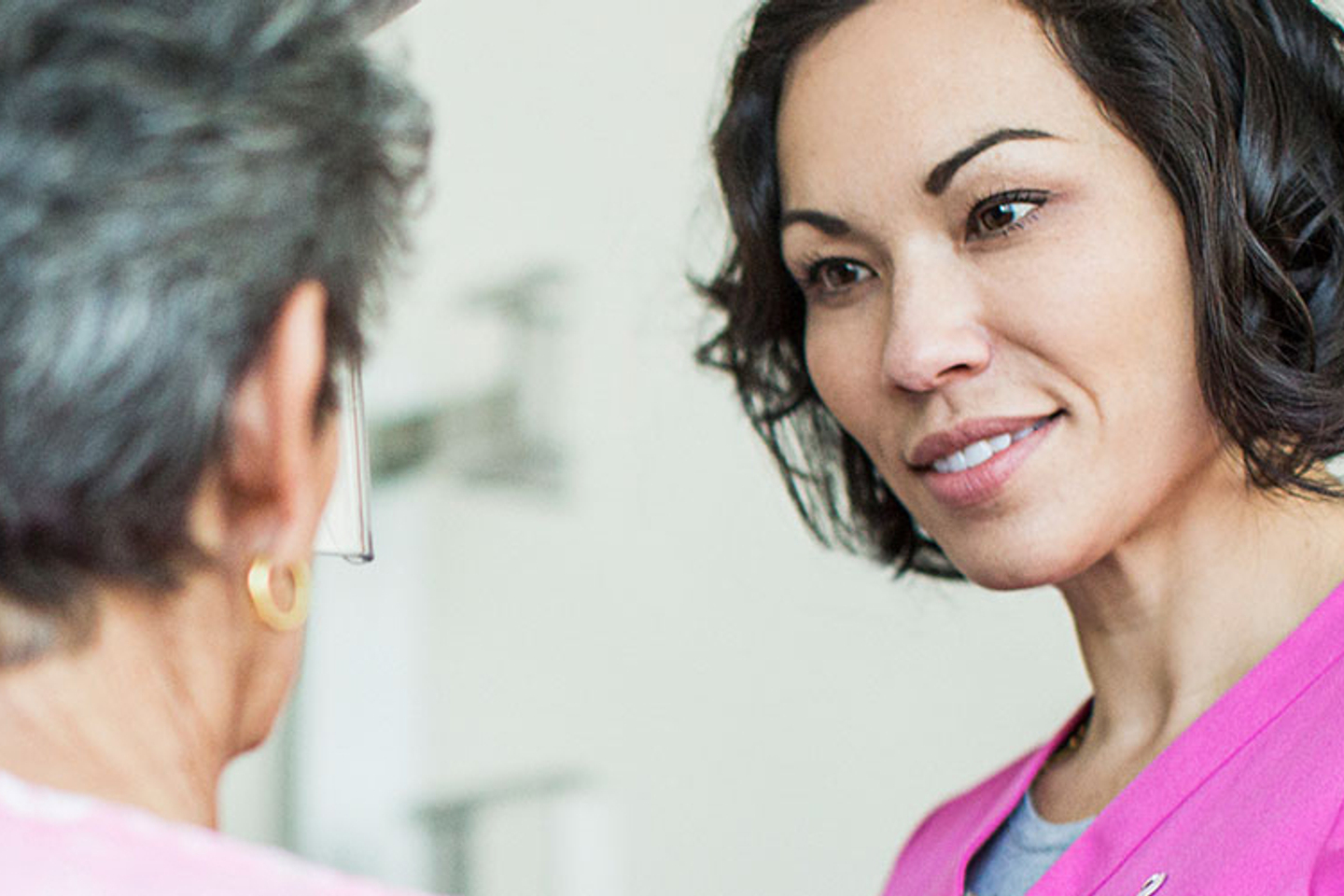 Breast cancer treatment center in Atlantis, Florida
If you have been diagnosed with breast cancer, it's important to receive comprehensive care for every aspect of your well-being.
At HCA Florida JFK Hospital, we offer just that — advanced diagnostic and treatment options along with comprehensive support resources. We also have a specially designed approach to care for and treat male breast cancer. You can trust our specialists at The Breast Institute to provide patient-centered services for you and your family throughout your treatment journey.
Screening Mammogram
You can now schedule a screening mammogram online.
You can now schedule a screening mammogram online.
Related specialties
Learn more about our related specialties
Complete breast cancer services
As part of our commitment to providing you with excellence in cancer care, we offer the following breast cancer services:
Breast surgery — Breast surgical options can include oncoplastic surgery and a reduction lumpectomy. When possible, we strive to conserve as much of the breast as possible.
Medical oncology — We offer a range of medical therapies, including endocrine therapy, chemotherapy and targeted monoclonal antibody therapy.
Nurse navigators — Our nurse navigators create a supportive environment and facilitate communication with your treatment team. They will be there to address your physical, spiritual and psychological needs.
Nutritional services — Our licensed dietitians provide education on proper diet and nutrition during your treatment regimen and into survivorship. They also offer private nutrition sessions.
Physical and occupational therapies — Our licensed physical and occupational therapists are available to help provide physical therapy, education and prevention techniques for side effects of cancer, such as lymphedema and musculoskeletal conditions.
Radiation oncology — We offer both partial and whole breast radiation services.
Social services — A licensed mental health counselor will meet with you to talk about your emotional, psychosocial and spiritual needs during this time. We can also provide information on support services and community resources.
Support groups — We offer a breast cancer support group where you can share your experiences and concerns with other breast cancer patients.
Survivorship care program — After cancer treatment, one of our advanced registered nurse practitioners (ARNPs) is there to provide an individualized survivorship care plan.
Additionally, at The Breast Institute, we offer breast health and screening services, such as mammography and breast ultrasound to detect cancer early.
Genetic and BRCA testing
The BRCA test screens for specific genes that increase your risk of breast cancer. We offer genetic testing and counseling for BRCA1 and BRCA2 genes that addresses cancer that is the result of this genetic mutation. We also offer testing if you have a family history of breast cancer.
Multidisciplinary care team
When you come to our hospital for breast cancer care, you will receive care from a wide range of multidisciplinary healthcare professionals, including:
Breast imaging specialists
Community liaison representatives
Fellowship-trained breast surgeons
Medical oncologists
Nurse navigators
Nutritionists
Physical and occupational therapists
Plastic surgeons
Radiation oncologists
Research specialists
Social workers
Survivorship care nurse practitioners
Looking for a location?
We also offer quality care at these other locations in our extended network.
The Healthy Living Blog
Fresh knowledge and insights in and around healthcare industry.
June 28, 2022
Tayla Holman
Sarcoma is a rare type of cancer that arises in the musculoskeletal system.