Radiation therapy
An oncologist is a type of doctor who deals with diagnosis, treatment and prevention of cancer. One type of treatment an oncologist may use is radiation therapy. Radiation therapy is able to kill cancer cells through beams of strong energy.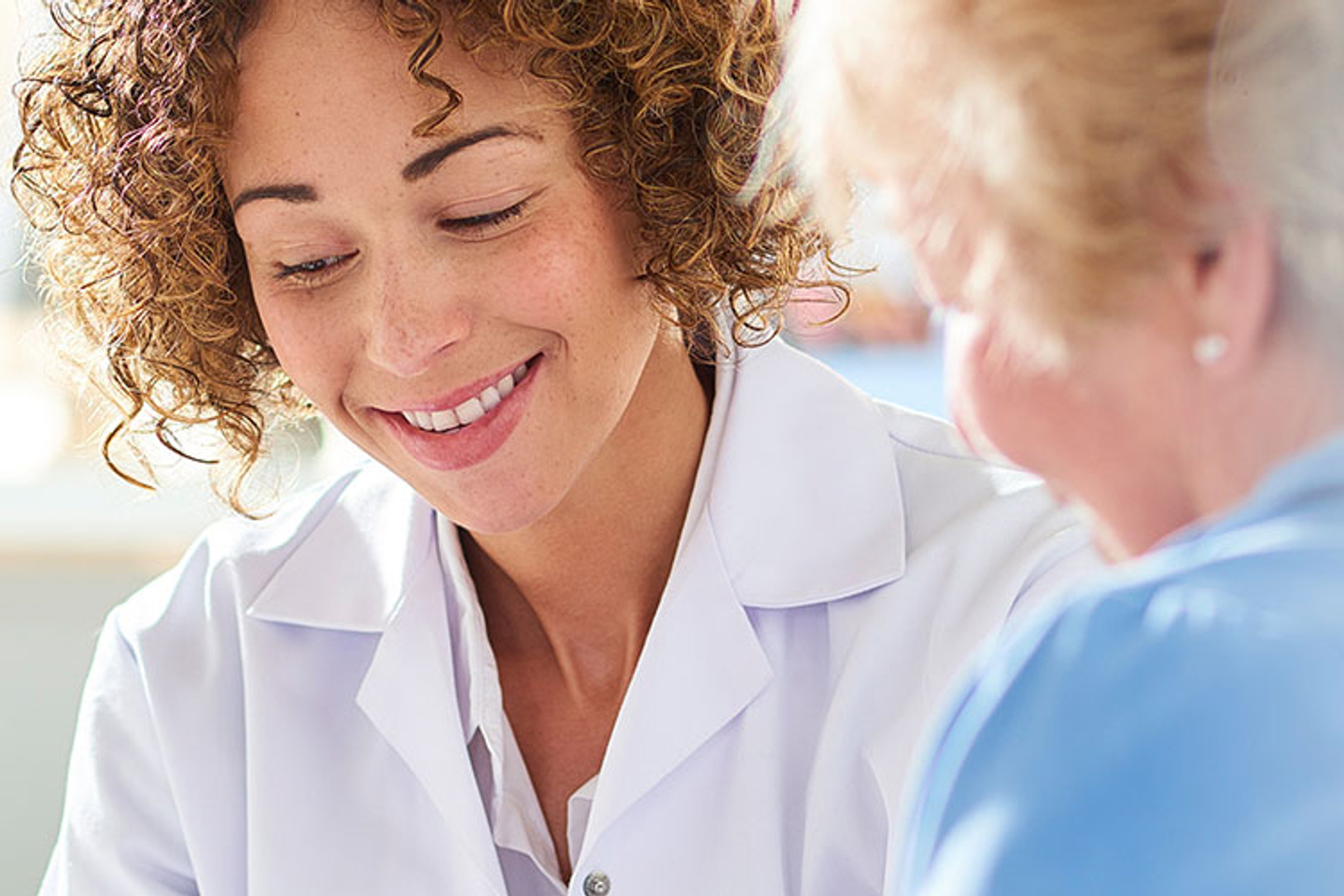 Radiation oncologists in Palm Beach County, Florida
When you need radiation therapy, you want to know you have a trusted team of radiologists on your side.
That's where the radiology specialists at HCA Florida JFK Hospital's Comprehensive Cancer Institute come in. They take time to determine the best method of radiation therapy for you. We offer three types they may choose from: external beam radiation, brachytherapy and radiosurgery.
Related specialties
Learn more about our related specialties
Radiation therapy treatment planning and services
Medical imaging technology plays a crucial role in accurately planning for radiation treatment.
We use the following diagnostic imaging procedures as planning tools in radiation treatment:
16-slice large-bore computerized tomography (CT) scanning
Magnetic resonance imaging (MRI)
Positron emission tomography (PET) scan with CT scan (PET/CT)
These medical imaging tools allow our radiation team to identify tumor regions for treatment as well as critical organs and tissues that need protection during radiation treatment.
To learn more about our radiation therapy services, please call (561) 964-2662. Our office is open Monday through Friday, from 8:00am to 4:00pm.
Types of radiation therapy we offer
Radiation therapy can be administered from the outside of your body or from the inside, by implanting a radioactive source. The method your radiation oncologist chooses will depend on the type of cancer you have and the location of your tumor.
External beam radiation
External beam radiation is a noninvasive treatment that supplies radiation from outside your body. We offer a range of different technologies and techniques to perform external beam radiation, including:
3D conformal radiation therapy — This technology shapes the radiation beams being administered to match the size and shape of the targeted tumor.
3D virtual simulation — We use this technology to show you a 3D example of your planned radiation treatment by employing imaging tools like CT and PET/CT scans.
Image-guided target localization — This technique allows our radiation team to precisely target the tumor or site of localized radiation treatment. We do this with technologies that include ultrasound, X-rays and cone-beam CT (where X-rays form a cone shape).
Intensity-modulated radiation therapy (IMRT) — This is high-precision radiotherapy that uses computer-controlled linear accelerators to provide specific radiation doses to a cancerous tumor or areas within the tumor.
Respiratory-gated radiation therapy — This process allows movement of a tumor to be continuously monitored while you breathe normally. Radiation is only delivered when the tumor is properly aligned and stops when it moves out of the target area.
Stereotactic radiosurgery (SRS) — This form of noninvasive radiation therapy uses highly targeted, precise radiation beams to treat tumors in the brain.
Stereotactic body radiotherapy (SBRT) — This technique is similar to stereotactic radiosurgery but is used to treat tumors in the body, most commonly in the breast, lung, bladder and colon.
Intraoperative radiation therapy (IORT)
We offer robotic radiosurgery as an option to treat tumors noninvasively. Despite the name, this pain-free treatment method is not surgery but is a type of radiation therapy instead.
Robotic radiosurgery differs from conventional surgery in several ways because it:
Can treat a broad range of tumors throughout the body
Uses image-guidance software to continuously adjust treatment
Uses radiation to treat the tumor without affecting healthy tissue
It may work well if you have a complex or inoperable tumor. It can also be a good option if you are looking for an alternative to surgery. The treatment accurately delivers beams of high-dose radiation to tumors, which results in fewer treatments.
Brachytherapy
Brachytherapy is a form of radiation therapy that is delivered internally by implanting tiny radioactive "seeds" directly into the tumor to kill cancer cells. We offer the following types of brachytherapy:
High-dose rate (HDR) brachytherapy — This is a primary treatment for gynecological cancer. It offers shorter and fewer radiation treatments, typically on an outpatient basis.
Interstitial and intracavitary implants — This lets doctors deliver radioactive seeds through a needle or catheter (interstitial) into the tissues of the body or through a delivery device into the affected area (intracavitary).
High-dose rate (HDR) brachytherapy — This form of radiation is ideal for patients with early-stage breast cancer. It uses an implantable delivery system to provide internal radiation after a lumpectomy.
How radiation therapy treats cancer
Radiation therapy is an important component of cancer care. Here is how it works:
During radiation therapy, beams of energy or radioactive particles are aimed directly at a tumor or location in the body that has been affected by cancer.
The radiation therapy kills cancer cells or keeps them from growing and spreading.
Many factors will impact when and how radiation therapy is used to treat cancer, but it may be used in combination with chemotherapy or before or after surgery.
For terminally ill patients, radiation therapy may be used to improve quality of life.
Looking for a location?
We also offer quality care at these other locations in our extended network.
The Healthy Living Blog
Fresh knowledge and insights in and around healthcare industry.
June 28, 2022
Tayla Holman
Sarcoma is a rare type of cancer that arises in the musculoskeletal system.