Heart and vascular surgery
Cardiovascular surgeons work to repair damage done to the heart and blood vessels. Damage can be caused by heart diseases or disorders, including heart failure and congenital heart defects. Surgery is a vital part of treatment for many heart conditions.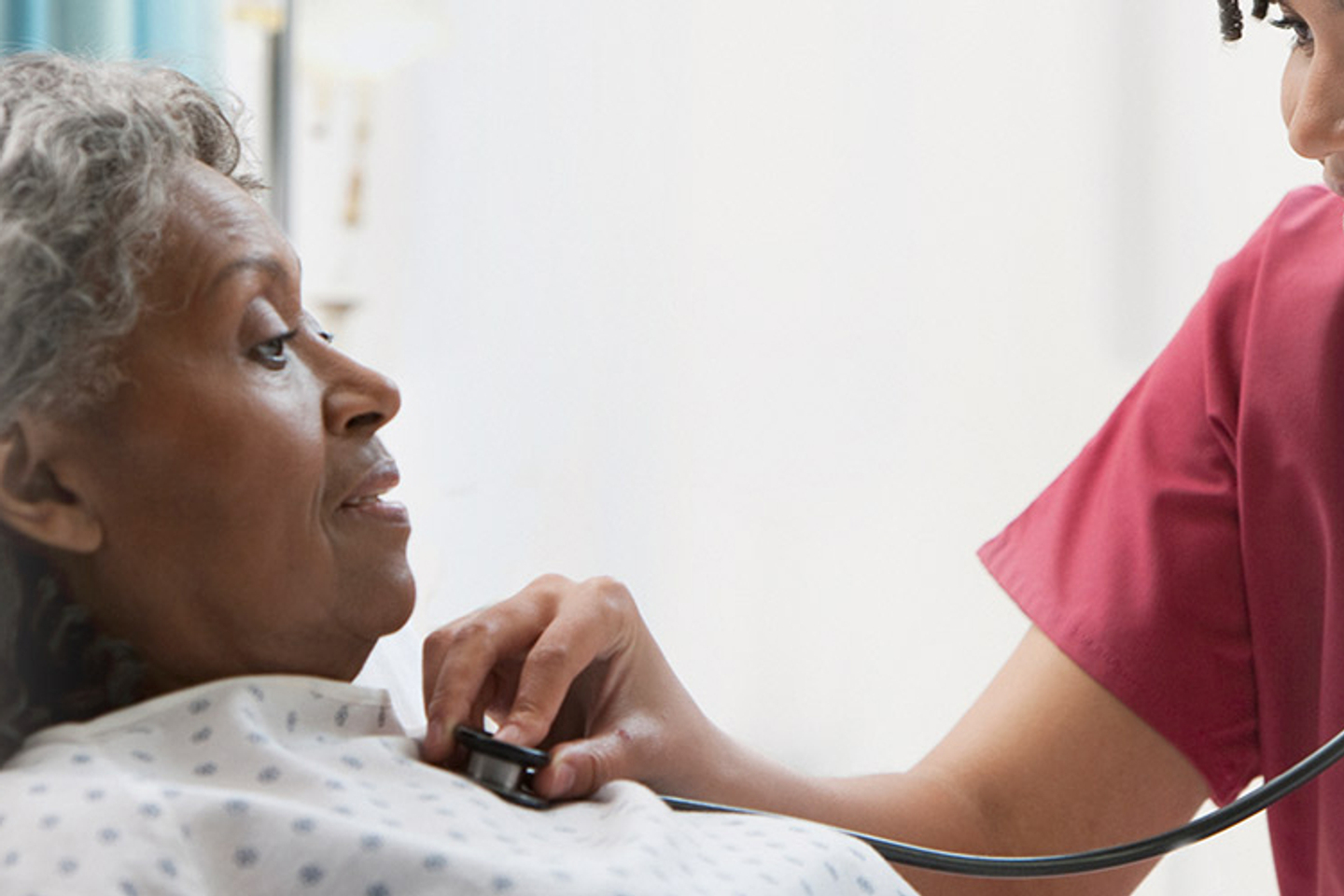 Cardiovascular specialists in West Palm Beach, Florida
You deserve the best cardiovascular surgical care, and we are committed to providing it for you.
HCA Florida JFK Hospital's cardiovascular program employs a prestigious team of heart and vascular specialists in Palm Beach County, Florida. They work together to consistently offer the most innovative treatment options for all types of heart disease. Because of this commitment to staying on the forefront of medical advances, we are typically among the first facilities in Florida to perform new, better heart treatments and techniques.
Comprehensive heart valve care
Our hospital serves one of the highest volumes of cardiac patients in Florida. We consider this an honor and hope you'll entrust us with your heart care, too.
Our hospital serves one of the highest volumes of cardiac patients in Florida. We consider this an honor and hope you'll entrust us with your heart care, too.
Related specialties
Learn more about our related specialties
Heart surgery services at our hospital
Our cardiovascular surgeons perform a wide range of procedures using the latest surgical techniques, equipment and devices.
Cardiac catheterization and electrophysiology
In addition to our wide range of specialty surgical procedures, we have a Cardiac Catheterization Lab (Cath Lab) and a Electrophysiology Lab (EP Lab), where less invasive heart procedures take place.
For example, our Cath Lab is the where we perform many procedures, including:
Angioplasty and stenting
Atherectomy
Heart catheterizations
Additionally, our EP Lab performs a number of procedures to treat heart arrhythmias, including:
Cardiac ablation
Biventricular pacemaker insertion
Implantable cardioverter defibrillator (ICD) insertion
Left atrial appendage closure (LAAC) implant insertion
Pacemaker insertion
Bypass surgeries we offer
Bypass surgery is an advanced heart procedure that involves going around, or "bypassing," damaged or blocked arteries. We perform a number of procedures if you need a surgical bypass, including:
Arterial grafting: Arterial grafting is the process of using arteries from elsewhere in the body as a viable graft in a coronary artery bypass graft procedure. Grafts may come from the left internal mammary artery (LIMA) or right internal mammary artery (RIMA).
Coronary artery bypass graft (CABG): This surgery is performed to restore or improve blood flow to the heart and is typically performed when the coronary arteries have become blocked or narrowed.
Hybrid procedures: These procedures are able to combine surgeries so that you receive the benefits of multiple surgeries while only having to undergo the surgical process once.
Minimally invasive coronary artery bypass graft (MICS-CABG): This approach to a CABG procedure is performed using only a few small incisions in the chest, instead of having to open the chest cavity for open-heart surgery.
Off-pump coronary artery bypass: This procedure offers the same treatment as a CABG procedure but is performed without the use of a heart-lung machine. It is often referred to as "beating heart" surgery.
Heart arrhythmia surgeries we offer
We offer a range of solutions for heart arrhythmias, including:
Maze procedure: This cardiac ablation procedure allows your surgeon to create a "maze" of scar tissue on the heart in an effort to interfere with the electrical impulses in the heart that are causing atrial fibrillation.
Mini-maze procedure: This procedure is a minimally invasive approach to cardiac ablation that works to maintain proper electrical impulses in the heart.
Minimally invasive hybrid procedure: This procedure uses a small incision in the chest and uses heat to create scar tissue and restore a regular heart rhythm. Then, a catheter is used to confirm the elimination of any abnormal heart rhythms.
Heart failure surgeries we offer
Our cardiovascular surgeons offer a number of advanced procedures to treat heart failure, including:
High-risk low ejection fraction coronary revascularization: This procedure is for people who have an ejection fraction (a measurement of how well your heart is pumping blood) that is too low. It helps to restore proper blood flow to areas that are receiving an improper amount of blood.
Left ventricular assist device (LVAD): This is a surgically implanted pump for people who have advanced heart failure. It helps the heart continue to pump blood throughout the body.
Left ventricular restoration procedure (DOR procedure): People who have heart failure and have experienced a heart attack may have scarring on the heart muscle or an aneurysm. This can cause the heart to be misshapen and work harder than it needs to. This procedure restores the normal shape of the heart and improves heart function by removing the scar tissue and/or repairing the aneurysm.
Valve surgeries we offer
We use surgical and nonsurgical minimally invasive procedures to repair, replace and treat the heart valves, including:
Aortic replacements and repairs
The aorta is the main artery that serves the heart and works to pump blood throughout the body. We offer multiple options for conditions affecting the aorta, including:
Aortic aneurysm repair: This procedure involves replacing the weakened area of the aorta, ascending aorta, aortic arch or thoracoabdominal aorta with a graft.
Endovascular open procedures: These are minimally invasive procedures that treat conditions affecting the blood vessels, such as blockages, narrowing and aneurysms.
Repair of aortic dissection: This procedure removes damaged portions of the aorta and replaces them with grafts that are used to rebuild the aorta.
Replacement of aortic root: Also known as the Bentall procedure, this surgery replaces a damaged aortic root with a graft to restore proper heart function.
Valve-sparing root replacement (VSRR): This is a treatment for aneurysms of the aortic root that repairs the aneurysm while keeping the aortic valve intact. The goal of this method is to reduce the need of long-term blood thinner usage.
Transcatheter aortic valve replacement
Transcatheter aortic valve replacement (TAVR) is a minimally invasive procedure used to replace the aortic valve when it has narrowed or is failing to open properly.
TAVR is most often performed if you are high risk or have otherwise inoperable, severe aortic stenosis, a condition that causes a narrowing of the aortic valve opening and prevents normal blood flow.
Although you will need to remain in the hospital for a few days following the replacement, the actual procedure typically takes between one to two hours to complete. Compared to a lengthy heart surgery and a recovery that spans several months, TAVR demands a much smaller interruption of life activities.
Mitral valve replacement and repair
These procedures are treatment options for people who have mitral regurgitation. Your mitral valve will either be repaired or replaced, depending on your condition.
Transcatheter mitral valve repair
Transcatheter mitral valve repair (TMVR) is a minimally invasive treatment for people who have mitral regurgitation. TMVR uses a clip device and is ideal for people who are unable to undergo traditional surgery but are experiencing adverse effects from a mitral valve leak.
Although you will need to remain in the hospital for one to two days following TMVR, the surgery usually only takes a few hours at most. This enables you to have a shorter recovery.
The Valve Clinic
The valves in your heart are vital to the structure and function of the heart muscle.
The Valve Clinic at our hospital offers both valve repair and replacement. When possible, your cardiovascular surgeon will opt for repairs rather than replacements. This is how we offer you a better quality of life and a reduced need for long-term use of blood thinners.
If you want to talk about our specific services for heart valve care, you can reach us at The Valve Clinic at (561) 548-2583.
Looking for another location?
We also offer quality care at these other locations in our extended network.
The Healthy Living Blog
Fresh knowledge and insights in and around healthcare industry.
7 habits that could be sabotaging your heart health 
Could you be putting your heart health at risk without knowing it? We asked HCA Florida Healthcare cardiologist Dr. Allan Stewart to weigh in on seven bad habits for heart health and tips on how to break them.