Lung cancer
Lung cancer is one of the most common cancers in both men and women. Beginning as a growth of abnormal cells, the cancer grows to form a tumor, interfering with lung function. Lung cancer is treated through surgery, chemotherapy or radiation therapy. Those who smoke cigarettes have an increased risk for lung cancer.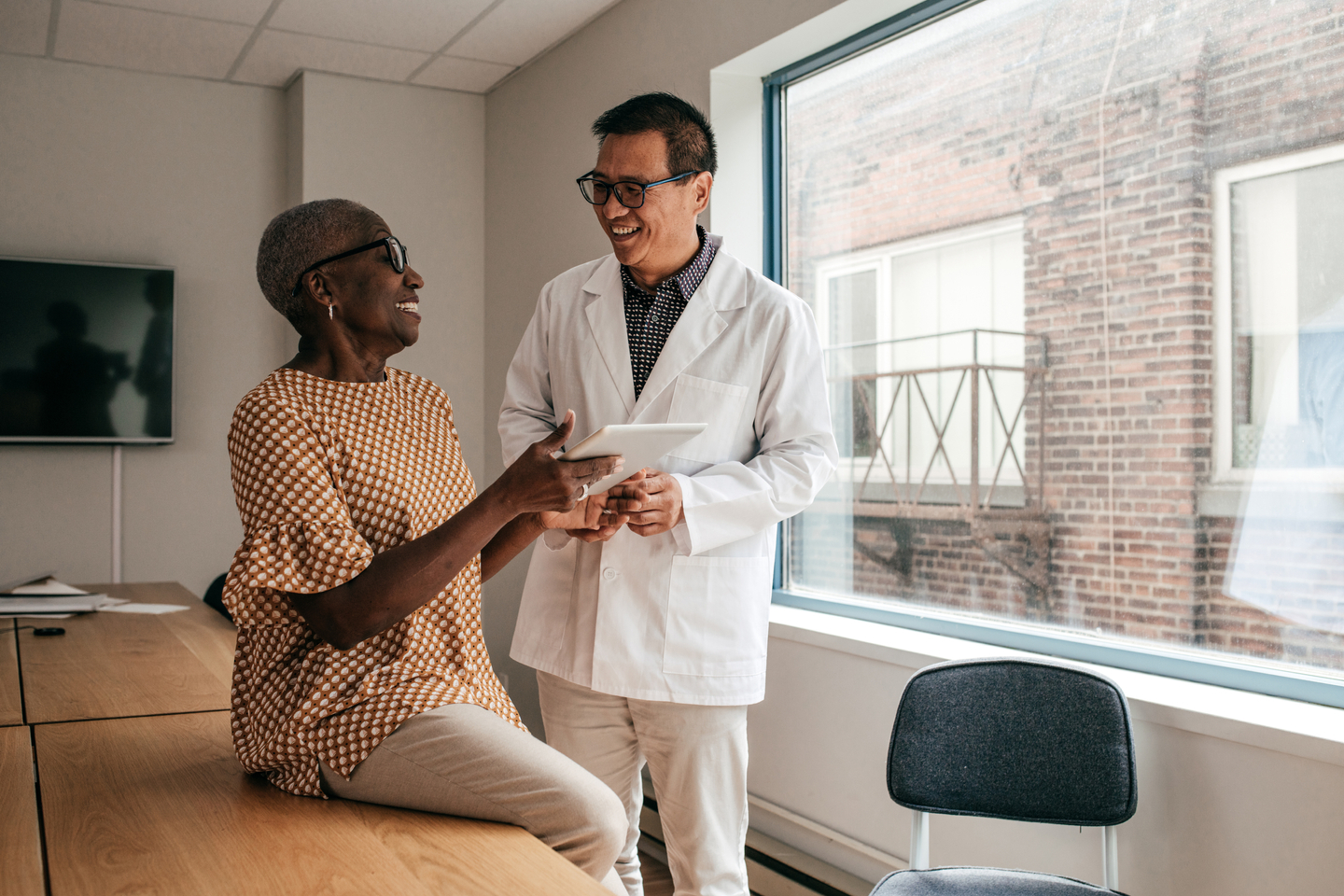 Lung cancer specialists in Atlantis, Florida
If you are at risk for lung cancer, it's crucial to receive regular screenings and prompt treatment if cancer is detected.
According to the American Cancer Society, lung cancer is the leading cause of death by cancer in the U.S. Most cases of lung cancer are not detected until patients are symptomatic and the cancer is advanced, which is why early screening for this disease is crucial and increases the chance of survival. At HCA Florida JFK Hospital, we offer advanced lung cancer screening and treatment services. Our highly skilled team will work together to provide you with high-quality care in a compassionate environment.
Related specialties
Learn more about our related specialties.
Our lung cancer care program
Accredited by the Commission on Cancer (CoC), our cancer program offers a full spectrum of diagnostic and treatment services for lung cancer.
Signs and symptoms of lung cancer
Typically, in the earliest stages of lung cancer, you do not experience any signs or symptoms. When you start to experience symptoms, this typically means the lung cancer is in the later stages. Symptoms can include:
A persistent cough
Coughing up blood
Chest pains
Difficulty breathing or swallowing
Fatigue
Hoarseness
Pneumonia
Shortness of breath
Weight loss or loss of appetite
Wheezing
Lung cancer screening
We have developed a multidisciplinary lung cancer screening program to provide early detection and treatment of the disease. When you first come to us for a lung cancer screening, a lung coordinator will facilitate the appropriate diagnostic and screening exams. We offer the following:
Low-dose computerized tomography (CT) scan
A low-dose CT scan of the lungs is used to detect lung cancer at an early stage. This type of scan:
Does not involve any medication
Does not involve any needles
Is not painful and takes less than a minute
Requires you to briefly hold your breath
When your scan is complete, you can return to your normal day's activities. The images created during the scan will be read by a board-certified radiologist.
Robotic bronchoscopy
Robot-assisted bronchoscopy allows lung cancer to be detected earlier with greater accuracy. It is a minimally invasive procedure that gives your doctor the ability to obtain tissue samples of small and hard-to-reach nodules in the lung.
Screening criteria
Talk to your doctor about a lung cancer screening if you:
Are 50 to 77 years old
Are asymptomatic (no signs or symptoms of lung cancer)
Are a current smoker or one who has quit within the last 15 years
Have a family or personal history of lung cancer
Have a personal history of chronic lung disease (such as emphysema, bronchitis or pulmonary fibrosis)
Have a personal history of jobs that expose you to arsenic, nickel, asbestos, beryllium, soot, cadmium, diesel fumes, chromium or coal dust
Have a tobacco smoking history of at least 20 pack-years (One pack-year equals smoking one pack per day for one year. One pack equals 20 cigarettes.)
Lung cancer treatment options
If you are diagnosed with lung cancer, our team will be there for you to help navigate the best next steps and create a treatment plan tailored to your needs. Treatment options we offer include:
Advanced surgery
Chemotherapy
Radiation therapy
Nurse navigation services
We also offer nurse navigation services for patients diagnosed with cancer. Our dedicated nurse navigator will be there to help coordinate care, provide support and address any questions or concerns you may have during treatment.
Looking for a location?
We also offer quality care at these other locations in our extended network.
The Healthy Living Blog
Fresh knowledge and insights in and around healthcare industry.
June 28, 2022
Tayla Holman
Sarcoma is a rare type of cancer that arises in the musculoskeletal system.