Sisi and Joe
Mercy Hospital Labor and Delivery patient, Sisi, came full circle when she delivered her first child with the same doctor who brought her into the world over 20 years earlier!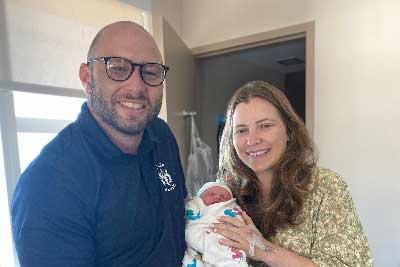 "Dr. De Leon delivered me when I was a baby and remained a close family friend, which made this a special experience from the very start. We knew from the beginning that our first child would be in the best possible hands with Dr. De Leon and the Mercy Hospital team. I felt fortunate that I was still able to attend all my doctor's appointments safely throughout the pandemic and the medical staff was incredibly communicative on how they were protecting us from COVID-19, it was very reassuring.
There is really nothing better than giving birth at Mercy Hospital. We had full water views all throughout our stay and the entire nursing staff was great from start to finish. Caroline, Denise, Eileen, Henry and every other person who took care of us was phenomenal. Everyone should give birth at Mercy Hospital."
Location:
HCA Florida Mercy Hospital