When he suffered a stroke, one of his patients was there
When a doctor had a stroke, he was cared for by one of his own patients. Learn more, including how HCA Florida Healthcare cares for stroke victims.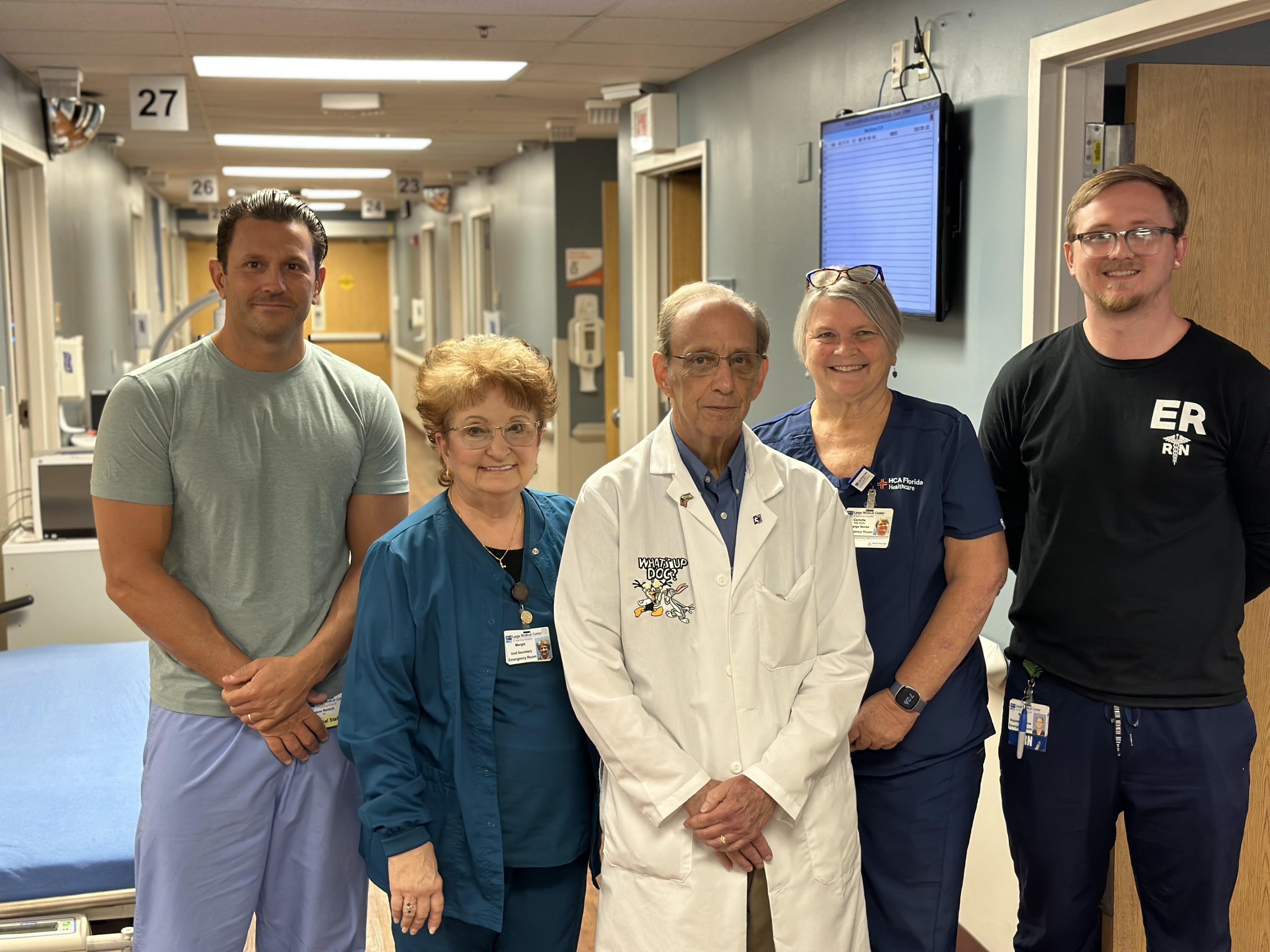 Stephen Igel, MD, doesn't remember much of that night, but he does remember thinking afterward that it was supposed to happen to someone else, not to him. The 75-year-old OB-GYN, who has worked as a part of HCA Florida Healthcare for more than 40 years, was used to treating patients, not being a patient himself. Yet that's what happened when he collapsed at his home on a Wednesday night in August, suffering from a stroke.
Dr. Igel was home alone at the time, but his wife returned to the couple's house about 20 minutes after he'd collapsed. She found him lying on the floor trying to move, but his right side was paralyzed. She called 911.
An emergency medical services (EMS) team arrived and quickly transported Dr. Igel to his local HCA Florida Healthcare emergency room where clinical nurse coordinator Carlotta Cheeseman was working that night.
"When they brought the patient in, we started the stroke process," she recalls. "I said to someone that it looked like Dr. Igel. Then someone said, 'It is Dr. Igel.' It was devastating. I was pretty upset."
Dr. Igel and Cheeseman had known each other for at least 35 years. They'd both worked at the hospital together for decades, and Dr. Igel served as Cheeseman's OB-GYN, even delivering two of her children.
"I was pretty shaken up when I realized who it was," Cheeseman says. "He's very special to me. I remember telling the stroke nurse to take good care of him, but the truth is, we followed the same protocols we do for every patient."
Those protocols saved Dr. Igel's life. The doctor underwent an emergency angiogram, which showed a complete blockage of the left internal carotid artery. To remove the blockage a minimally invasive procedure to remove blood clots from the brain, called a mechanical thrombectomy, was performed.
"That procedure really turned things around for him," Cheeseman says, noting that Dr. Igel's symptoms disappeared afterward. "I stayed with his family in the ER while it was going on, with his wife and son. I'm glad I was there."
For Dr. Igel, "learning I'd had a stroke was hard for me to swallow, but it kind of hit home for me that Carlotta had cared for me after I'd cared for her—that someone I'd known for years and taken care of was there to take care of me."
BE F.A.S.T.
Every 40 seconds someone in the U.S. has a stroke, a medical emergency where blood flow to the brain is either reduced or stopped, depriving brain tissue of essential oxygen and nutrients. Stroke is a leading cause of death in the United States and is a major cause of serious disability for adults, according to the Centers for Disease Control and Prevention (CDC). It is also preventable and treatable.
Fast stroke treatment is crucial to decreasing its long-lasting effects. The signs of a stroke can be thought of with the acronym, BE FAST. Here are the symptoms that could mean you or your loved one is having a stroke:
Balance or the inability to maintain coordination
Eyes or the inability to see out of one or both
Face that is drooping on one side
Arms or the inability to raise one or both
Speech or the inability to repeat a simple sentence
And if you or someone around you is experiencing the symptoms above, it is
Time to call 911 and seek emergency care.
Learn more about the comprehensive stroke centers in the HCA Florida Healthcare network.
Know your risk for stroke
Stroke prevention starts with knowing the risk factors that increase the likelihood of having a stroke. Identifying the underlying cause of a stroke is also crucial to preventing subsequent strokes. Common risk factors include obesity, high blood pressure, diabetes, high cholesterol, alcohol or drug abuse, or heart disease. If you have any of these risk factors it is important to discuss them with your doctor to manage and reduce your chance of stroke.
For example, patients diagnosed with atrial fibrillation are up to five times more likely to experience a stroke. The American Heart Association's patient support network, MyAFibExperience, empowers individuals to better understand and manage their stroke risk.
Share with your community
In order to beat stroke, we must decrease stroke for every member of our communities. The American Heart Association's Getting to the Heart of Stroke™ initiative, developed in conjunction with HCA Healthcare — our broader healthcare network — and the HCA Healthcare Foundation, focuses on preventing, treating and beating stroke by:
Providing nationwide consumer and healthcare professional education.
Deepening collaboration between neurology and cardiology.
Equitably empowering communities to improve health outcomes.
Some patient subsets, such as Black and Hispanic/Latinx populations, face additional barriers to identifying and treating stroke risk factors, receiving thorough assessment and finding follow-up stroke care. Getting to the Heart of Stroke™ addresses health disparities like this through local health impact work and community education in areas including women's health, high blood pressure management, nutrition security and tobacco/vaping prevention.
You can make a difference in your community by sharing your knowledge of stroke care and prevention with others. By sharing the resources in this article, along with additional resources provided by the American Heart Association, American Stroke Association and the Getting to the Heart of StrokeTM initiative, with your family and friends who may be at risk for stroke, you can help save lives.
Specialized stroke care, close to home
Get prepared and learn more about our comprehensive stroke centers throughout the state, which have earned the following recognition from Healthgrades, the leading marketplace connecting doctors and patients:
Nine hospitals recognized as Five-Star Recipients for Treatment of Stroke
Seven hospitals named among the top 10% in the nation for treatment of stroke in 2023, with three in the top 5%
Two hospitals named America's 100 Best Hospitals for Stroke Care™ in 2023
If you or a loved one is experiencing a stroke, it's important to seek emergency care as soon as possible.
Published:
October 05, 2023
Related Stories
From ER to ICU to rehab - Continuum of care 
October 04, 2022
Capital Hospital
After an unexpected admission to Capital Hospital for an abscessed tooth, Patsy Mavraedis discusses her recovery experience during her inpatient stay at the Rehabilitation Center.
From ER to ICU to rehab - Continuum of care 
October 04, 2022
Capital Hospital
After an unexpected admission to Capital Hospital for an abscessed tooth, Patsy Mavraedis discusses her recovery experience during her inpatient stay at the Rehabilitation Center.
July 14, 2022
Osceola Hospital
After suffering a stroke last February, new mother Nathalie Perez is grateful for the care she received at Osceola Hospital so she can continue to be an active and positive mom to her two kids.
June 23, 2021
Osceola Hospital
"The doctors make the nurses feel like they are a key part of their medical performance."