Voice Center therapists offer tips for effective communication while wearing a mask
Masks add complexity to the communication process and The Voice Center at Palms of Pasadena Hospital offers these tips.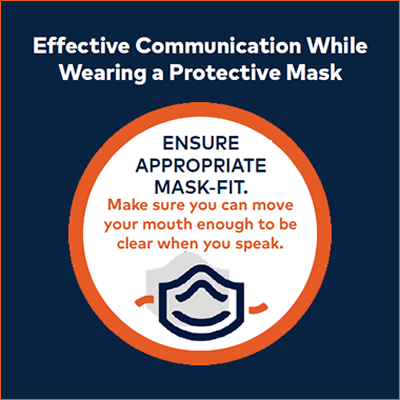 As vaccination supplies continue to be limited, masks remain a critical safety option to protect yourself. Masks add complexity to the communication process and The Voice Center at Palms of Pasadena Hospital, offers these tips for more effectively communicating while wearing a mask:
Ensure appropriate mask-fit. Make sure you can move your mouth enough to be clear when you speak.
Eliminate Unnecessary background noise (loud music, TV, etc.).
Slow down. Allow for appropriate pauses between phrases.
Get bigger. Make big movements with your mouth when speaking.
Supplement In-person communication with text (emails, etc.).
The Voice Center at Palms of Pasadena is staffed by certified speech language pathologists who evaluate and treat voice and upper airway disorders. The center is equipped with the latest diagnostic technology, including computerized laryngeal videostroboscopy, which enables the speech language pathologists to review diagnostic information regarding the nature of vibration and condition of the vocal cords and assess the larynx (voice box). This allows our experts to monitor a patient's vocal/upper airway condition prior to and following any surgical or medical therapy treatment program.
"We are committed to assisting patients with regaining strength, function and skills following a surgery, injury, impairment, or medical diagnosis," explains Dea Deming, Speech Pathologist of the Voice Center. "The goal is help patients achieve their maximum function in a supportive and medically supervised environment."
Common laryngeal (voice box) and upper airway disorders that are managed at our Voice Center include:
Chronic hoarseness/dysphonia
Vocal Cord paralysis/weakness
Benign vocal cord lesions including nodules ("singers nodes"), polyps, cysts, papillomatosis and granulomas
Laryngeal (throat) cancer and precancerous conditions
Spasmodic dysphonia and other neurological diseases that effect voice production including Parkinson's Disease
Laryngeal trauma
Functional (non-organic) voice disorders
Chronic cough
Laryngeal (throat) hypersensitivity / Vocal Cord Dysfunction
If you experience chronic, prolonged or recurring episodes of voice difficulty, it may be a symptom of a more serious condition. Our Voice Center is dedicated to the evaluation and care of voice and upper airway disorders. We are a resource for both the general public and those who use their voices professionally.
For more information about The Voice Center at Palms of Pasadena Hospital, call us at (727) 341-7040.
Location:
HCA Florida Pasadena Hospital