Lung cancer
Lung cancer is one of the most common cancers in both men and women. Beginning as a growth of abnormal cells, the cancer grows to form a tumor, interfering with lung function. Lung cancer is treated through surgery, chemotherapy or radiation therapy. Those who smoke cigarettes have an increased risk for lung cancer.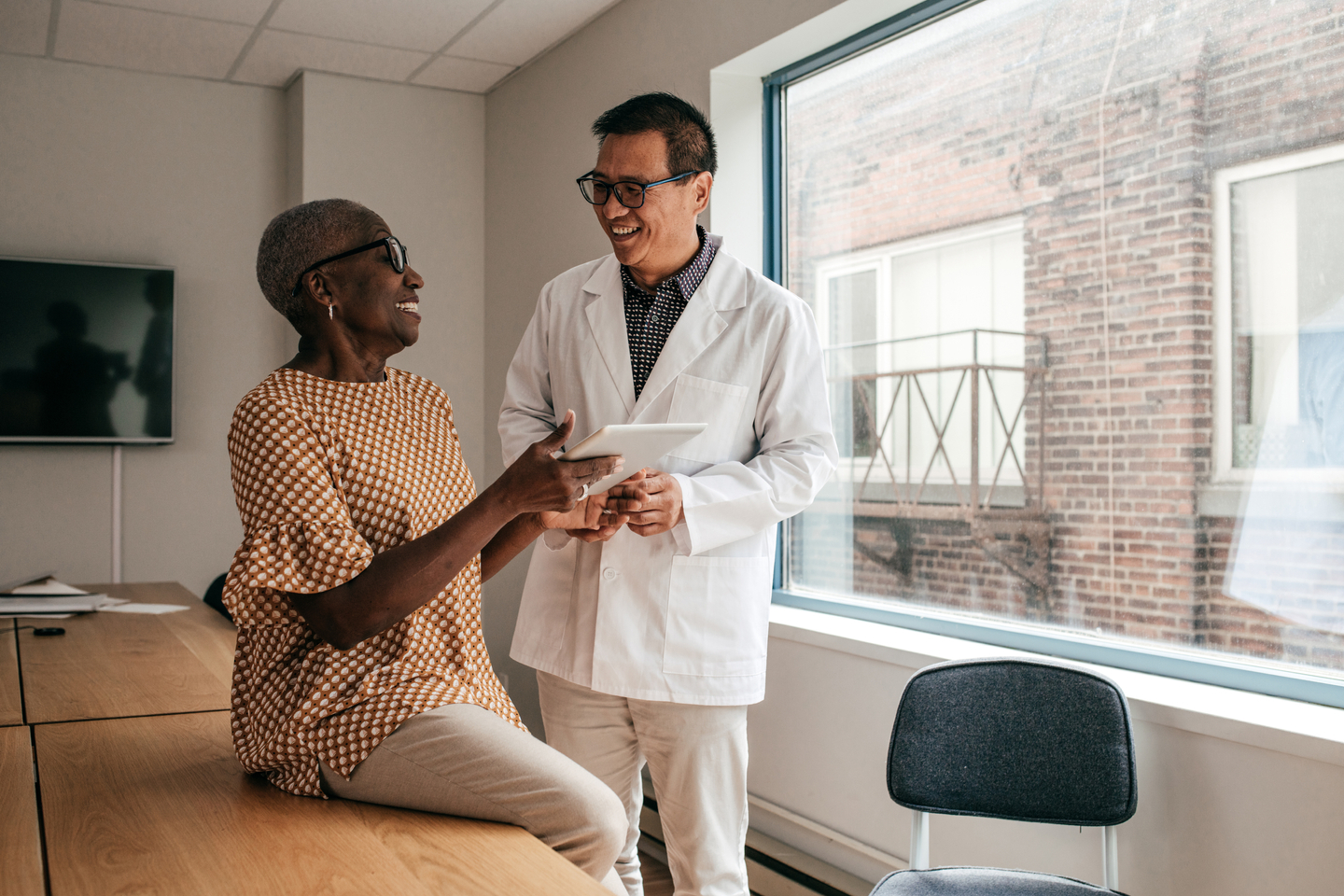 Lung cancer specialists in Sarasota
We give you the care you need by detecting and treating lung cancer before it progresses.
The specialists at HCA Florida Sarasota Doctors Hospital work to catch lung cancer so you can get on the road to better health. Through advanced screenings and treatment, we provide the compassionate care and support you need.
Have cancer questions?
We can help. askSARAH is a dedicated, confidential helpline for your cancer-related questions. Our specially trained nurses are available 24/7.
We can help. askSARAH is a dedicated, confidential helpline for your cancer-related questions. Our specially trained nurses are available 24/7.
Related specialties
Learn more about our related specialties
Lung cancer services we offer
Advanced screenings and treatments — like the ones we offer — are crucial for diagnosing and treating lung cancer in its early stages, while it is easier to treat.
Lung cancer care we offer
Lung cancer is one of the most common cancers and can interfere with overall lung function. If you have been a long-term smoker, you may be at an increased risk for lung cancer. However, most visible symptoms will only become known in the disease's later stages when treatment options are limited.
If you have a heightened lung cancer risk, we encourage vigilant testing so we can find cancer before symptoms begin to show. If you have a positive diagnosis, we can begin personalized treatment immediately, either through chemotherapy, radiation therapy or surgery.
Diagnostic testing
Every treatment plan begins with an accurate diagnosis. To achieve this, we use leading-edge technologies to detect suspicious lung nodules that could represent a malignancy. Whether your cancer is a nodule or other mass, we can detect cancer through a low-dose computerized tomography (LDCT) scan. An LDCT is an extremely detailed, specialized X-ray that is painless, noninvasive, uses no dyes or injections and requires nothing to swallow.
The LDCT continuously rotates in a spiral motion to take numerous three-dimensional lung X-rays, while only taking about a minute to complete. One of the primary benefits of this exam is that while a traditional X-ray can detect an abnormality about the size of a dime, an LDCT can detect one the size of a grain of rice.
Diagnostic testing process
If you qualify for an LDCT scan, first, your primary care physician (PCP) will need to place an order. Once we have received the order, we will perform the test, and analyze the results based on categorical criteria for the Lung Imaging Reporting and Data System (Lung-RADS). Lung-RADS categories include categories one (negative) and two (benign), which correspond to negative results, and categories three (likely benign) and four (questionable), which correspond to positive results.
If your results are in categories three or four, you will move forward with treatment at our lung nodule clinic, which will be facilitated by one of our dedicated lung nodule coordinators. These individuals are with you throughout your cancer journey, collaborating with you and ensuring that you receive effective, efficient and compassionate care and long-term support.
No matter the level of your diagnosis, you will receive personalized clinical assessments and treatment recommendations from our radiology and pulmonary team. You will have a detailed discussion of the benefits and risks of clinically appropriate evaluation.
Lung cancer surgery
One of the most effective forms of lung cancer treatment is lung cancer surgery. Our dedicated surgeons are equipped to address lung cancer needs through advanced means, such as minimally invasive robotic surgery, including robotic thoracoscopy, or, robotic thoracic surgery.
Robotic surgery uses a camera and robotic arm that acts as an extension of your surgeon, who controls the robot's moves. With more precision than is possible with the human hand, your surgeon can accomplish complex surgical moves through a few small incisions, as opposed to a large open incision, while removing diseased lung tissue and any nodules that may be present.
Benefits of minimally invasive lung cancer surgery
These types of minimally invasive procedures are beneficial to you for numerous reasons, including less pain, less scarring, shorter hospital stays and faster recovery times. With a faster recovery, if your condition requires you to do so, you can begin further treatments, including chemotherapy or radiation therapy, more quickly.
Do you qualify for lung CT scans?
There are certain conditions that must be present before you can receive an LDCT scan. If you meet the criteria, speak to your PCP about next steps.
Lung cancer screening criteria
In its early stages, lung cancer does not show symptoms. When it starts showing symptoms in the later stages, it can be harder to treat. This is why detailed screenings are key to diagnosing lung cancer in its early stages. If you meet the following criteria, you may be eligible for advanced lung cancer screenings:
Aged 50 to 77 years old
Current smoker with at least a 20-pack-year history
Former smoker who may have quit within the past 15 years and who also has a 20-pack-year history
No current signs or symptoms of lung cancer
Pack-year history is calculated as the number of packs of cigarettes smoked per day, multiplied by the number of years you may have smoked (e.g., one pack of cigarettes per day for 30 years or two packs per day for 15 years).
If you are eligible for the screening, a nurse coordinator will contact your PCP for the order. After the screening, the nurse coordinator will send your results to the referring physician, as well as coordinate any necessary follow-up care. Most major health insurance providers cover the cost of lung cancer screening, and any further insurance questions should be discussed with your insurance company.
To determine your screening eligibility speak to your PCP or call our lung cancer screening coordinator at (941) 342-8031.
---
Lung cancer screening criteria
The Healthy Living Blog
Read our blogs to learn about preventive care and ways you can lead a healthier lifestyle.