Lung cancer
Lung cancer is one of the most common cancers in both men and women. Beginning as a growth of abnormal cells, the cancer grows to form a tumor, interfering with lung function. Lung cancer is treated through surgery, chemotherapy or radiation therapy. Those who smoke cigarettes have an increased risk for lung cancer.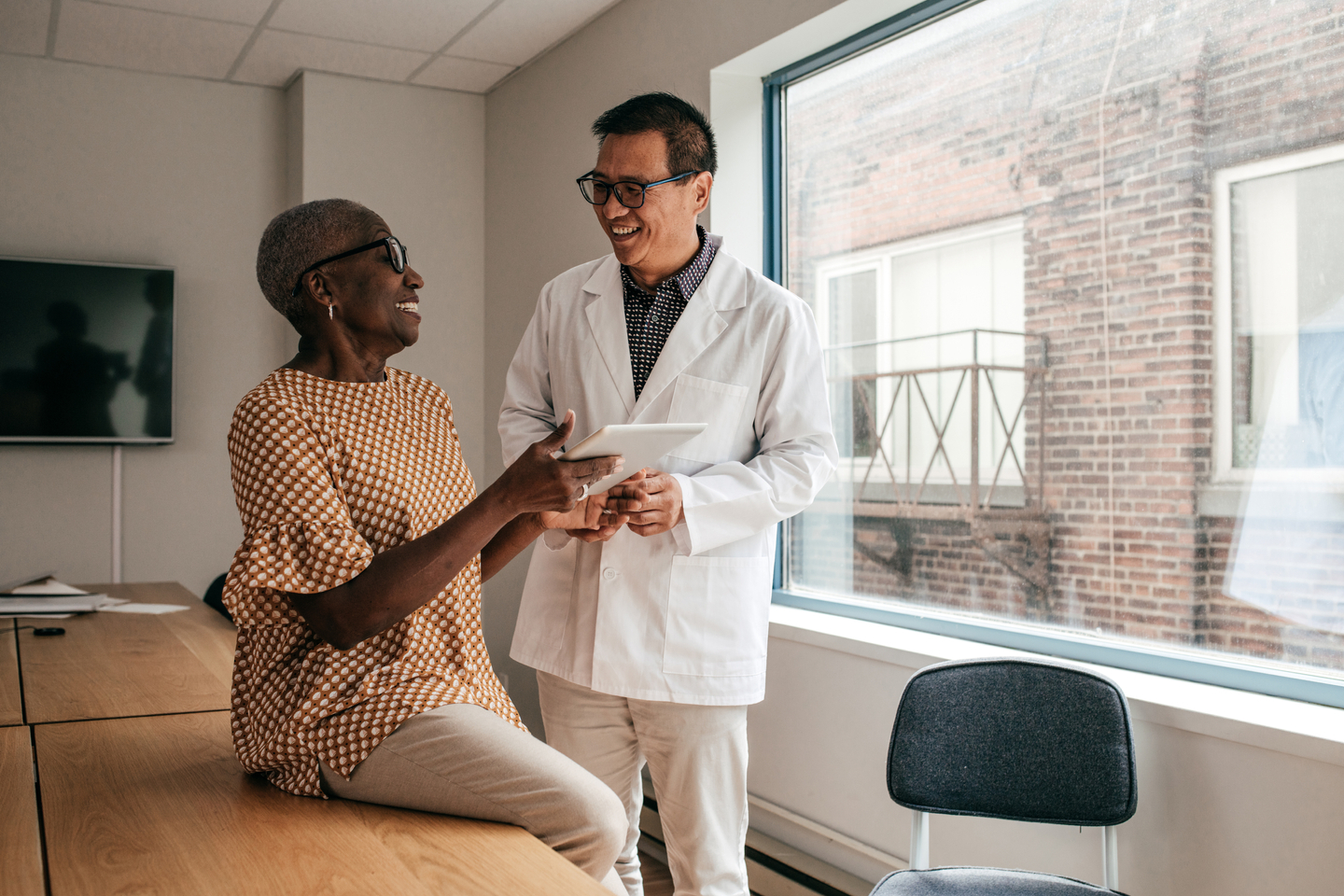 Lung cancer treatment in Charlotte County, Florida
At HCA Florida Fawcett Hospital, we offer comprehensive lung cancer care.
As a full-service cancer program, our goal is to detect lung cancer early and support you throughout your journey to recovery. Our lung cancer team will walk with you every step of the way and provide you with the advanced treatment and support resources you need. 
Related specialties
Learn more about our related specialties.
Our lung cancer treatments and services 
Our experienced care team provides advanced diagnostic and treatment services tailored to your needs. 
Lung cancer screening
Lung cancer is a leading cause of cancer-related death in the U.S. Lung cancer screening, however, can detect cancer in its earliest stages, when it is more easily treated.
If any of the following risk factors apply to you, you may want to talk to your doctor about completing a lung cancer screening:
50 years old and older
Family history of cancer
History of smoking or currently a smoker
Low-dose computerized tomography (CT) screening
The oncology department at our hospital is the first in Charlotte County to offer low-dose CT screenings for lung cancer. These screenings use small doses of radiation to capture images of the lungs. With these images, radiologists can view suspicious areas, which may require further testing.
According to a National Cancer Institute study, smokers who were screened for cancer with low-dose CT screenings instead of chest X-rays had a 15 to 20 percent lower chance of dying from the disease.
Low-dose CT screenings at our hospital include:
The imaging procedure
A radiologist's interpretation of the exam
A report of the findings
Continuum of care recommendations
A list of follow-up procedures from a multidisciplinary team of physicians (if needed)
Screenings are covered by most forms of insurance.
Lung cancer treatment
As a Community Cancer Program accredited by the American College of Surgeons' Commission on Cancer, we are proud to provide you with advanced lung cancer treatments. Our hospital is the first in Charlotte County to provide an interventional lung solution for hard-to-reach lesions. We offer a minimally invasive option to locate, perform a biopsy and plan treatment for a lesion detected deep in the lung.
For more information on lung cancer screenings and treatments, please call our oncology nurse navigator at (941) 624-8318.
Other lung care resources
Smoking cigarettes is the leading cause of lung cancer. This is why we are passionate about providing smoking cessation assistance to our community. 
Smoking cessation group
Quitting tobacco isn't easy, but finding help should be. We offer a free, one-time, two-hour group, Tools to Quit. This group is available to people 18 years old and older who use any form of tobacco. We provide free workbooks, nicotine replacement patches, gum and lozenges.
This class takes place in the Executive Dining Room at our hospital. Registration is required. If you would like to register or learn more, please call (941) 552-1283.
---
The Healthy Living Blog
Fresh knowledge and insights in and around healthcare industry.
June 28, 2022
Tayla Holman
Sarcoma is a rare type of cancer that arises in the musculoskeletal system.
June 28, 2022
Tayla Holman
Sarcoma is a rare type of cancer that arises in the musculoskeletal system.
Looking for a location?
We also offer quality care at these other locations in our extended network.