Celebrate summer with these healthy BBQ recipes
Healthy BBQ? Check out these fun and delicious summer recipes.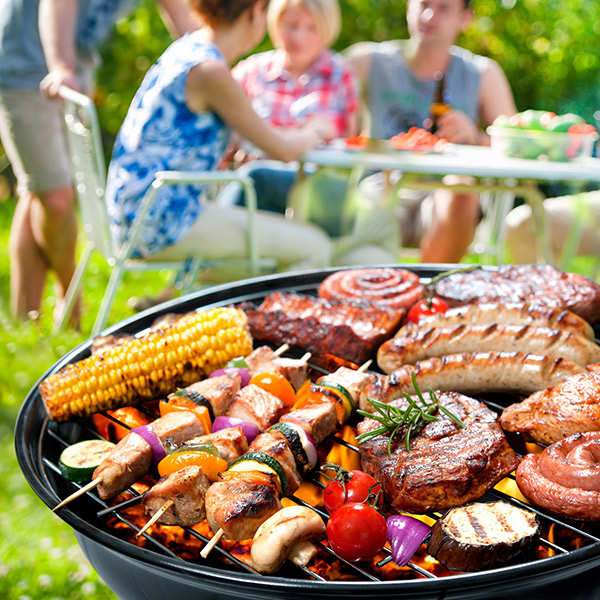 Nothing rings in the start of summer quite like a barbecue. Picnic tables, red-checkered tablecloths, yard games and the presence of friends and family make for a classic backyard barbecue — and then there's the food. Grilled burgers, hot dogs, creamy potato salad and chips and dip are the mainstays of a summer cookout, but they're not exactly healthy choices.
Thankfully, there are easy ingredient swaps to make these summer staples a healthier addition to your summer BBQ. A fan of chips and dip? Make your dip with nonfat Greek yogurt instead of sour cream, and serve it with baked pita chips or fresh veggies. Cutting back on red meat? Grill salmon burgers or portobello mushrooms. Love a classic potato salad but not the fat? Replace three fourths of the mayo with nonfat Greek yogurt. Add some spicy mustard, herbs or lemon juice to perk up the flavor. Or experiment with a vinegar-based recipe.
Another simple trick to cut calories is to avoid sugary lemonades and sodas. Instead, serve unsweetened iced tea or sparkling water with a splash of grape juice or a squeeze of citrus. You can also add cucumber slices, fresh fruit or mint to plain water to make it more interesting. Infuse it overnight for a more intense flavor.
Whether you're throwing your own backyard bash or taking a dish to a friend's cookout, these recipes can give your gathering a healthy makeover.
Grilled eggplant and farro salad
This salad has a satisfying smokiness from the grill, plus the nutritional benefits of seasonal veggies and whole grains.
Salad ingredients
2 cups dried farro
3 Japanese eggplants, halved
1 red onion, thickly sliced
2 tsp. olive oil, for brushing vegetables
1 pint grape tomatoes, halved
Salt and pepper, to taste
Vinaigrette ingredients
¼ cup sherry vinegar
½ cup olive oil
2 tsp. Dijon mustard
¼ cup dill, roughly chopped
¼ tsp. salt
¼ tsp. pepper
Directions
Cook farro in a large pot per package instructions and set aside. While waiting for the grill to heat up, whisk together all vinaigrette ingredients in a small bowl until emulsified. Set aside. Brush eggplant and red onion slices with olive oil, and season with salt and pepper. Grill on high heat for 3-4 minutes on each side or until cooked through. Remove from grill and cut eggplant and onions into 1-inch pieces. Combine farro, tomatoes, eggplant and onions into a large bowl. Gently toss with vinaigrette, and serve at room temperature. Serves six.
Nutritional information (per serving):
Calories 336; Total fat 21 g; Sodium 158 mg; Carbohydrates 35 g; Sugars 13 g; Protein 7 g
Fresh watermelon "layer cake"
Ideal for kiddos and watermelon-lovers, this no-bake watermelon cake is actually all fresh fruit and no cake! Make it more fun by letting the kids help decorate it.
Ingredients
1 medium-sized seedless watermelon
½ pint blueberries
½ pint strawberries
2/3 cup heavy cream
2 Tbsp. sugar
¼ cup pistachios, chopped
Directions
Cut a thick slice from the center of the watermelon. Trim rind from the side and place on a platter. Repeat until you have two to three slices. Whip heavy cream and sugar until stiff peaks form. Spoon cream on each slice and stack. Cover cake top and sides with cream, adding strawberries, blueberries and pistachios wherever you like. Serve immediately or refrigerate until ready to serve. Serves four, slightly less depending on melon size.
Nutritional information (per serving):
Calories 175; Total fat 9 g; Sodium 28 mg; Carbohydrates 23 g; Sugars 18 g; Protein 2 g
Corn and avocado salad
Fresh corn and herbs provide a distinctly summery flavor. This salad also contains healthy fats and lots of iron and potassium.
Ingredients
4 cups of corn kernels cut off the cob (about 5 ears)
1 avocado, cut into bite-size chunks
1 red or orange bell pepper, diced
½ cup red onion, diced
2 tsp. unsalted butter
2 tsp. olive oil
2 tsp. fresh basil, chives or parsley leaves, chopped
1 lime, juice to taste
Salt and pepper, to taste
Directions: Add olive oil to a skillet and sauté onion over medium heat until soft, about 5 minutes. Stir in peppers and cook for 3 minutes. Next, add corn, salt and pepper.
Cook for 5–7 minutes or until corn loses its starchiness. Remove from heat and let cool. Add the avocado, your choice of herbs and a squeeze of lime juice. Serves four.
Nutritional information (per serving): Calories 325; Total fat 16 g; Sodium 47 mg; Carbohydrates 46 g; Sugars 9 g; Protein 8 g