New helipad brings faster access to life-saving medical care
New helipad brings faster access to life-saving medical care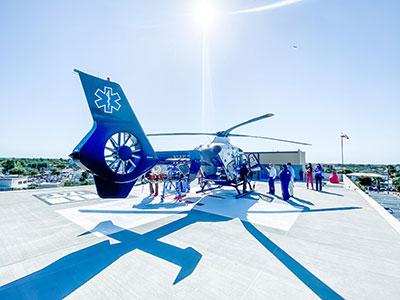 New helipad brings faster access to life-saving medical care
Port Charlotte, FL — Faster access to life-saving medical care is now available at Fawcett Memorial Hospital with the opening of a new helipad. Located on the 4th floor of Fawcett Memorial Hospital's parking garage, medical transport helicopters can now land on the helipad where the hospital's emergency medical team will be waiting to receive the patient.
"The new helipad is an exciting addition to Fawcett Memorial Hospital and our communities," said Michael Ehrat, CEO at Fawcett Memorial Hospital. "We want to ensure we provide timely and efficient care when time is of the essence so our patients have the best possible outcomes."
Crew from medical transport helicopter and the team at Fawcett Memorial Hospital celebrate the opening of Fawcett Memorial Hospital's new helipad

The helipad development and approvals have been over a year in the making and represent another important investment by the hospital into the safety of the community and surrounding areas. Reducing the time it takes for patients to get treatment for potentially life-threatening conditions such as heart attacks and severe strokes is proven to improve outcomes.
Fawcett Memorial Hospital's Comprehensive Stroke Center and Cardiovascular program continue to expand and attract patients from surrounding areas. It is part of the hospital's ongoing commitment to its mission which is the care and improvement of human life.
Published:
April 06, 2021
Location:
HCA Florida Fawcett Hospital