Englewood Community Hospital's Wound Care Center completes expansion
Englewood Community Hospital's Wound Care Center recently completed an expansion project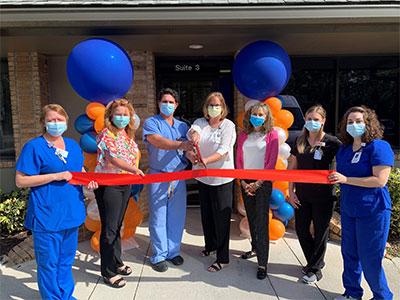 Englewood, FL — Englewood Community Hospital's Wound Care Center recently completed an expansion project into an additional unit at 779 Medical Drive, Englewood, FL 34223. The space will allow for additional rooms, storage space, and an expanded waiting room. In 2020, the location saw over 500 patients and was recognized as a Center of Distinction since 2019 by Healogics. This recognition speaks to the consistent commitment to excellence, quality, and patient experience.
"This nationally recognized center of distinction serves our community well, providing the latest and most advanced treatment modalities available," said Dr. Wadi Gomero-Cure, medical director of Englewood Community Hospital's Wound Care Center.
Wound healing is a unique process and requires full-service care from a variety of healthcare professionals. The multidisciplinary team includes registered nurses trained to treat chronic wounds, physicians with advanced training in wound management, and technicians who perform various therapies.
Our wound-care experts can treat all types of resistant wounds – which are simply wounds that are not responding to conventional wound healing processes. We also have access to advanced imaging services to aid our physicians in diagnosing wounds. Some of the most common types of wounds treated include: arterial ulcers, bone infection, diabetic foot ulcers, gangrene, lower leg ulcers, postoperative infections, radiation burns, skin lacerations, skin tears, venous stasis ulcers and more.
To learn more about wound care services offered at Englewood Community Hospital, please call our Wound Care Center at (941) 473-9305.
Published:
February 12, 2021
Location:
HCA Florida Englewood Hospital
Related Newsroom Articles