Englewood Community Hospital Caregivers help patient celebrate 100 year birthday
Hospital Caregivers organized a special surprise to celebrate a century of life for patient, Ellen "Dorothy" Mortenson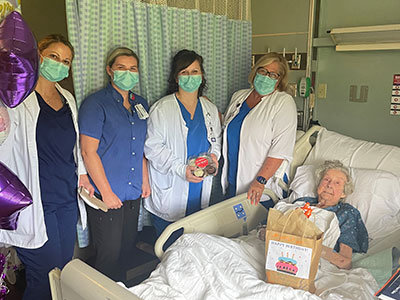 Englewood, FL — The Caregivers at Englewood Community Hospital organized a special surprise to celebrate a century of life for patient, Ellen "Dorothy" Mortenson on Thursday. They showered her with a gift, cupcakes and balloons in her favorite color, purple.
Dorothy was born in Norway and moved to the United States when she was still a baby. She taught art school in Minneapolis for many years before moving to Englewood in 1964. She loves painting with oil. One of her favorite birthday memories was when she traveled to Norway and woke up with a beautiful card and a little box containing a ring given to her by her mother.
When asked what words of wisdom she has on how to live a long happy life, she said, "Eat lots of candy!" and chuckled. She continued, "Its not smart to always hold back. When you want something, go for it. Be kind to everyone, and yourself, as well."
While this can't top her birthday in Norway, she enjoyed celebrating with her care team.
Published:
August 13, 2021
Location:
HCA Florida Englewood Hospital
Related Newsroom Articles
---
HCA Florida Englewood Hospital Announces Monthly Wellness Education Series for 2022