Announcing new outpatient cardiac rehabilitation services
Oak Hill Hospital announces that outpatient Cardiac Rehabilitation Services are now available.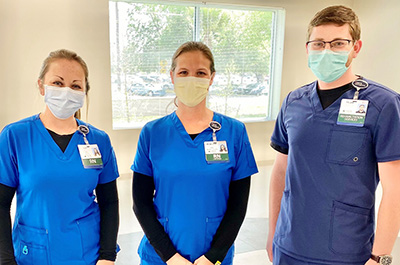 Oak Hill Hospital announces that outpatient Cardiac Rehabilitation Services are now available.
With a doctor's referral, cardiac rehabilitation is utilized to improve the cardiovascular health of individuals who have suffered a heart attack, heart failure, or any other debilitating heart condition. Cardiac rehabilitation usually involves exercise while being closely monitored, and education in order to rebuild and maintain heart strength.
Oak Hill Hospital's cardiac rehabilitation specialists will work with each patient to develop a personalized program based on each patient's needs and goals. The personalized program typically takes place three times a week for approximately 12 weeks.
Benefits of cardiac rehabilitation
Cardiac rehabilitation offers several benefits, including:
Increased physical functioning and overall strength
Increased knowledge about heart disease
Lower blood pressure and cholesterol
Reduced anxiety and depression
Reduced potential for future heart problems through risk factor management
Regained energy which makes daily activities easier

"As the only open heart surgery hospital in Hernando County, adding cardiac rehab services to Oak Hill Hospital was a natural step to continue growing our comprehensive heart program," said David Slovut, M.D., Chief Medical Officer. "Our goal is to be the hospital of choice by providing the services our patients need, keeping them close to home and to their doctor, family, and friends, whose support is instrumental to each patient's full recovery."
Oak Hill Hospital's Cardiac Rehabilitation Services is located on Oak Hill Hospital's campus in the two-story Nature Coast Medical Pavilion, 11371 Cortez Boulevard, Suite 120, Brooksville, FL 34613. For more information about this service, call (352) 606-7190 or visit Oak Hill Hospital's Cardiac website.
Location:
HCA Florida Oak Hill Hospital
Related Newsroom Articles