Inpatient rehabilitation
Inpatient rehabilitation provides intense, daily treatment and physician services for people who need 24-hour help while they recover from surgery or conditions such as strokes.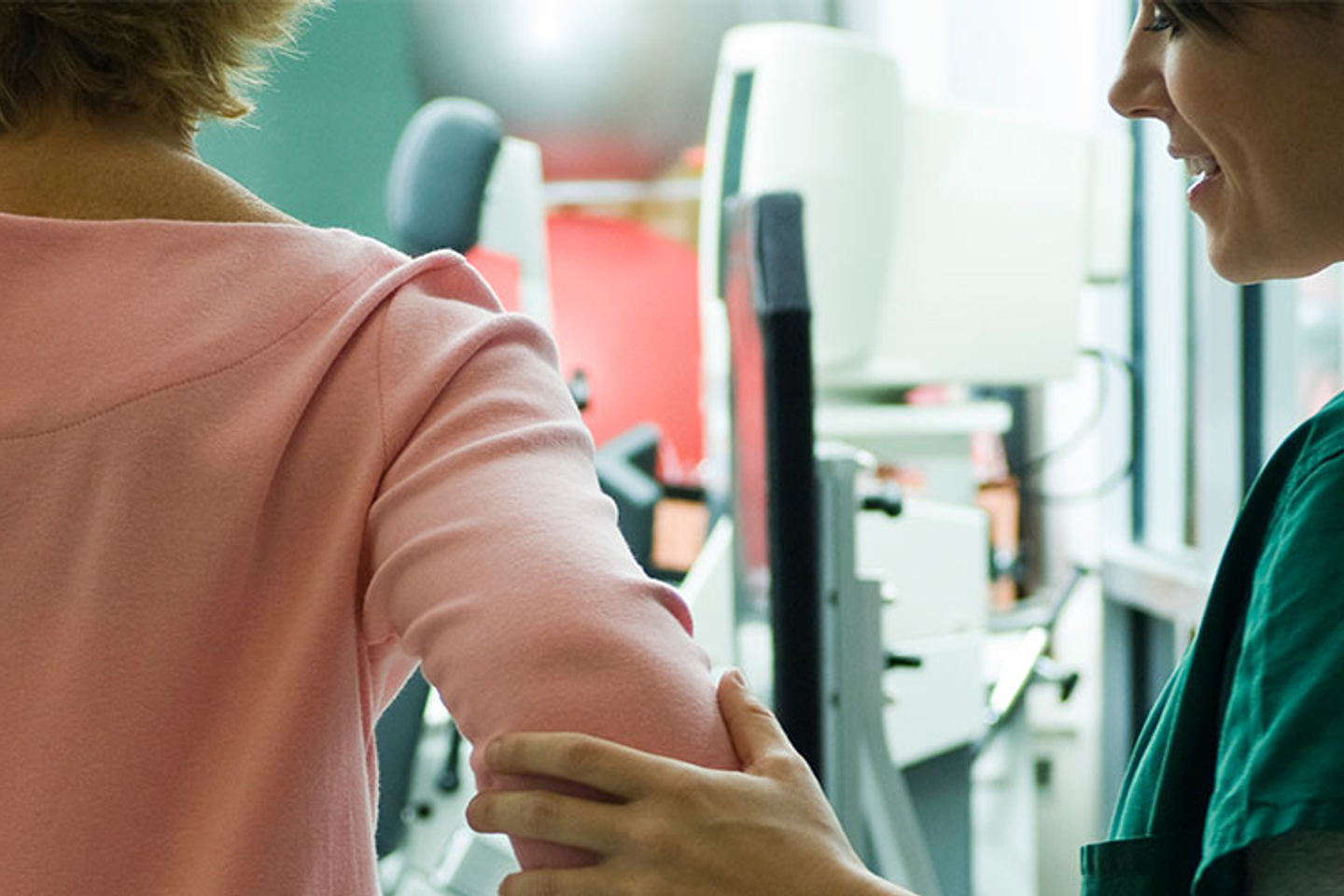 In-hospital physical therapy and rehabilitation in Florida
If you have been in the hospital for a serious illness, injury or surgery, your body will go into overdrive trying to recover, but it often needs help to ensure you can completely heal without risking reinjury.
To help you with this, many hospitals in the HCA Florida Healthcare network offer inpatient physical therapy and rehabilitation programs. We will help you take advantage of these services as soon as you are able — even the same day as your procedure, in some cases — by developing a personalized therapy plan for you. Our coordinated approach to your recovery includes ongoing support and discharge planning to help you get back to your life and regular activities as quickly as possible.
Related Specialties
Learn more about our related specialties
Conditions we treat with inpatient rehab
Patients experiencing the following conditions often benefit from inpatient rehab care
Arthritis, including osteoarthritis and degenerative joint diseases
Bone fractures
Brain injuries
Burns
Congenital deformities
Limb injuries or amputations
Neurological disorders
Spinal cord injuries
Systemic vasculitis with joint inflammation
Traumatic injuries
Other medically complex conditions
Our inpatient rehab services
Types of inpatient therapy we offer
We provide a wide range of rehabilitative inpatient services and therapies, including:
Cognitive (brain) function rehabilitation to relearn and retrain your neurological skills
Occupational therapy to relearn skills of daily living
Physical therapy to strengthen and heal your muscles, heart and limbs
Speech, language and swallowing therapy to assist with speech and swallowing issues and conditions
Therapeutic recreational therapies to relearn social skills to integrate back into society and your life
Our other inpatient rehabilitation services
In addition to state-of-the-art gyms and specialized equipment, our hospitals offer a wide range of rehabilitation services, which can include:
Clinical and neuropsychological evaluation and treatment
Nutritional counseling and consultation
On-site diagnostics and laboratory services
On-site hemodialysis services
Prosthetics and orthotics
Additionally, to help you transition from the hospital back to your life and work, we offer tools and resources such as case management, discharge planning, education and access to community support and social services. We also offer outpatient physical therapy and rehabilitation to help you continue your program of recovery.
Advanced rehabilitation technology
Our inpatient rehabilitation programs use advanced technology to give you the best outcomes. Some of our technologies include:
Assistive tools that give you increased independence
Gait training equipment that controls posture and balance
Interactive video game technology for skills like balance and endurance
"Smart" physical therapy equipment and interactive technology
Specialized areas in which you can practice the activities of daily living
How to participate in inpatient rehabilitation
You can request to participate in inpatient rehabilitation or your doctor or caseworker may recommend it for you. You may also be referred for inpatient therapy after a stay in another medical facility such as an assisted living facility.
In whatever way you come to us, you will typically need a referral for these services, but our teams will help you navigate the process.
Once you're here, our inpatient therapy programs begin with evaluation and a personalized treatment plan. Together, you and your specialists will discuss the number and types of sessions you need as well as how to involve your family and support persons.
Our inpatient rehabilitation teams
You will work with therapists and physicians who specialize in the type of care you need, and you may also work with:
Case managers
Dietitians and nutritionists
Neuropsychologists
Pharmacists
Physiatrists
Prosthetic-orthotic specialists
Psychiatrists
Psychologists
Radiologists
Social workers
Surgeons
Vascular specialists
Wound care physicians
Looking for a location?
We also offer quality care at these other locations in our extended network.
Related Physical Therapy & Rehab Blog Posts