Women's care
Whether you are in adolescence or menopause, seeking preventive care or treatment, your individual needs come first. Our commitment is to support you through every stage of life.
Women's care in Pensacola, Florida
Whether you are in adolescence or menopause, seeking preventive care or treatment, your individual needs come first.
At HCA Florida West Hospital, we are committed to supporting you through every stage of life. Our gynecologists and other women's care specialists provide exemplary care to women throughout Pensacola. Our women's services include personalized maternity care, minimally invasive gynecologic surgeries and advanced heart care for women.
Screening mammogram
You can now schedule a screening mammogram online.
You can now schedule a screening mammogram online.
Related specialties
Learn more about our related specialties.
Women's health conditions we treat
Our OB/GYNs and other physicians and specialists can diagnose and treat a wide range of women's health conditions, including:
Chronic gynecologic pain
Endometriosis
Excessive bleeding or menorrhagia
Gynecologic cancers, such as cervical and endometrial
Heart disease
Osteoporosis
Pelvic organ prolapse
Sexual dysfunction
Urinary and/or bowel incontinence
Uterine fibroids
Vaginal ulceration
Our women's health services
Whether you need a routine well-woman exam, you want a mammogram or you have a complex gynecological issue, our physicians can help.
Breast health
We offer screening mammograms for women ages 35 and older. We file most insurance. Medicare will pay for screening mammograms every year with no deductible for women age 40 and over who have Medicare coverage.
Mobile mammograms
If you can't make it to our hospital to get a mammogram, we can bring it to you with our mobile mammography unit.
To make a mammogram appointment, please call (888) 894-2113 and select option one.
Labor and delivery
We understand you need comfort and privacy in your birth experience. That's why we offer a customizable labor and delivery experience, which involves:
24/7 support and care
Childbirth classes
Family-centered visitation services
Private rooms
Specialized birth plans
For more information about delivering at our hospital, call (850) 494-4368.
Gynecological surgery
If medication and noninvasive procedures are unable to relieve your symptoms, surgery may be an effective option.
Traditional gynecologic surgery uses a medium to large incision. At our hospital, our goal is to provide more minimally invasive options, with smaller incisions, so you can get optimal care with the quickest recovery possible.
Some of the gynecological surgeries we offer are:
Robot-assisted myomectomy for uterine fibroids
Open and robot-assisted sacrocolpopexy for vaginal vault prolapse
Hysterectomy
Physicians perform hysterectomies to treat a wide variety of uterine conditions. A hysterectomy and follow-up treatment may also be required in more life-threatening conditions, such as cancer or uncontrollable bleeding in the uterus.
We offer radical hysterectomy or modified radical hysterectomy, supracervical hysterectomy and total hysterectomy.
Although we consider robotic hysterectomy to be the top treatment choice, it may not be for everyone. We want to ensure each patient has options, so we offer several different hysterectomy approaches, including:
Open approach
Laparoscopic hysterectomy
Robotic hysterectomy
Single-site hysterectomy with robotic surgery
Vaginal hysterectomy
Robot-assisted gynecological procedures
For complex hysterectomies and other gynecological procedures, we recommend robot-assisted surgery when possible. With this approach, through tiny incisions, surgeons can operate with robotic precision and control.
Compared to traditional gynecological surgery, robot-assisted procedures can offer the following benefits:
A faster return to normal daily activities
A shorter hospital stay
Less scarring
Reduced pain
As with any surgery, these benefits cannot be guaranteed because surgery is unique to each patient and procedure. Additionally, although these robot-assisted surgeries are considered safe and effective, this approach may not be appropriate for every patient. Always ask your doctor about all treatment options, as well as their risks and benefits.
Osteoporosis care
Osteoporosis is characterized by low bone mass and structural deterioration of bone tissue, which results in weak bones that are prone to fractures. This disease primarily effects women.
West Florida Rehabilitation Institute offers a comprehensive program for the prevention and management of osteoporosis. A referral from a Florida licensed physician, nurse practitioner or physician's assistant is required for admission into the program.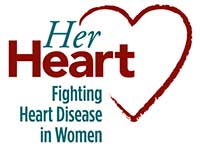 Heart disease program for women
Most women are not aware of the warning signs and their personal risk factors for cardiovascular disease that are unique to women. That's why our women's healthcare and cardiology services unite to present HerHeart, a program designed to fight heart disease in women. Through HerHeart, we offer vital education, screenings and links to healthcare resources.
Our mission is to inspire women to become more involved in their heart health and give them the tools and guidance they need to accomplish their goals.
Female risk factors for heart disease
Whether it's about prevention or recovery, HerHeart empowers women to fight for their personal heart health. If two or more of the following risk factors apply to you, schedule a screening with a HerHeart cardiologist today:
Women with high triglycerides
Women 55 years old or older, or past menopause
Women who exercise less than 30 minutes a day
Women with high cholesterol, high LDL or low HDL
Women who are more than 20 pounds overweight
Women who currently smoke or who smoked for more than 20 years
Women with a family history of cardiac, stroke or circulation problems
Women who had gestational diabetes or a baby weighing more than nine pounds
Women with diabetes or women who need medication to control blood sugar
Women with a history of high blood pressure or blood pressure problems during pregnancy
To learn more about the HerHeart program or to find out about our next HerHeart seminar or free screening, please call (850) 494-3212.
Heart disease prevention
You may or may not be experiencing symptoms related to cardiovascular disease right now. Keep in mind, there is no way of knowing if you have high cholesterol or high blood pressure without being tested.
Below are steps you can take now to improve your heart health:
Control your weight.
Contact your doctor immediately if you have any symptoms.
Eat more whole grains, fruits, vegetables and fish.
Exercise at least six times a week for 30 minutes.
Have a full lipid evaluation and discuss the results with your doctor.
If you have diabetes, manage it with proper lifestyle and/or medications.
If you smoke, stop.
Improve your diet by eating and cooking with less fat.
Know the signs of heart disease.
Reduce stress and make your health a priority.
Schedule a checkup if you have any of the risk factors.
Thrive Blog
Read our blogs to learn about preventive care and ways you can take charge of your health and well-being.
Looking for another location?
We also offer quality care at these other locations in our extended network.
Our Women's care Locations