Orthopedic care
Orthopedic doctors, called orthopedists, take care of bones and joints. This includes knee pain, total joint replacement, issues that impact your spine and more. You might need to see an orthopedist if you have arthritis or osteoporosis, or if you've had a recent sprain, strain or broken bone.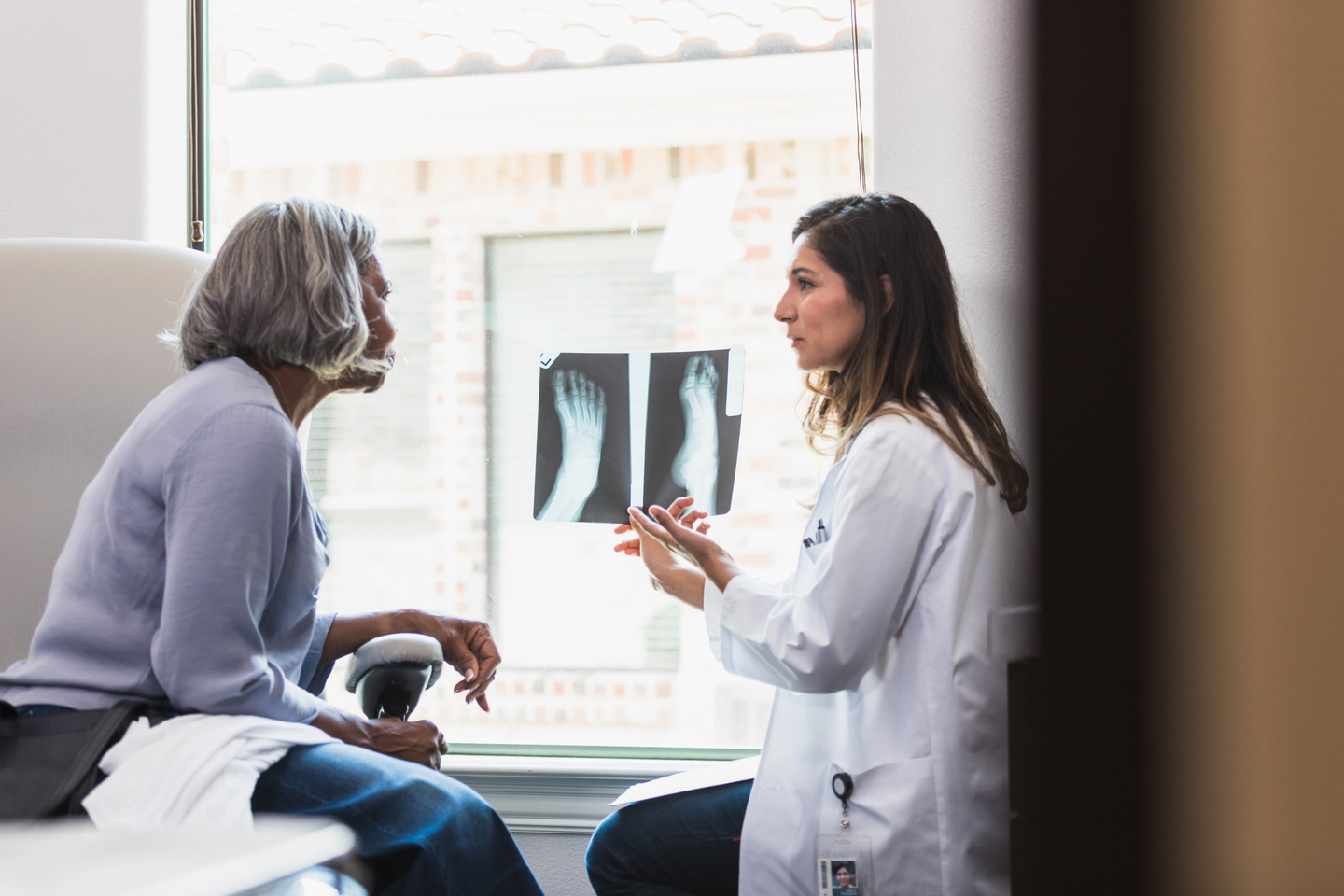 Orthopedics in Pensacola
When your bones, joints and muscles are hurting, we can help you recover and reclaim your quality of life.
At HCA Florida West Hospital, you'll find a high-quality orthopedic team ready to take care of you. Our team treats conditions such as acute fractures, chronic pain, arthritic conditions sports- and work-related injuries and degenerative bone diseases. Additionally, our specialty care programs for spinal cord injury rehabilitation and joint replacement surgery aim to help you regain mobility as fully and quickly as possible.
Are your bones and joints healthy?
When something is wrong with your bones or joints, it can be painful and debilitating. We offer you a bone and joint health risk assessment to help you get started on a path to recovery and wellness.
When something is wrong with your bones or joints, it can be painful and debilitating. We offer you a bone and joint health risk assessment to help you get started on a path to recovery and wellness.
Our treatments and services
Our orthopedic surgeons work with specially trained nurses and physical therapists to provide a multidisciplinary team approach to treatment and recovery.
Spinal cord injury care
The majority of spinal cord injuries are caused by motor vehicle accidents. However, any type of trauma to the body, such as violence or a fall, could hurt the spine.
We help patients recover, improve or manage side effects of a spinal cord injury, including:
Bowel/bladder difficulties
Decrease in joint mobility
Impaired circulation
Impairment of sexual function
Loss of sensation
Muscle spasticity
Paralysis or weakness of muscles
Poor ability to regulate body temperature
Rehabilitation after a spinal cord injury
Our West Florida Rehabilitation Institute offers a comprehensive inpatient program for the treatment of persons who have suffered a spinal cord injury. The Spinal Cord Injury Program offers:
Adaptive aquatics
Community skills outings
Community reorientation therapy
Driver evaluation/training
Equipment/assistive technology recommendations
Family training/education
Home accessibility evaluation
Medical consultants
Ongoing therapy sessions
School system education
Spinal cord injury support group
Spinal injury management series education
Joint replacement surgery
Our Total Joint Program offers preoperative exercise, treatment and education for patients who need hip, knee or shoulder care. In addition, our orthopedic staff works closely with the West Florida Rehabilitation Institute to provide comprehensive inpatient care following a joint replacement surgery.
Direct anterior approach to hip replacement
Our orthopedic surgeons perform a minimally invasive surgical procedure for hip replacements: direct anterior surgery. This approach involves a short incision and allows our surgeons to replace the joint without detaching tendons.
Since the tendons are not detached during this procedure, patients can return to normal activities shortly after surgery with a lower risk of dislocation.
Orthopedic rehabilitation specialists
Our rehabilitation specialists are here to help you regain strength, independence and mobility.
Our rehabilitation team
Our staff includes:
Case managers
Occupational therapists
Physiatrists
Physical therapists
Psychologists
Recreational therapists
Rehabilitation nurses
Respiratory therapists
Speech therapists
Vocational rehabilitation specialists
Thrive Blog
Read our blogs to learn about preventive care and ways you can take charge of your health and well-being.
Looking for another location?
We also offer quality care at these other locations in our extended network.