Physical therapy and rehabilitation
Rehabilitation refers to the process of helping a patient recover from a serious injury or illness. Patients often have to regain strength and learn new ways of completing normal, daily activities. Physical therapy, a branch of rehabilitation, focuses on building strength and mobility after disease, injury or surgery.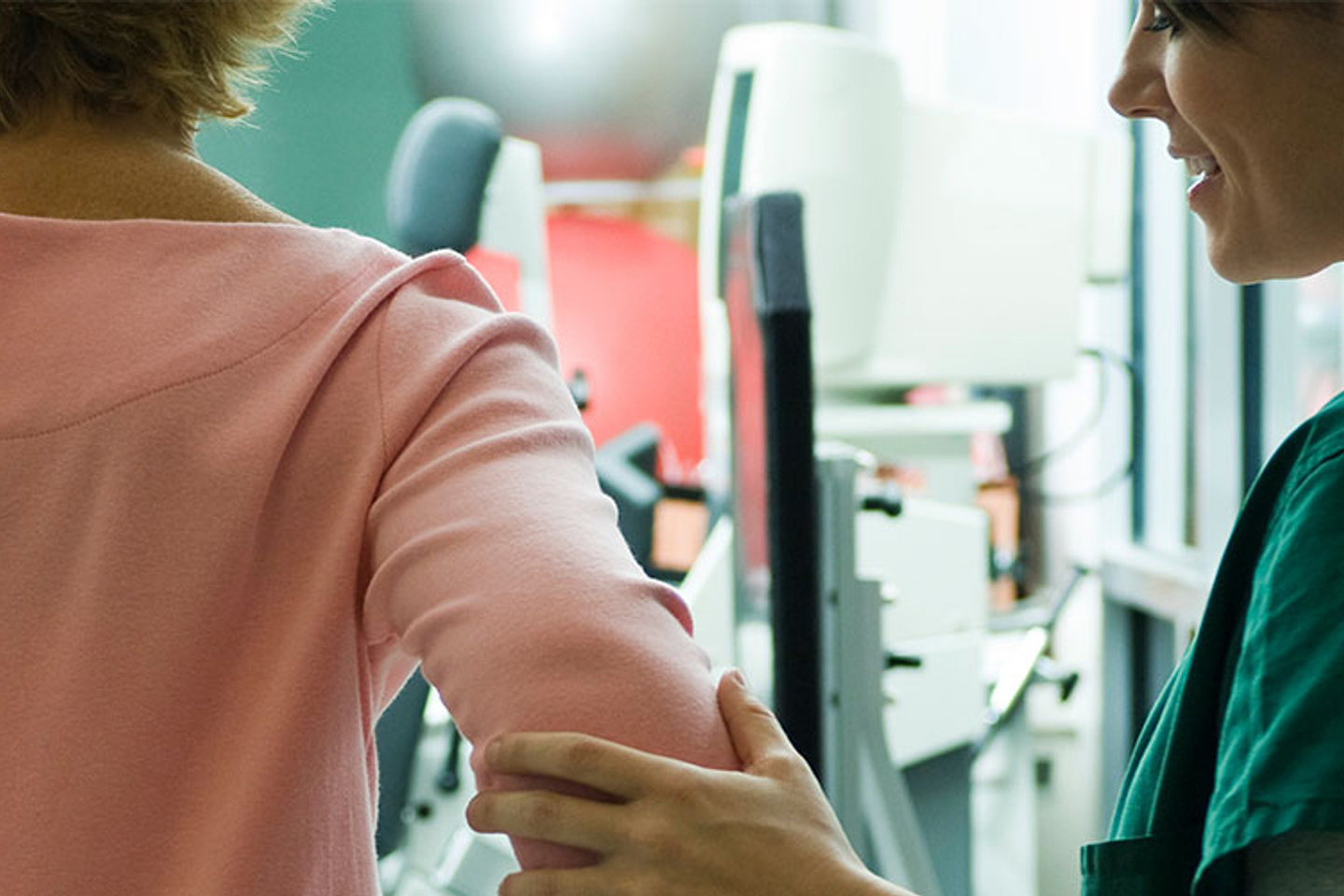 Rehabilitation services in Trinity, Florida
If you are recovering from a serious injury or disease, it can be challenging to get healthy again — and may even be unsafe to attempt it alone.
At HCA Florida Trinity Hospital, our rehabilitation center serves Pinellas County, offering inpatient and outpatient treatment to improve your functionality, independence and quality of life. Your treatment team will develop a plan tailored to your unique needs and will provide focused one-on-one treatment sessions.
Looking for a Location?
We also offer quality care at these other locations in our extended network.
Rehabilitation treatment options
Our highly trained professionals provide the latest therapies to promote recovery and build strength and skills, including:
Physical therapy
Physical therapy can provide relief from a wide range of muscle and joint disorders, whether they were the result of disease, injury or surgery. Our licensed physical therapists provide comprehensive physical therapy, and our certified manual therapists skillfully treat joint disorders. Our physical therapy for adults and children includes:
Functional electrical stimulation (ESTIM)
Home exercise programs for strength and balance
Instrument-assisted soft tissue mobilization (IASTM) (to treat scar tissue and fascial restrictions during rehabilitation)
Manual therapy, including stretching and exercise
Traction
Occupational therapy
Occupational therapy helps patients regain their independence in activities of daily living (ADL). Our licensed occupational therapists provide treatments that include:
ADL, home management and vocational training
Gross and fine motor skill development
Functional mobility
Hand therapy
Splints for arms and hands
Lymphedema therapy
Lymphedema is swelling that happens when the lymph system becomes blocked or damaged and fluid (lymph) builds up in the arms and legs. The condition causes loss of movement and function and reduces the ability to grip.
Our certified lymphedema and wound care therapists focus on controlling swelling by moving lymph through the body. Therapies offered include:
Compression devices
Exercise
Massage
Pressure garments
Pelvic floor therapy
Our physical therapists have specialized training in pelvic floor therapy. Patients who have pelvic floor dysfunction receive therapy in our private rooms. Treatment options include:
Bladder and bowel retraining
Pelvic floor muscle strengthening
Manual therapy and soft tissue mobilization
Pelvic floor relaxation/down training
Electromyogram (EMG) biofeedback
Speech pathology
Our speech-language pathologists care for patients with swallowing or speech disorders. Our speech therapies include:
Articulation therapy
Augmentative and alternative communication systems, including body language and electronic aids
Voice therapy for Parkinson's disease
Oral-motor exercises to improve feeding and swallowing
Neuromuscular electrical stimulation system therapy
Neuromuscular electrical stimulation system therapy
We are proud to offer a breakthrough method used in the management and treatment of swallowing disorders. Our neuromuscular electrical stimulation system retrains throat muscles to swallow. This therapy reeducates the functional muscle-use patterns necessary to initiate or reestablish swallowing.
Vestibular therapy
When you experience unsteadiness, dizziness and vertigo, it can be debilitating and greatly affect your quality of life. To help, we offer vestibular rehabilitation — an exercise-based program used to treat the cause of balance issues and vertigo.
Our certified vestibular therapists focus on identifying the source of the symptoms and develop a customized program which may include:
Benign paroxysmal positional vertigo (BPPV) maneuvers
Gait and balance training
Gaze stabilization and visual tracking exercises
Habituation and adaptation exercise
Manual therapy
Rehabilitation support groups
Our rehabilitation support groups help you gain insight by sharing their experiences with others:
Chatterboxes

is a group for patients with communication deficits as a result of a cerebral vascular accident (stroke) or neurological disorders. We encourage caregivers and spouses to attend. This group is led by our speech-language pathologists, and it meets every other Thursday, from 3:00pm to 4:00pm.

Lymphedema Support Group is led by a licensed physical therapist and meets on the third Thursday of each month, from 3:00pm to 4:00pm.
Collaborative therapy services
We strive to provide excellent, comprehensive care to patients. To do this, our rehabilitation team works closely with the physicians and specialists in many of our hospital's departments, including:
Our rehabilitation team
Our treatment team includes:
Certified lymphedema therapist
Certified manual therapists
Certified speech-language pathologists
Certified pelvic floor physical therapists
Certified vestibular therapist
Licensed occupational and physical therapists
Getting to your physical therapy appointment
We are located in the Medical Arts Building, which is east of main facility's main entrance.
For more information, contact us at (727) 834-4445. Our address is:
9332 State Road 54, Suite 101
Trinity, FL 34655
The Healthy Living Blog
Fresh knowledge and insights in and around healthcare industry.
December 10, 2020
Did you know that exercise not only boosts your mental and physical health, but also combats chronic health conditions? Learn more about the benefits of exercising and get moving!
December 10, 2020
Did you know that exercise not only boosts your mental and physical health, but also combats chronic health conditions? Learn more about the benefits of exercising and get moving!