Breast health
From regular checkups and screenings to the latest imaging technologies and treatments, you can access all our expert breast care services at our convenient location.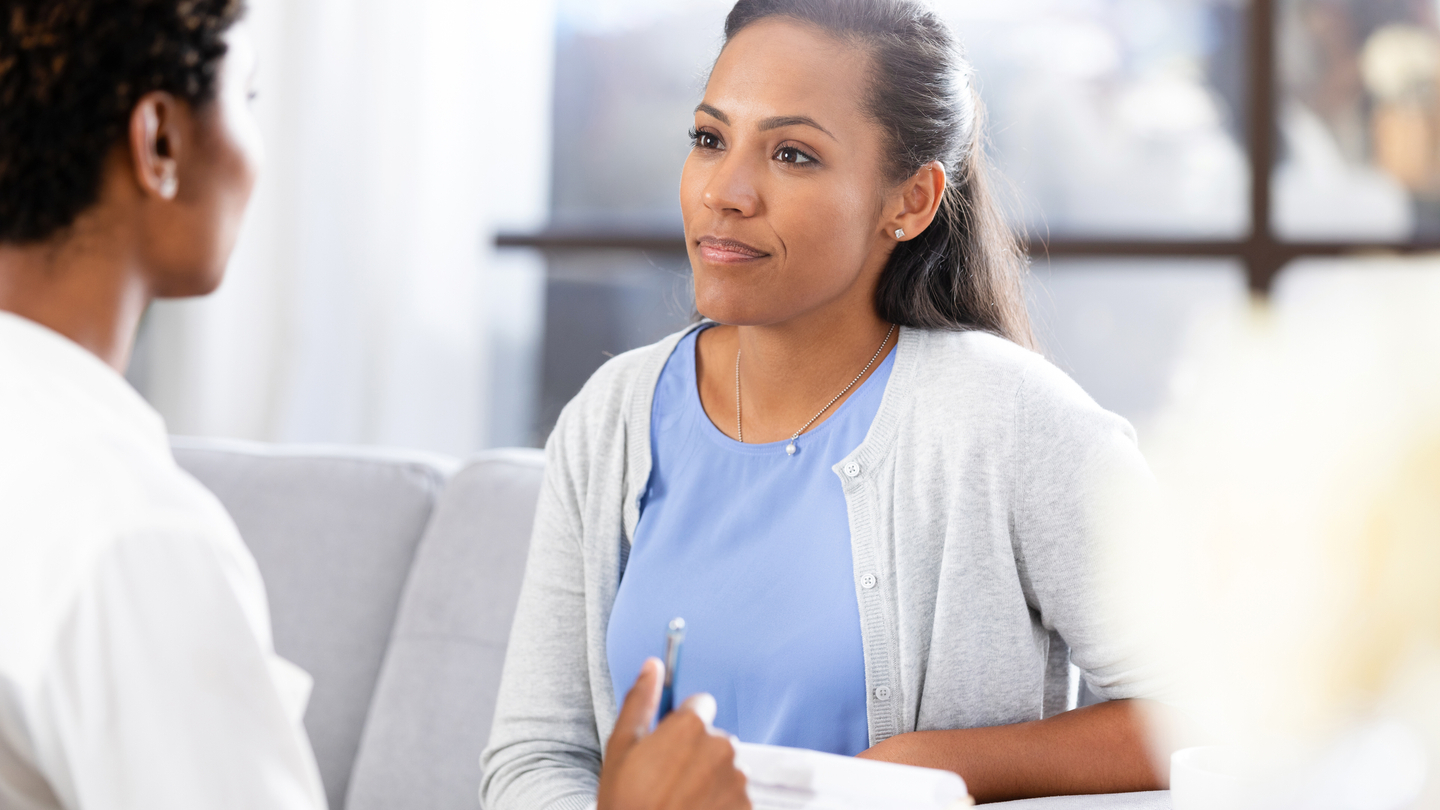 Breast care center
When you need a breast exam, our specialists provide advanced imaging options and full-service care.
At HCA Florida Ocala Hospital, our breast imaging center offers comprehensive breast diagnostics. We are dedicated to finding breast cancer and other breast conditions early and providing patients with the highest quality of care.
Related specialties
Learn more about our related specialties
Breast conditions we treat
There are many types of benign breast conditions. Your healthcare provider may use the term "fibrocystic change" to describe many of them. We treat these and other breast conditions, including:
Anaplastic large cell lymphoma
Breast cancer in men
Breast cancers caused by BRCA genetic mutations
Estrogen receptor (ER)-positive breast cancer
HER2-positive breast cancer
Hormone receptor-positive breast cancer
Inflammatory breast cancer
Rare breast tumors
Triple-negative breast cancer
Our breast health center
Our breast health specialists offer breast screenings, advanced diagnostics and breast health education.
Breast cancer screening
There are varying recommendations on mammogram screening guidelines from the American Cancer Society, U.S. Preventative Task Force and the American College of Obstetrics and Gynecologists. Sarah Cannon, the Cancer Institute of HCA Healthcare, has made recommendations that enable us to catch cancers as early as possible, when treatment can lead to a better outcome.
Sarah Cannon recommends an annual mammogram screening for women ages 40 to 74 years old. Sarah Cannon also emphasizes the importance of conducting screenings using digital mammography which produces clearer images, resulting in fewer false positives and unnecessary biopsies than film mammography.
Your decision to undergo screening should be made in consultation with your physician. If you are considered high-risk for developing breast cancer, you should consult your physician on when to begin screening.
What are the different types of breast screenings?
There are several types of breast imaging, including:
Mammograms (If your breasts are tender or swollen due to your menstrual cycle, consider rescheduling your mammogram to the week following your menstrual cycle.)
Breast magnetic resonance imaging (Breast MRI) (Even if you are at higher risk, you still need to have regular mammograms in addition to any other recommended screening tests.)
Breast ultrasound (A breast ultrasound does not replace regular mammograms.)
Clinical breast exam (CBE) (Your healthcare provider physically checks your breasts and underarm areas.)
Digital breast tomosynthesis may also be added to mammograms to improve images.
Advanced breast cancer treatments
Our multidisciplinary team of specialists in medical, surgical and radiation oncology, plastic surgery, breast imaging, pathology, genetic counseling and physical medicine work together to consider multiple factors in determining the best treatment plan for each patient, including stage of the cancer, family history and past medical history. Let our healthcare team assist you in finding the right treatment for you.
Available treatments include:
Breast surgery and reconstruction
Medical oncology (by referral)
Radiation oncology (by referral)
Clinical trials
Physical rehabilitation
Clinical trials for breast cancer
We offer physicians and their patients' access to a robust trial menu that investigates more than 200+ unique agents through trials each year. Our clinical trials are powered by Sarah Cannon, a global leader in cancer research. As trusted experts in the field of oncology research, Sarah Cannon has conducted more than 300 first-in-man trials to date and been a clinical trial leader in the majority of approved cancer therapies over the last decade.
Breast reconstruction
Breast reconstruction is a surgical procedure performed to create a natural breast shape, and allows for the comfort and ease of not wearing a prosthesis. The choice to undergo reconstructive surgery after a mastectomy or lumpectomy is a personal one. The breast health specialists in our program include general surgeons and plastic surgeons.
Integrated breast health services
Breast tumors, both cancerous and noncancerous, are among the most common health problems women face today. Even so, receiving a breast cancer diagnosis can be overwhelming, as you learn new terminology and determine the best treatment plan for you. Through our partnership with Sarah Cannon, we offer integrated breast cancer services with convenient access to leading-edge therapies for those facing breast cancer in our community.
Our team of experts works together with Sarah Cannon's global network of cancer leaders to bring you the best care from diagnosis through survivorship. Our leaders from across specialties discuss individual cases in multidisciplinary conferences so you can be assured you are getting the best treatment possible.
With a multidisciplinary approach to your care, we offer a variety of breast health services, including:
High-risk screening evaluation
Advanced diagnostic services
Medical and surgical oncology
Access to clinical trials and research through Sarah Cannon
Survivorship support
Nurse navigation
We also work together with Sarah Cannon to provide experienced, compassionate nurse navigators to support you as you go through the many stages of living with cancer. Your nurse navigator is your medical system advocate and will help you and your family understand each part of the cancer journey while compassionately supporting your physical, emotional and spiritual needs.
About Sarah Cannon's askSARAH
We offer askSARAH — powered by Sarah Cannon — a system designed to help answer your cancer-related questions. Whether you want to know about treatment options or where to find care close to home, askSARAH can connect you directly to cancer specialists who can help.
To speak to an askSARAH registered nurse specially trained to help with your cancer questions, call (844) 484-4812.
(All calls are confidential and nurses are available to speak 24/7.)
Frequently asked questions about breast health and imaging
We hope we can provide you answers to a few commonly asked questions.
What is considered a "normal" breast?
There is no "normal" or "standard" breast among women. Breasts differ in size, shape and density, and often one breast will be slightly different from its pair on the same person. Pregnancy as well as monthly menstrual cycles can change the size and tenderness of your breasts.
If you have any concerns, share them with your healthcare provider.
---
When should I be screened for breast cancer?
You should receive an annual mammogram beginning at age 40. If you are at a high risk of developing breast cancer, consult your physician.
---
Who is at high risk for breast cancer?
You may be at a higher risk of developing breast cancer if one or more of the following applies to you:
A high proportion of dense breast tissue instead of fatty tissue
Increased exposure to estrogen, such as getting your first period before age 13, reaching menopause after age 51 or having prolonged hormone replacement therapy
Overweight, particularly after menopause
Pregnancy after age 30 or no pregnancy at all
Previous breast exposure to radiation therapy before age 30
Previous biopsy results that indicate atypical hyperplasia, lobular carcinoma in situ or radial scar formation
Prior personal history of breast cancer or other abnormalities in the breast tissue
---
How should I prepare for my breast imaging appointment?
Dress for comfort. Depending on the type of mammogram, you may only need to remove your top.
If you are having a mammogram, don't wear deodorant, perfume, or powder. However, if you forget, many centers provide cleansing cloths for this purpose.
---
How do I schedule an appointment with HCA Florida Ocala Hospital Imaging Center?
Call (844) 484-4812 to speak to an askSARAH registered nurse specially trained to help with your cancer questions.
---
What is considered a "normal" breast?
When should I be screened for breast cancer?
Who is at high risk for breast cancer?
How should I prepare for my breast imaging appointment?
How do I schedule an appointment with HCA Florida Ocala Hospital Imaging Center?
The Healthy Living Blog
Fresh knowledge and insights in and around healthcare industry.
How to choose where to give birth  
When you're expecting a baby, the key isn't just finding the best OBGYN and hospital – it's finding the best OBGYN and hospital for you.
Looking for another location?
We also offer quality care at these other locations in our extended network.