Orthopedic care
Orthopedic doctors, called orthopedists, take care of bones and joints. This includes knee pain, total joint replacement, issues that impact your spine and more. You might need to see an orthopedist if you have arthritis or osteoporosis, or if you've had a recent sprain, strain or broken bone.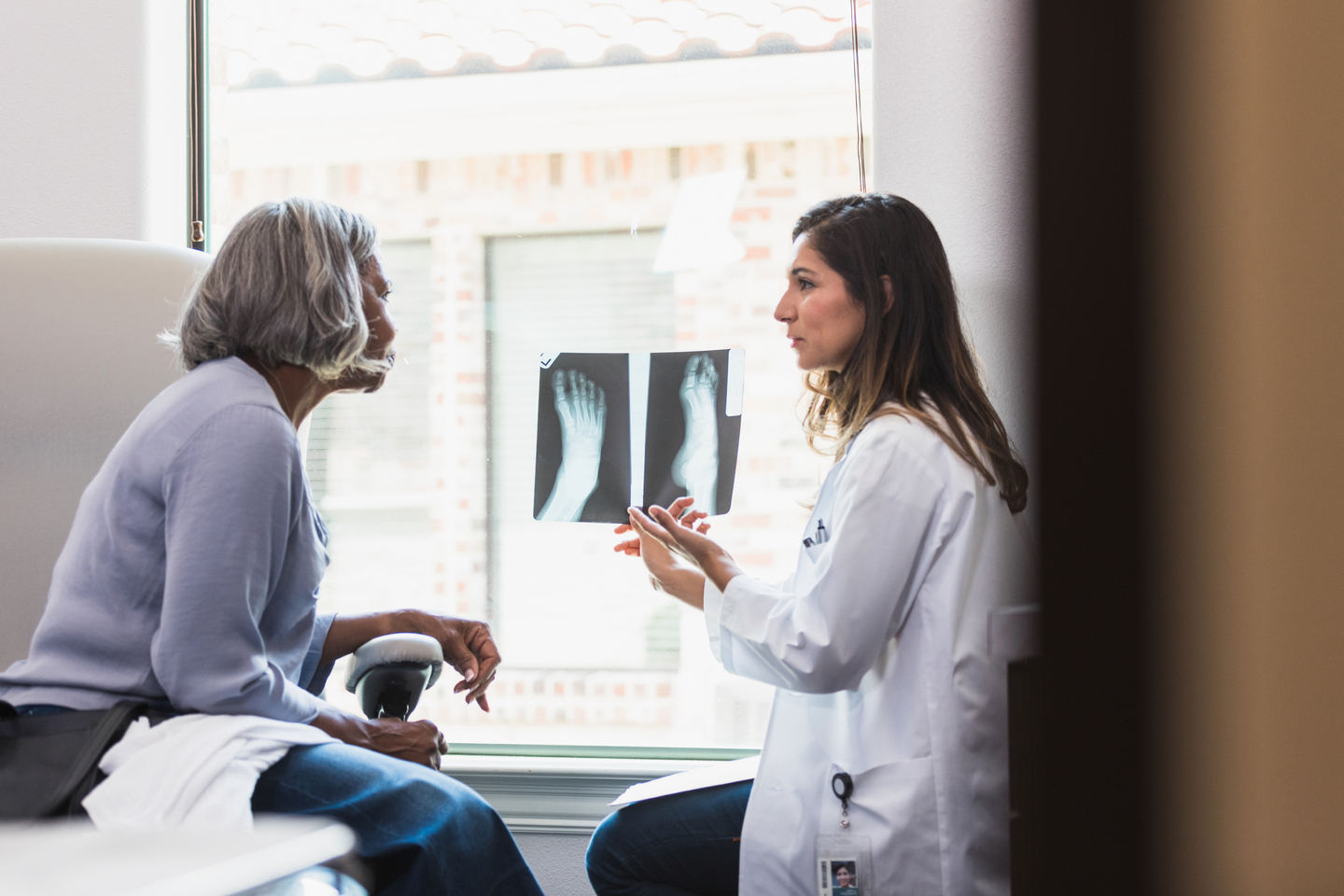 Orthopedic care in Broward County, Florida
Working together, our team can help restore your quality of life and get you back to the activities you love.
Joint and muscle pain can be debilitating and affect even your normal everyday activities. That's why the Orthopedic and Spine Institute at HCA Florida Northwest Hospital offers comprehensive orthopedic services to Ft. Lauderdale, Margate and the surrounding communities.

Our board-certified orthopedic doctors specialize in diagnosing a wide range of conditions and injuries while using the latest advancements in minimally invasive treatments.
Take our free joint health assessment
Learn more about how your knee and hip health may be affecting your quality of life.
Learn more about how your knee and hip health may be affecting your quality of life.
Spinal conditions we treat
Our specialists are committed to providing you with comprehensive diagnostic and treatment services. We know how back pain and spine conditions can interfere with many different facets of your life. We treat the following: 
Cartilage restoration and repair
Collateral ligament surgery
Curvature deformities
Degenerative disc disease
Facet disease
Foot and ankle surgery
Fractures
Hip labral repair
Herniated disc
Infections
Meniscus repair
Myelopathy
Radiculopathy
Sacroiliac joint dysfunction
Shoulder replacement
Spinal cord injuries
Spinal stenosis
Spondylolisthesis
Spondylosis
Surgical intervention for sports injuries
Total ankle replacement
Tumors
Our orthopedic treatments and services
When you come to our hospital for orthopedic care, you have access to state-of-the-art treatment options.
Features of our orthopedic center
34 private suites that allow you to focus on your recovery
A full range of diagnostics, surgical procedures, rehabilitative care and preventive care services under one roof
Dedicated operating rooms equipped with advanced surgical technology
Orthopedic treatment options
First, we will work with you to accurately diagnose your condition. From there, we will create a treatment plan that is tailored to your needs.
Nonsurgical orthopedic treatment
If surgery is not needed to treat your condition, your treatment may include:
Anti-inflammatory medication: Your doctor may prescribe or recommend an anti-inflammatory medication to reduce swelling and pain.
Electrical stimulation: Your doctor may recommend electrical stimulation therapy to help treat muscle spasms and pain.
Physical therapy: Your doctor may recommend physical therapy to help restore mobility and strength.
Orthopedic surgery
Depending on your unique condition, surgical care may be the recommended treatment. Surgery may also be considered when nonsurgical treatments haven't been effective.
Our orthopedic surgeons are highly experienced in performing a variety of procedures, including:
Anterior approach to hip replacement surgery
Anterior cruciate ligament (ACL) reconstruction
Arthroscopy
Hand surgery
Rotator cuff repair
Spine surgery
Total knee replacement
Total ankle replacement
Foot and ankle surgery
Surgical intervention for sports injuries
Shoulder replacement
Cartilage restoration and repair
Meniscus repair
Collateral ligament surgery
Hip labral repair
Minimally invasive surgery options
We provide a variety of minimally invasive orthopedic surgeries, such as tendon repair, carpal tunnel surgery and wrist arthroscopy. Minimally invasive surgery provides several benefits compared to traditional surgery, such as:
Reduced postoperative pain
Shorter hospital stays
Smaller incisions
Dedicated nurse navigator
We are proud to offer nurse navigation services as a resource for you before, during and after your procedure at no additional cost. Our orthopedic and spine nurse navigator is here to:
Advocate for your needs when corresponding between physicians or care staff
Help coordinate appointments, transportation and access to care
Provide education regarding equipment, medical services and community resources for a safe discharge home
Share clinical expertise when you have questions about your treatment plan or medications
To speak with our nurse navigator about your individualized treatment plan, please call (954) 254-9740.
Physical therapy and rehabilitation
Physical therapy and rehabilitation can play an important role in recovering from an injury or surgery. We provide physical and occupational therapy to help restore strength, decrease swelling and pain and promote your return to functional movement.
The Healthy Living Blog
Fresh knowledge and insights in and around healthcare industry.