Take a swing at protecting yourself from the most common golf injuries
Learn the most common injuries you'll find on the golf course and keep your fitness on the fairway with tips from experts at HCA Healthcare.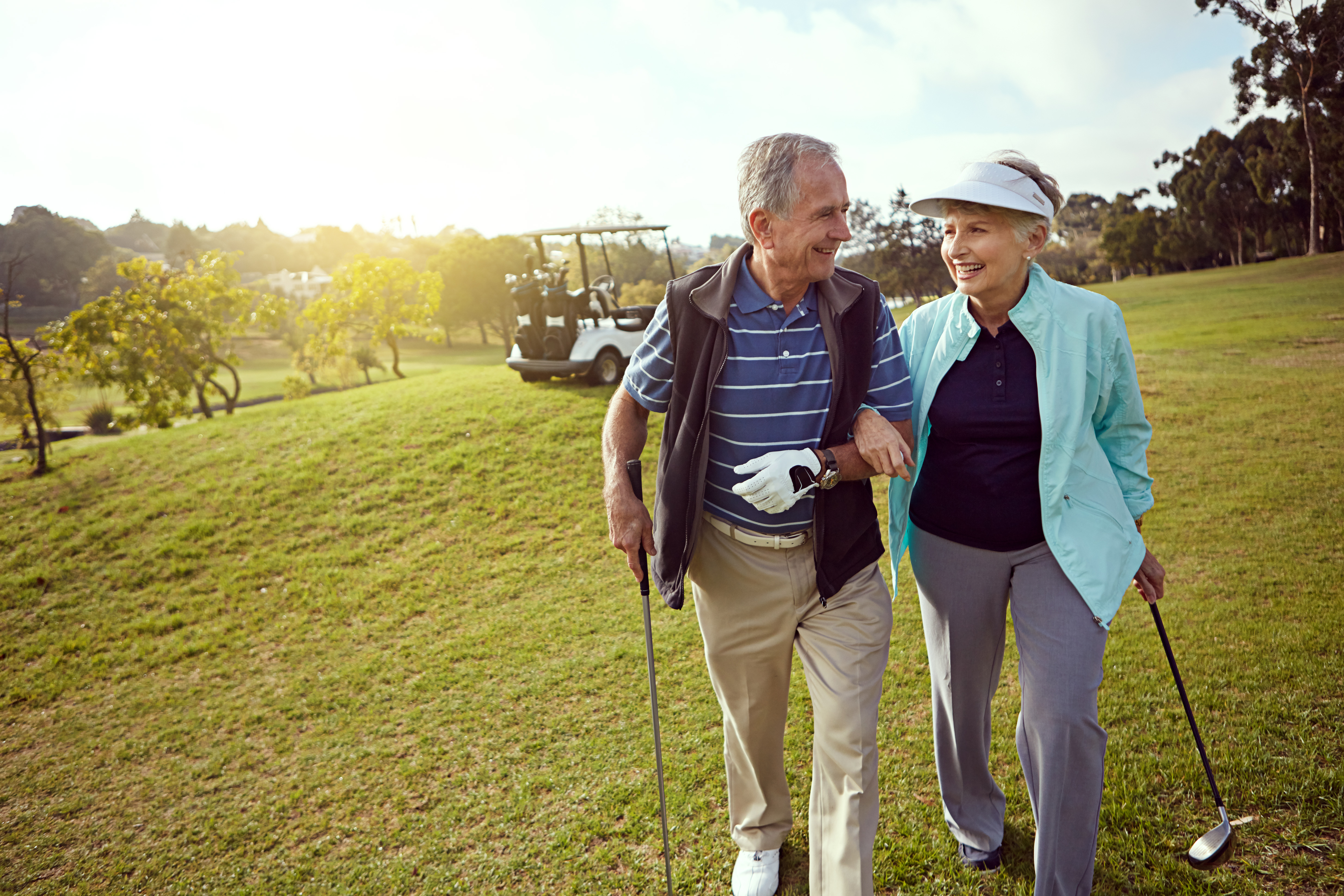 Golfing has exploded in popularity since the COVID-19 pandemic: According to the PGA Tour, nearly one in seven Americans played golf in 2022. For many, golf supports both their physical and mental needs, from walking up to five miles during an 18-hole round to much-needed time with friends—all in beautiful, wide-open spaces.
"Another great benefit of golf is that it's a lifetime sport," says Dr. Andrew Hiller, orthopedic surgeon with HCA Florida Healthcare. "With just a few precautions, golfers can protect themselves from injury and continue to reap the benefits of their sport well into their senior years."
Avoid tee time troubles and learn how to get back on the green with these tips.
Get clued in on common golf injuries
Golf might be a non-contact sport, but that doesn't mean golfers are immune to injury. Be in-the-know about common injuries.
Back injuries
Often caused by poor swinging technique, limited flexibility or decreased strength, low back pain can make golfing uncomfortable. But proper warmups and strength training can help.
Foot and ankle injuries
Golfers can be prone to foot and ankle injuries, both from walking on the course and from rotations when they swing. Avoid these injuries with proper footwear, including golf spikes, which can help you have a better grip on the ground.
Golfer's elbow
An overuse injury that's somewhat unique to golf, golfer's elbow can be painful. But you can help prevent it with strength training to improve your forearm strength. Still in pain from swinging too much? Rest, ice and over-the-counter anti-inflammatories can keep your pain at bay.
Hip and knee injuries
Like many sports that require rotation, it's common for golfers to experience knee injuries such as meniscus or ligament sprains or tears. Arthritis can also impact the knees over time.
In addition, golf can also cause issues with golfers' hips, especially if your hip muscles are weak. Hip bursitis can also develop with repeated swings. But regular stretching and strength training can help.
Rotator cuff injuries
Ranging from soreness or weakness to partial or complete tears, rotator cuff injuries can impact golfers' shoulders. You can avoid rotator cuff injuries with proper warmup swings, whether at the driving range or before making your way to the first tee.
Tee up to prevent golf injuries
While not all golfing injuries can be prevented, you can stay safe on the course by:
Applying sunscreen: Nothing kills the vibes from a great day outside quite like a sunburn. Protect your skin with hats, sunglasses and sunscreen (and don't forget to reapply).
Following the rules: From calling "fore!" if you hit a shot toward other golfers to staying behind members of your group when they're hitting, golf etiquette can keep you—and others—safe on the course.
Getting to shelter: If there is lightning in the area, know the quickest way to safe shelter.
Maintaining your strength: Many of the most common golf injuries can be prevented with strength training in- and off-season.
Staying hydrated: Lower your risk of heat-related illness with proper hydration. Make sure to drink even more water if you choose to drink alcoholic beverages on the course.
Walk, don't ride: Walking a round of golf is a great way to get your steps in and maintain your aerobic fitness. If you do ride in a cart, make sure to do so safely, including keeping your hands and arms inside and obeying course rules for carts.
Warm up before play: Don't let that monster drive be the first swing of the day. Take a few minutes before the first tee to loosen up your swing and warm up your shoulders to prevent shoulder injuries.
Wear proper equipment: Wear proper footwear to prevent foot and ankle injuries, and always verify that your clubs are appropriate for your height so you can swing with proper form.
Find help when you need it
Even when you take all the right precautions, accidents and overuse injuries still happen. If pain is keeping you of the green, our orthopedic specialists are ready with a wide range of orthopedic services to help you feel like yourself again. Call (844) 671-4206 to get connected with an orthopedic doctor and find the care you need.
Published:
September 20, 2023