Local HCA Florida Hospitals join nationwide effort to help food banks
Local hospitals collect food donations and make financial contribution to help All Faiths Food Bank, just in time for Thanksgiving need.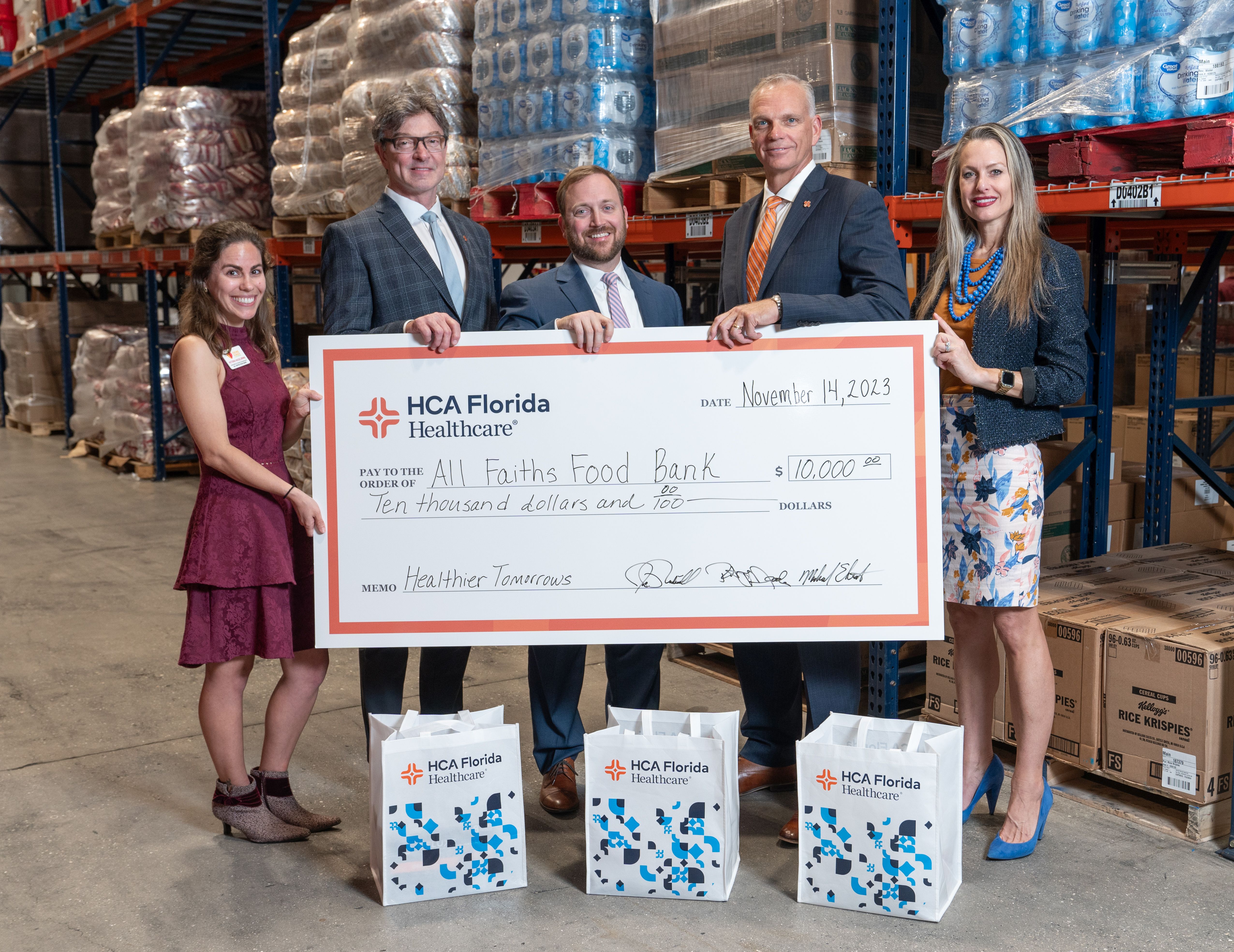 Leaders from HCA Florida Englewood Hospital, HCA Florida Fawcett Hospital and HCA Florida Sarasota Doctors Hospital recently toured All Faiths Food Bank in Sarasota County to learn more about how the organization collects and provides food for the community. The chief executive officers from each hospital also brought along more than 100 pounds of canned goods and a $10,000 donation. The money will be used to help provide food and assistance to residents in need, especially during the upcoming holiday season.
"Inflation and the high cost of living is affecting many of our neighbors and we want to make sure everyone has access to a festive meal and the ability to gather with their loved ones during this time without having to worry about financial challenges. We are so grateful to our partners, HCA Florida Healthcare, for partnering with us during this crucial time and providing us with the means to make this possible for so many families who are facing hunger," said Victoria Hasselbring, Manager of Donor Stewardship for All Faiths Food Bank.
Throughout the month of November, caregivers at each local hospital donated canned food and non-perishable items as part of HCA Healthcare's nationwide Healthy Foods for Healthier Tomorrows initiative. Last year, HCA Healthcare colleagues across the country provided 878,000 nutritious meals for local food banks by donating food or making financial contributions.
Published:
November 15, 2023
Location:
HCA Florida Sarasota Doctors Hospital, HCA Florida Englewood Hospital, HCA Florida Fawcett Hospital
Related Newsroom Articles
---
HCA Florida Englewood donates 900 pounds of food to support healthcare colleagues 
Colleagues of HCA Florida Englewood Hospital organized a "Healthy Food for Healthier Tomorrows" food drive to benefit the food pantry at St. David's Jubilee Center in Englewood. In just two weeks, hospital caregivers collected more than 900 pounds of canned vegetables, soups, pasta and other non-perishable items, equaling a total of 750 individual meals.