Doctors Hospital earns national recognition for safety through pandemic
Newly released data highlights hospital achievements despite challenges of COVID-19.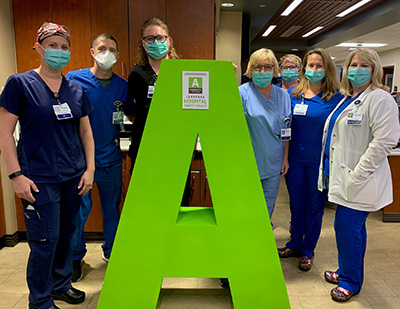 Sarasota, FL — Doctors Hospital of Sarasota successfully treated the first hospitalized patient in the state of Florida with COVID-19. Dozens of caregivers treated that patient and there have been hundreds of patients with COVID-19 treated since then. "We believe that the high standards for safety and quality we have in place contributed to our success in caring for COVID-19 patients throughout this pandemic," said Robert Meade, CEO of Doctors Hospital of Sarasota.
Today, Doctors Hospital earned five stars from the Centers for Medicare and Medicaid Services (CMS) for quality. Five stars is the highest rating a hospital can receive. Star ratings are based on 57 different quality measures. The hospital also earned another 'A' grade for safety from the Leapfrog Group, a national organization that tracks safety in hospitals. The rating system focuses on errors, accidents, injuries and infections. The group assigns A, B, C, D or F letter grades to hospitals. Doctors Hospital has now earned the 'A' rating 14 times in a row.
"As we worked through the pandemic and treated patients, with this highly contagious virus, we had to adapt with PPE and enhanced infection prevention measures to keep our community and our caregivers safe. It shows our commitment to safety and quality, even with the challenges of a pandemic, that we didn't have a single caregiver contract COVID-19 while working," added Meade.
"An 'A' safety grade is an elite designation that your community should be proud of," said Leah Binder, president and CEO of the Leapfrog Group. "The past year has been extraordinarily difficult for hospitals, but Doctors Hospital of Sarasota shows us it is possible to keep a laser focus on patients and their safety, no matter what it takes."
Location:
HCA Florida Sarasota Doctors Hospital
Related Newsroom Articles