Adam Copher joins Medical Center of Trinity as ACNO
Adam Copher, MSN, RN, CMRSN, new Assistant Chief Nursing Officer (ACNO)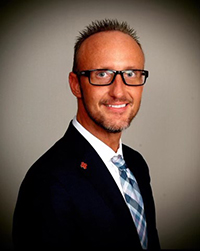 Adam Copher, MSN, RN, CMRSN, new Assistant Chief Nursing Officer (ACNO)
Trinity, FL — Adam Copher, MSN, RN, CMRSN joins the Medical Center of Trinity Nursing Leadership Team with primary responsibilities to patient experience, employee engagement and nursing quality.
Adam previously served as Director of Nursing over multiple acute care units at Memorial Hospital in Jacksonville, Florida, a 454- bed Level 2 trauma facility part of the HCA-South Atlantic Division. While there, he reduced turnover, increased patient experience, decreased hospital-acquired infections, and improved employee engagement. He implemented and led initiatives such as the time-out process to decrease hospital acquired infections, recognition awards throughout organization, patient experience form for nurses to help streamline process for time-management, stroke-certification, and was successful with joint commission surveys.
Adam led the nursing shared governance at Memorial Hospital and was The Chair over the Division shared Governance, and was also an integral part of the corporate medical surgical advisory council. Adam's experience includes over 16 years of diverse nursing experience in emergency services, telemetry, progressive care, and medical surgical. Nursing Leadership and mentorship is his passion and he will be bringing to Medical Center of Trinity a focus on teamwork, dedication, commitment, and a patient-centered environment.
He obtained both his Bachelor of Science in Nursing and Master of Science in Nursing from Chamberlain University and is currently enrolled in the Doctorate of Nursing Practice degree program at Chamberlain University with an expected graduation date of summer 2021.
Adam has received the honor of being selected as Florida's Top 100 Nurses and Northeast Florida Great 100 Nurses. He is a member of the Sigma Theta Tau Honor Nursing Society, the American Organization for Nursing Leadership (AONL), and is Board-Certified through the Medical-Surgical Nursing Certification Board.
Adam has been married for 20 years to his wife Jennifer and has 2 children (Emily, 18, and Caleb 14,). In his free time, he enjoys spending time with family and friends, any water activity, and watching movies.
Location:
HCA Florida Trinity Hospital
Related Newsroom Articles
---
April 28, 2022
Learn signs of a hernia and minimally invasive treatment options.