Prostate cancer
Prostate cancer is common in men and occurs when cancer cells form in the tissue of the prostate. Only present in men, the prostate is a walnut-shaped gland that produces fluid that influences nourishment and transportation of sperm.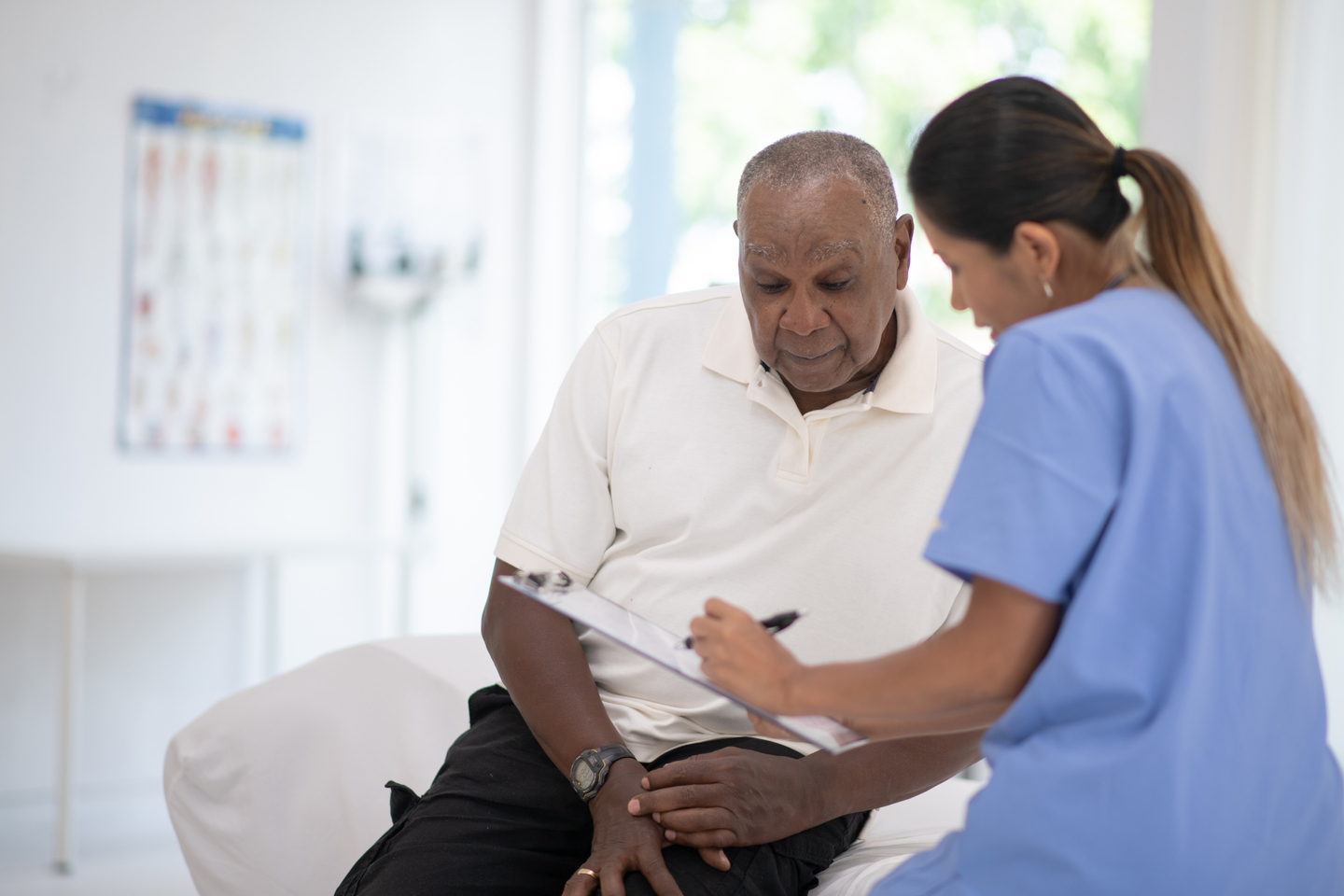 Prostate cancer care in Pensacola
Though a diagnosis of cancer can be traumatic, we do everything we can to help you get the care you need if you're diagnosed with prostate cancer.
At HCA Florida West Hospital, we understand your cancer diagnosis may be difficult for you and your family. To help you come through this challenging time, our dedicated cancer doctors offer a variety of advanced treatments, including minimally invasive prostatectomies (surgical removal of the prostate). Through these treatment options, we provide you with optimal care and quick recovery times.
Related Specialities
This is the lead-in copy that can provide a reinforcing statement.
Prostate cancer treatment
Whether you have an early diagnosis of prostate cancer or are in more advanced stages, we offer a wide range of treatments and services to help.
Our prostate cancer services
There are a variety of prostate cancer treatment options, including conservative management, radiation therapy with either external bream or brachytherapy therapy, cryosurgery and prostatectomy, which is the surgical removal of the prostate. Your treatment options will depend on a number of factors, including the stage of the disease, your age, health and personal preference.
Prostatectomy
The most widely accepted procedure in the U.S. today for prostate cancer care is prostatectomy. Prostatectomy is performed for men 70 years old and younger with early-stage, organ-confined cancer.
The goals of a prostatectomy are to, most importantly, remove the cancer, and also to preserve urinary and erectile function, when applicable. Nerves that run alongside the prostate are complex, but a prostatectomy spares these nerves. In doing so, the patient can return to their prior erectile function.
The types of prostatectomy we offer are:
Traditional open prostatectomy — With a traditional open procedure, your surgeon uses an eight to 10 inch incision to access the prostate.
Conventional laparoscopic surgery — With laparoscopic surgery, a specialized surgical camera and instruments are used to access and remove the prostate through smaller incisions. This offers you benefits of a minimally invasive procedure.
Robot-assisted prostatectomy — Robotic surgery to remove the prostate is a minimally invasive procedure that is especially useful with an early diagnosis of prostate cancer. It is performed with the assistance of a robotic surgical system, enabling surgeons to operate with robotic precision and control using only a few small incisions. Additionally, with robotic surgery, the likelihood of a complete recovery from prostate cancer without long-term side effects is, for most patients, better than it has ever been.
Thrive Blog
Read our blogs to learn about preventive care and ways you can take charge of your health and well-being.
Looking for another location?
We also offer quality care at these other locations in our extended network.