Breast health
From regular checkups and screenings to the latest imaging technologies and treatments, you can access all our expert breast care services at our convenient location.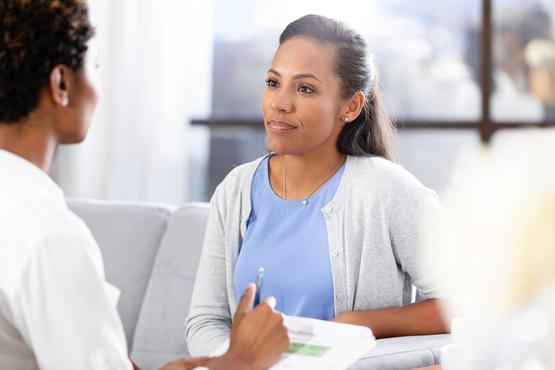 Breast health services in Sarasota, Florida
Breast health is an essential component of your health, and it starts with advanced, accurate diagnostics.
That's why, at HCA Florida Sarasota Doctors Hospital, we're dedicated to the early detection of breast cancer and other breast diseases. We do this through breast cancer screenings and advanced diagnostics. Here, we help you maintain your breast health through every stage of life.
Screening mammogram
You can now schedule a screening mammogram online.
You can now schedule a screening mammogram online.
Related specialties
Learn more about our related specialties
Women's imaging and diagnostic services we offer
We offer a complete women's care program. This starts with advanced, effective breast health diagnostics.
Our breast imaging services
Through our women's care program, our specialists offer women's imaging and breast health services, including:
Bone density testing
Breast lymphoscintigraphy
Breast magnetic resonance imaging (MRI)
Breast reconstruction
Breast surgery
Breast ultrasound
Digital mammography (2D and 3D)
Genetic testing
Stereotactic and ultrasound-guided biopsies
Bone density testing
Women going through breast cancer treatment may experience a decrease in bone density. Additionally, about 25 percent of women 65 years old and older develop osteoporosis. Osteoporosis is a disease that causes weak and brittle bones, and you become more susceptible to this disease as you near menopause and your hormones begin to fluctuate.
For these reasons, we also include bone density testing as part of our women's diagnostic and imaging services. Through bone density testing, we can identify osteoporosis early and create a personalized care plan to protect your bone health.
Mammography
Mammograms involve compressing the breast and taking X-ray images of the breast tissue. This exam is used as breast cancer screening because it allows physicians to detect breast cancer early, before a lump may be felt through touch alone.
Mammograms may also be used as diagnostic tools when abnormalities are found on a screening mammogram.
Some women report some discomfort during mammograms. To alleviate this, we use comfort pads and a curved breast stabilization program to reduce discomfort from breast compression during the exam.
"Screened and Fabulous" breast screening parties
We offer Screened and Fabulous breast screening mammography parties, which allow groups to take charge of their health in a fun and relaxing atmosphere. The self-pay mammograms are $55 and include:
Radiology interpretation
Relaxing chair massage
Delicious hors d'oeuvres
Giveaways
To schedule a Screened and Fabulous party, please call us at (800) 921-7184.
About our Breast Care Center
Our Breast Care Center is designed to comfort your mind and spirit. We offer the latest technology and professional expertise in breast health.
Our services and amenities include:
Comprehensive clinical assessment and support
Scheduling for appointments and consultations
Assistance with identifying support resources
Easy first-floor access
Medicare and most insurances accepted
We accept self-referring patients and walk-in patients
We offer soft touch mammogram pads for a more comfortable exam
We offer capes and robes for a spa-like atmosphere
Valet parking available
Convenient self-parking
Appointments and questions
We are happy to answer any questions you may have. To make an appointment, call (800) 921-7184.
Walk-ins are also welcome.
We are conveniently located adjacent to the hospital in the Medical Office Building.
Our address is:
5741 Bee Ridge Road, Suite 130
Sarasota, FL 34233
Frequently asked questions (FAQs) about mammography
Below you will find information to help you prepare for your mammogram as well as answers to FAQs about mammography.
How can I prepare for my mammogram? 
Wear a two-piece outfit.
Do not apply deodorant, powder or lotion on or around the breast or underarm areas.
Schedule your exam for one week after your period. Your breasts are less sore then.
If your last mammogram was performed at another facility, ask that facility to send the images to us. This helps our radiologists compare the two sets of images for any changes.
If you have health insurance, bring your insurance card with you. You may also pay with cash, check or credit card.
A physician's order is required if you are receiving a diagnostic mammogram. (This is usually ordered if you have a breast lump, pain and/or discharge).
---
When will I receive my mammography results?
If an abnormality is found with your mammogram, the average time to receive results is seven to 10 days. We will contact your physician, and they will review and discuss next steps with you.
---
What is the difference between 3D mammograms and 2D mammograms?
A 2D mammogram takes X-ray images from the side and front of the breast.
A 3D mammogram takes multiple detailed breast X-rays and creates a 3D image of the breast. The 3D image shows fine details in the breast, as the radiologist can look through the breast tissue layer by layer, similar to flipping through pages in a book.
---
What are the benefits of 3D mammograms?
---
How does the 3D mammogram work?
A 3D mammogram is very similar to a conventional mammogram.
During the mammogram, a female imaging technologist will position your breasts on the imaging equipment. To get a high-quality picture, the breast must be compressed. The mammogram compresses the breast for a few seconds while an image is taken.
The entire procedure takes about 15 minutes. The breast compression only lasts a few seconds. You may feel some discomfort when your breasts are compressed, which is why we use a memory foam pad to help reduce discomfort.
You and the technologist are the only ones in the room during the mammogram.
---
Is a 3D mammogram covered by my insurance?
Contact your insurance provider to confirm if this type of mammogram is covered by your insurance. If you are due for your annual screening, most 3D mammograms are covered with a physician's order.
---
How can I prepare for my mammogram? 
When will I receive my mammography results?
What is the difference between 3D mammograms and 2D mammograms?
What are the benefits of 3D mammograms?
How does the 3D mammogram work?
Is a 3D mammogram covered by my insurance?
The Healthy Living Blog
Fresh knowledge and insights in and around healthcare industry.
How to choose where to give birth  
When you're expecting a baby, the key isn't just finding the best OBGYN and hospital – it's finding the best OBGYN and hospital for you.
Looking for another location?
We also offer quality care at these other locations in our extended network.