Wound care
Wound care involves medical intervention to heal a wound after injury. Specialized treatment is provided for wounds that are non-healing or refuse to heal on their own. To promote healing, learning how to properly dress and care for wounds is vital.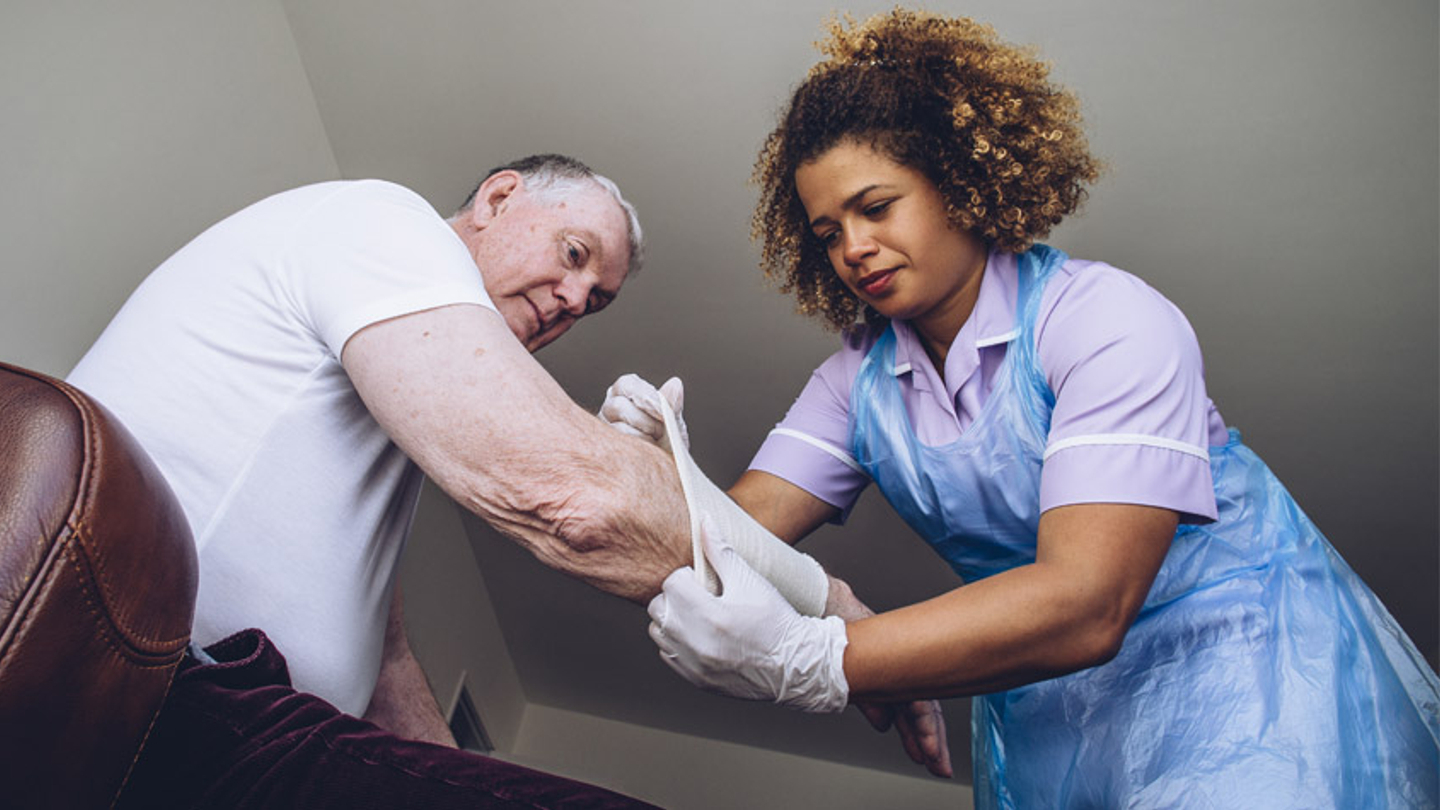 Wound care clinic in Brandon, Florida
Having a nonhealing wound can impact your quality of life, which is why the specialists at HCA Florida Brandon Hospital are here to help.
At our outpatient Advanced Wound and Plastic Surgery Center in Brandon, we offer comprehensive wound care and reconstructive services. Our team has extensive experience in healing complex wounds and restoring the appearance of areas affected by wounds and other conditions. Working together, our wound specialists, therapists and surgeons provide the complete care you need to heal and restore your quality of life.
Wounds and wound-related conditions we treat
Our wound care team treats acute and chronic wounds as well as some conditions that cause wounds, including:
Abscesses
Bites
Burns
Chronic bone infections
Crush injures and other traumatic injuries that impact blood supply to tissues
Degloving injuries (severe skin tears that affect blood flow)
Diabetic leg and foot wounds
Nonhealing skin grafts and flaps
Radiation injuries
Recurring wounds
Surgical wounds
Ulcers
Our wound care services
We offer comprehensive treatment options for all types of wounds.
Our wound care specialists take time to evaluate your condition and medical history to help create a personalized treatment plan for you.
Our team also provides education around successful wound healing. They offer education about proper wound care, signs of wound complications and ways to prevent wounds from reoccurring.
Please note if you need emergency care for a wound, you may come to our hospital's 24/7 emergency room (ER) for treatment.
Hyperbaric oxygen therapy (HBOT)
HBOT is an advanced type of treatment we use to heal wounds and a variety of other conditions, such as carbon monoxide poisoning and central retinal artery occlusion (sudden vision loss due to artery blockage in the retina).
This treatment is especially beneficial for treating wounds that are difficult to heal or affected by severe soft tissue infections.
Benefits of HBOT
During HBOT, patients rest in a pressurized hyperbaric chamber of 100 percent oxygen and breathe normally, increasing the amount of oxygen in the blood. The increase in oxygen:
Activates white blood cells to fight against infection
Helps blood carry more oxygen throughout the body
Promotes wound healing in tissue
Lymphedema care
Lymphedema is a condition that causes fluid retention and swelling in the arms, legs and other parts of the body. It is a result of missing or damaged lymph nodes. It often affects patients that have been treated for cancer.
There is no cure for lymphedema, but we offer comprehensive care to help treat and manage the condition.
Lymphedema therapy
We are dedicated to providing effective treatment to help you independently manage lymphedema. Our center offers complete decongestive therapy (CDT), which involves manual lymph drainage (MLD) administered by certified CDT/MLD therapists.
CDT consists of:
Manual lymph drainage (gentle massage technique that promotes drainage)
Compression therapy using multilayered bandages and garments
Remedial exercises and skin care
Lymphedema therapy offers numerous benefits, including:
Decreased muscular and soft tissue tightness
Decreased pain, discomfort, tingling or numbness
Improved appearance of the affected areas
Improved function of the lymphatic system
Improved mobility and range of motion
Reduced risk of secondary complications and hospitalization
Lymphedema surgery
If lymphedema still persists after CDT/MLD treatment, our experienced surgeons offer these surgical options:
Charles procedure (skin grafts) — With this procedure, impacted tissue is removed, and surgeons use part of it as skin grafts to repair the area.
Lymphovenous bypass — This outpatient procedure is used to bypass damaged nodes and connect lymphatic channels directly into the veins.
Vascularized lymph node transfer surgery (lymphovenous transplant) — In this inpatient procedure, a group of lymph nodes from a healthy part of the body are transplanted to the affected area.
Reconstructive surgery
We understand some wounds and conditions can impact the appearance of the affected area. This is why we offer reconstructive surgery as part of our surgical services.
We offer reconstructive surgery for patients affected by a variety of conditions, including:
Abdominal wall and ventral hernias
Cancer (such as breast cancer and skin cancer)
Carpal tunnel
Chest wall and sternum conditions
Lymphedema
Peripheral nerve damage
Traumatic injuries
Looking for a Location?
We also offer quality care at these other locations in our extended network.