Orthopedic care
Orthopedic doctors, called orthopedists, take care of your bones and joints. This includes knee pain, total joint replacement, issues that impact your spine and more. You might need to see an orthopedist if you have arthritis or osteoporosis, or if you've had a recent sprain, strain or broken bone.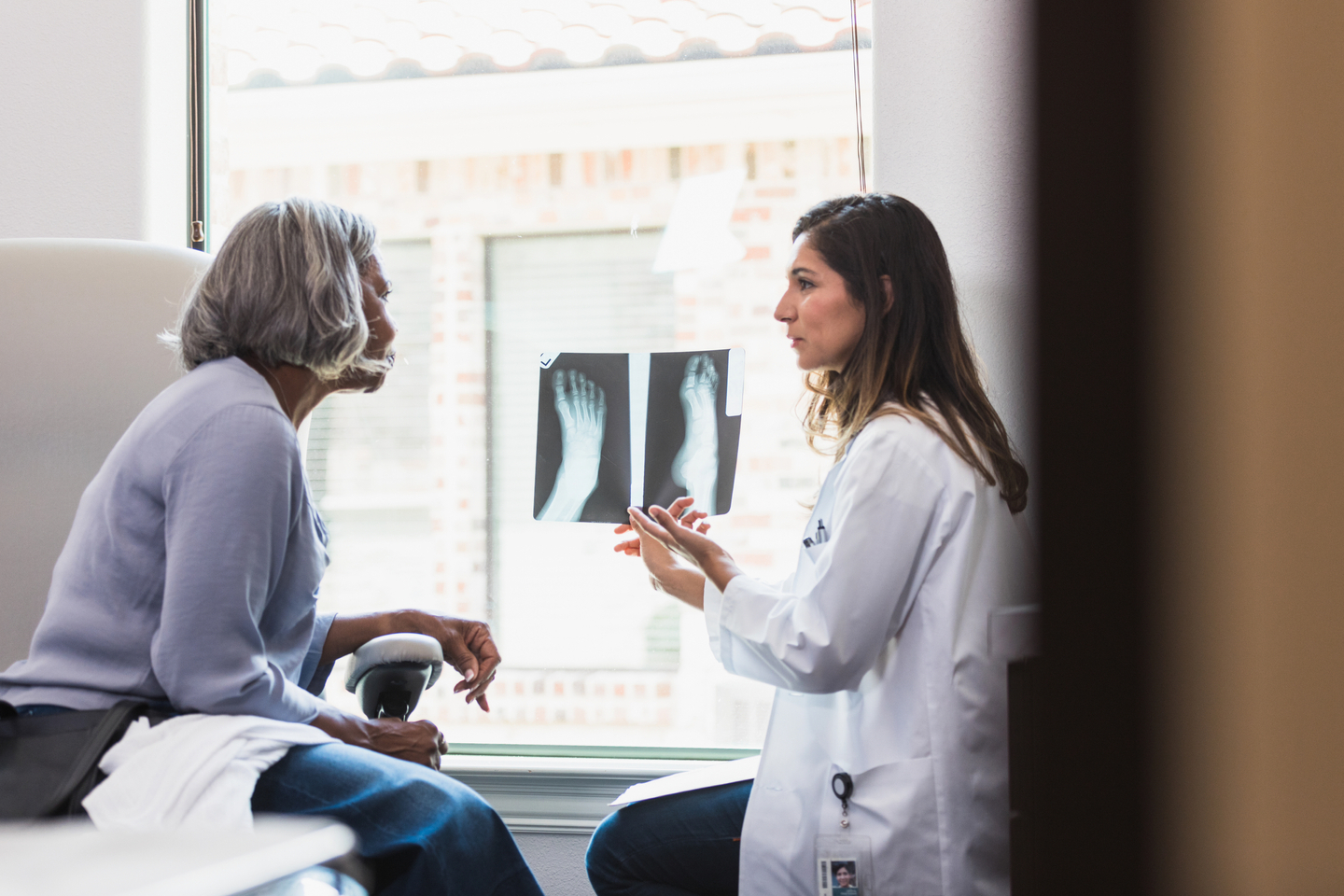 Orthopedic surgery in St. Petersburg, Florida
At HCA Florida St. Petersburg Hospital, we are dedicated to providing you with comprehensive orthopedic care, from diagnosis to rehabilitation.
Our orthopedic surgeons specialize in advanced treatment options, including minimally invasive joint replacement surgery. We also offer a coordinated rehabilitation program to help you heal and recover from surgery.
Are your bones and joints healthy?
When something is wrong with your bones or joints, it can be painful and debilitating. We offer you a bone and joint health risk assessment to help you get started on a path to recovery and wellness.
When something is wrong with your bones or joints, it can be painful and debilitating. We offer you a bone and joint health risk assessment to help you get started on a path to recovery and wellness.
Looking for a Location?
We also offer quality care at these other locations in our extended network.
Our orthopedic care services
We offer screenings, evaluations and a range of nonsurgical and surgical treatments.
Types of orthopedic treatments we offer
Some of the most common orthopedic treatments we offer include:
Adult reconstructive surgery
Foot surgery
Hand and upper extremity surgery, including shoulder surgery
Joint pain treatment
Joint replacement surgery
Ankle replacement
Hip replacement
Knee replacement
Outpatient arthritis services
Outpatient orthopedic services
Spine surgery
Sports injury treatment
Joint care
Joint pain is often due to cartilage damage caused by injury, wear and tear or arthritis in the joint. Cartilage damage impacts the joint's functionality and causes pain. Some joint pain can be treated with conservative methods. When these methods are ineffective, your doctor may recommend surgery.
Joint replacement surgery
The goal of joint replacement surgery is to help relieve your pain and allow you to resume your normal daily activities. The majority of hip and knee replacements last 15 years or longer. These surgeries can also help correct deformities and prevent further joint damage.
If you are experiencing hip or knee pain, our goal is to pursue the least invasive path to treating your symptoms. Some of the benefits of minimally invasive joint replacement include:
Faster recovery
Less trauma to the body
Shorter stay in the hospital
Total hip replacement
In a total hip replacement, the head of the thigh bone is replaced with an artificial ball and stem made of strong metal or ceramic. The artificial socket is made of polyethylene or metal backed with a plastic liner. The artificial joint may be cemented in position or held securely in the bone without cement.
Total knee replacement
In a total knee replacement, our knee specialists replace a diseased knee joint with an artificial joint. The artificial joint is often anchored into place with bone cement. In other instances, the artificial joint is covered with material that allows bone tissue to grow into it.
Orthopedic rehabilitation
After you undergo orthopedic surgery, we offer a coordinated rehabilitation program. Our goal is to help you regain maximum mobility so you can return to an active lifestyle. To do this, we provide personalized rehabilitative care along with educational resources. We also encourage your family and friends to join the recovery process.
The Healthy Living Blog
Joint replacement surgery: your questions answered 
December 27, 2021
If someone is having consistent joint pain, they may be considering joint replacement in the hopes that their pain will be alleviated and are sure to have many questions about the process.