Imaging services
Imaging services refers to the performance of imaging exams for better visualization and treatment of medical conditions. Different exams allow radiologists and physicians to view structures and activity within the body. Imaging exams are vital for diagnosis and there are a wide range of tests that can be performed.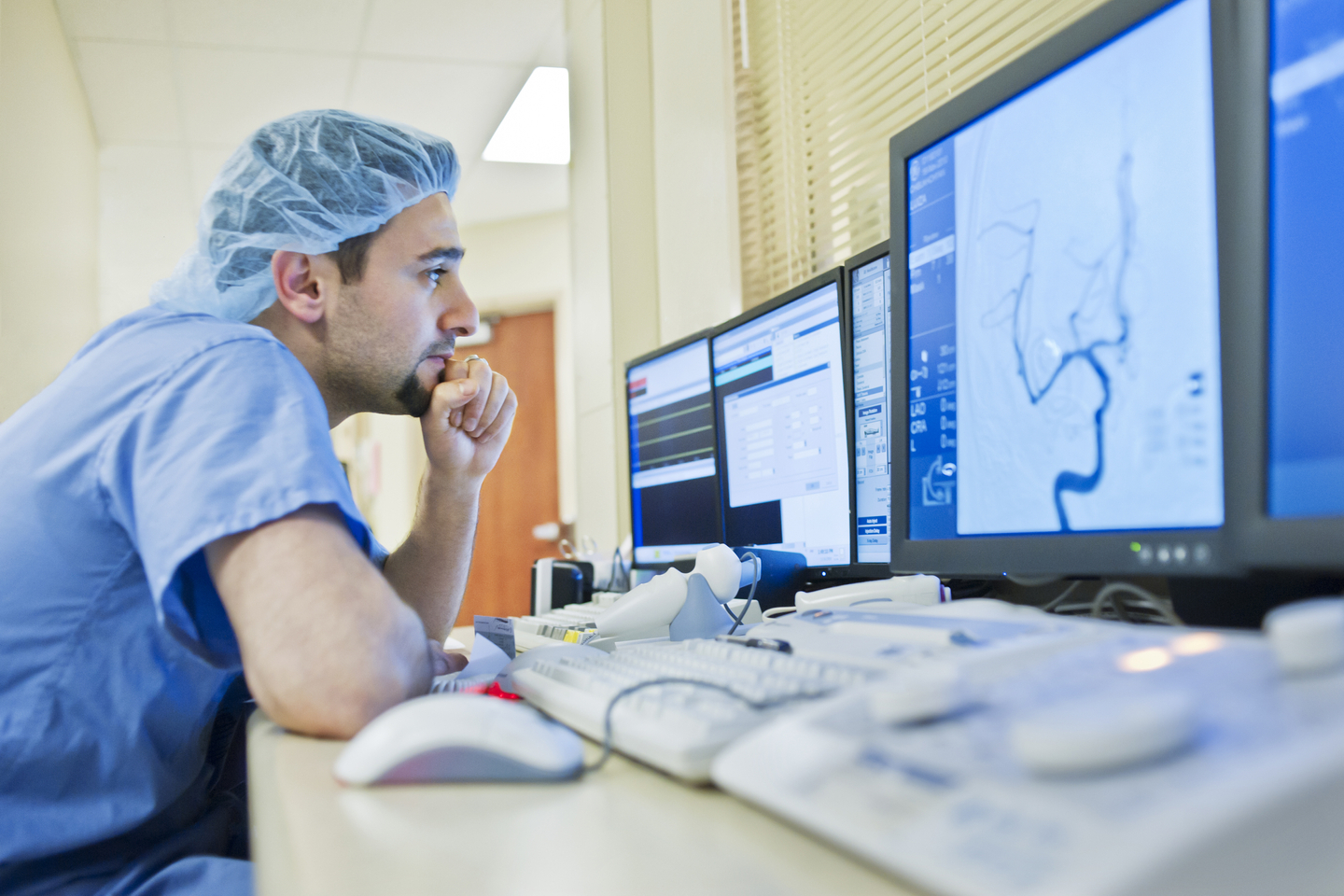 Imaging center in St. Petersburg, Florida
The radiologists and technicians at HCA Florida St. Petersburg Hospital use diagnostic imaging equipment to better serve your healthcare needs. 
Our medical imaging services allow your healthcare provider to view activities and structures within your body to better understand your health. We will do everything we can to make your imaging experience comfortable and ensure you get your imaging results as quickly as possible.
Screening Mammogram
You can now schedule a screening mammogram online.
You can now schedule a screening mammogram online.
Our radiology services
Our diagnostic imaging center offers a range of exams, tests and scans, including:
Body composition scan
Our body composition scans use dual-energy X-ray absorptiometry (DEXA) for body scanning. Our body scans provide an accurate, in-depth analysis of a person's fat, muscle, bone and water mass.
To get schedule a body composition scan, call us at (800) 617-7095.
What body composition scans are used for
A body composition scan provides the following information about your health:
Abdominal and visceral fat analysis
Body mass index (BMI)
Bone mineral density
Muscle mass breakdown
Relative skeletal muscle index
Body composition scans can be used to identify long-term health risks before they occur. This includes breast cancer, cardiovascular disease and Type 2 diabetes. The test will also show the exact location of your lean muscle mass. Evaluating and improving lean muscle mass is important for preventing osteoporosis, pathological conditions and chronic diseases.
Benefits of body composition scans
Body composition scans can provide patients with many benefits, such as:
Accelerating weight loss and fitness goals with targeted measurements
Assessing your risk of developing osteoporosis and osteopenia
Detecting hormonal imbalances
Tracking progress in detail over time
Computerized tomography (CT) scan
CT scans combine multiple, detailed X-ray images to produce a cross-sectional, 3D image of blood vessels, soft tissues and bones in the body. We often use CT scans to determine the severity of traumatic injuries and the location of damaged or blocked blood vessels during a stroke.
Interventional radiology suite
Minimally invasive procedures that assist in precisely targeted therapies are performed in our interventional radiology suite. Under the direction of a radiologist with specialized training, radiological imaging guidance may be used to accomplish this. For example, we may use X-ray, fluoroscopy, ultrasound, CT scan and magnetic resonance imaging (MRI) to guide these procedures.
Mammography
Mammograms are very effective screening tools for early breast cancer detection. During this noninvasive procedure, your breasts are compressed between two firm surfaces to spread out the breast tissue. Then, a technician takes X-rays of the breast tissue, so a doctor can examine the images and look for signs of breast cancer and abnormalities.
Our nationally-accredited breast center offers digital 2D and 3D mammograms, which can detect smaller issues than traditional mammograms. Additionally, we offer a breast compression stabilization system and memory foam cushion that makes 3D mammograms more comfortable for you.
Magnetic resonance imaging (MRI)
We use MRI to see details inside the body, view the extent of injuries and detect diseases. MRI is a very common, noninvasive technique. It allows physicians to examine numerous areas of the body, including the abdomen, breasts, musculoskeletal system, brain and bile ducts.
Nuclear medicine
Nuclear medicine uses tiny amounts of radioactive tracer material and a gamma camera to produce images of the body. Nuclear imaging scans are often performed on the bones, breasts, gallbladder, heart and thyroid.
Ultrasound
Ultrasound technology uses high-frequency sound waves to produce live pictures of the body's soft tissues and organs. Ultrasounds play an important role in diagnosing breast lumps, inflamed joints, blood flow issues and gallbladder, genital and prostate conditions. We also perform ultrasound-guided biopsy procedures.
Our labor and delivery sonographers use ultrasounds to monitor babies before they are born. We offer 3D and 4D ultrasounds to expectant mothers so families can see their unborn babies in detail and in motion.
Accredited diagnostic medical imaging
Looking for a Location?
We also offer quality care at these other locations in our extended network.