Orange Park Medical Center provides healthcare workers relief in unique ways
To support those on the front lines, the hospital has put into place unique stress relief resources for their staff.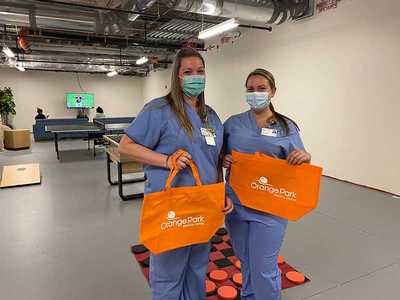 Nineteen months ago, the first person in the area with COVID-19 was treated at Orange Park Medical Center. In the beginning, there was fear and new processes to ensure the safety of caregivers and patients against the unknown virus. Today, after learning more about COVID-19, experiencing three surges, and a vaccine, caregivers continue to layer on their PPE, provide companionship to patients unable to have visitors, and lean on each other to get through. In this new normal, the hospital is supporting staff with unconventional ways to unwind during their breaks.
Many at Orange Park Medical Center remember that night back in March of 2020 like it was yesterday. Everyone quickly jumped into action and leadership spent days working closely with the Florida Department of Health learning about the virus and ensuring everyone's safety.
"The Delta Variant surge has been exceptionally difficult on staff," says Dr. Steven Goodfriend, ER Physician and Emergency Services Medical Director at Orange Park Medical Center. "Patients have been sicker and younger. That's been difficult for our staff and providers to see."
To support those on the front lines, the hospital has put into place unique stress relief resources for their staff. A Zen Room with dim lighting, relaxing aroma, recliners in a private space and calming music is available for staff to relax and unwind. They also have a Fun Room set up with activities like ping pong, foosball, cornhole and electric massage chairs with a television to watch their favorite shows. Both spaces are open to staff during their break and before or after their shift and follow safety precautions.
"It's been pretty cool watching everyone come together to make these things happen to our staff - colleagues helping colleagues," said Jason Walker, Director of Information Technology at Orange Park Medical Center. Jason works on the committee that put together the Fun Room. "We built the space to provide our co-worker's relief and hopefully some joy." Walker and other leaders in the organization plan to hold team meetings in the Fun Room to help their staff decompress.
Orange Park Medical Center also provides staff multiple mental health resources including free in-person or virtual counseling sessions, 24/7 access to therapists, and a healthcare worker's podcast.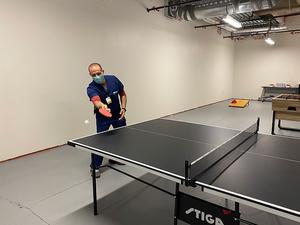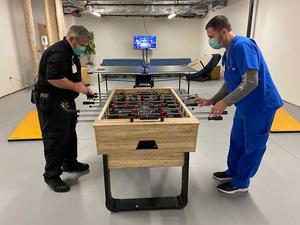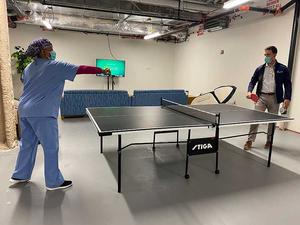 Published:
October 18, 2021
Location:
HCA Florida Orange Park Hospital
Related Newsroom Articles