Cardiology
Cardiology is the medical treatment of the heart and parts of the circulatory system as they relate to the heart. Cardiologists specialize in diagnosing and treating conditions related to the cardiovascular system.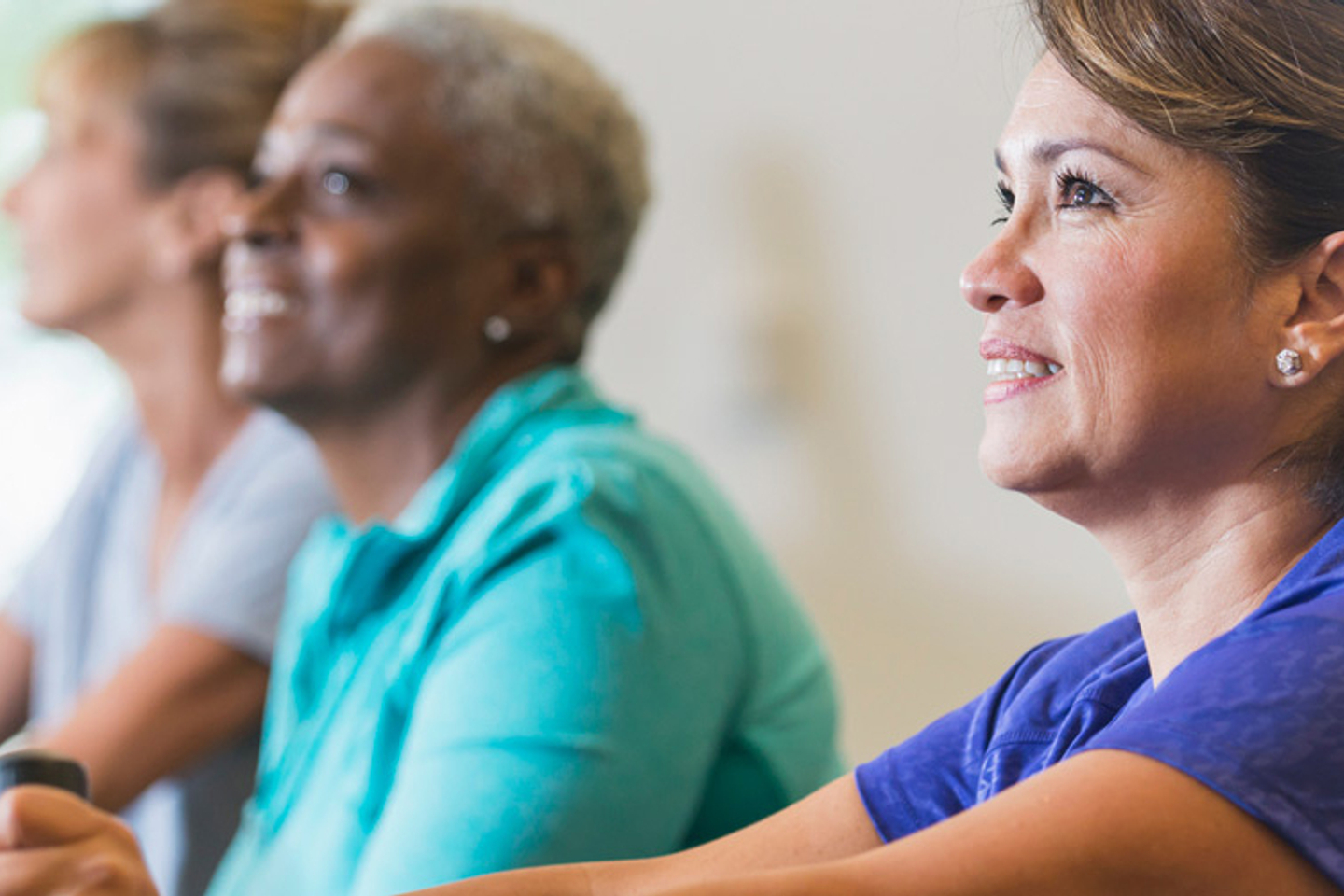 Heart care center in Gainesville
When you need immediate cardiac care, you can count on our experienced heart and vascular teams to help you get back to feeling your best.
At HCA Florida North Florida Hospital, our comprehensive cardiovascular program at The Heart & Vascular Center is designed to meet all your heart health needs using the latest advancements and innovative technologies. We are not only recognized by the American College of Cardiology as an Accredited Chest Pain Center with Primary PCI (percutaneous coronary intervention), but we were actually the first facility in Florida and the seventh in the nation to be accredited by the American College of Cardiology as a transcatheter aortic valve replacement certified facility.
Heart health profiler
Take our free, online heart health risk assessment to learn about your personal risk for heart disease.
Take our free, online heart health risk assessment to learn about your personal risk for heart disease.
Related Specialties
Learn more about our related specialties.
Heart and vascular conditions we treat
We treat the following conditions of the heart and blood vessels:
Abdominal aortic aneurysms
Atherosclerosis
Congenital heart abnormalities
Heart arrhythmias
Heart attacks
Structural heart conditions
Valve disorders
Vascular diseases
Our cardiovascular care program
We use state-of-the-art imaging and surgical techniques to diagnose and treat your cardiovascular condition. They include the following:
Cardiac imaging
Our hospital uses advanced imaging equipment for evaluating the heart's function. Heart imaging is crucial for visualizing the heart's structure and determining function. It also helps identify blockages in vital veins and arteries that can lead to severe conditions, such as a heart attack or cerebrovascular accident (stroke).
Our heart imaging services include:
Arterial ultrasound
Computerized tomography (CT)
Echocardiogram
Electrocardiogram
Cardiac catheterization laboratories
Our hospital is home to three full-service cardiac cath labs. We perform a variety of procedures in our cath labs, but the main function is to perform cardiac catheterizations. These are procedures used to assess the structure and function of the heart's valves, chambers and coronary arteries.
During a cardiac catheterization, small, flexible tubes (called catheters) are inserted into the veins or arteries and guided to various chambers in the heart. The catheters are small enough to be passed through the blood vessels without patient discomfort. An X-ray dye is injected through the catheter and cameras are used to record images of blood flowing through the vessels.
For more information, please contact our cath lab team at (352) 333-4925.
Electrophysiology lab
Our cardiovascular team includes cardiac electrophysiologists who offer advanced care in the diagnosis and treatment of heart arrhythmias. Our hospital includes a dedicated laboratory for electrophysiology (EP) studies. These studies are a form of diagnostic testing used to study the heart's electrical system when abnormalities have been identified.
Treatments for heart arrhythmias may include:
Cardiac catheter ablation
Implantable cardioverter defibrillator (ICD) implantation
Permanent pacemaker placement
Maze Surgical treatment for arrhythmia
Vascular disease care
There are many types of vascular disease that affect the veins and arteries that make up the body's vascular system. Vascular disease occurs when a blood vessel becomes narrowed or blocked. This results in decreased blood flow to areas of the body, such as the lower extremities and brain.
We offer a variety of options to treat conditions such as atherosclerosis and abdominal aortic aneurysms. In addition to traditional, open surgical approaches, we also perform minimally invasive endovascular procedures. These procedures offer a faster recovery time and promising patient outcomes.
Interventional cardiology program
Our heart specialists offer patients a variety of cardiovascular surgical options for the treatment of heart and vascular conditions. We offer minimally invasive interventional cardiology procedures in addition to traditional open-heart surgery.
Our surgical services include:
Valve repair and replacement
Coronary artery bypass graft (CABG)
Repair of congenital heart abnormalities in adults
Cardiac rehabilitation program
Following a cardiac surgery or heart event, many patients will participate in cardiac rehabilitation. Cardiac rehab helps patients regain strength and provides education on healthy dietary and lifestyle changes.
We offer a three-phase cardiac rehabilitation program that focuses on monitored exercise and education on factors that contribute to heart disease, such as poor nutrition and high stress levels.
Choosing a cardiologist
Choosing a cardiologist is an important decision when it comes to your heart health, and your physician should be someone who readily listens to your concerns.
Tips on finding the right cardiologist
Begin your search for a cardiologist while you are healthy. This ensures you are able to make a thorough decision unaffected by time restraints.
Ask your friends, coworkers and other health providers for their recommendations. See if their reasons for choosing a provider align with your individualized needs. The best referrals come from patients who have enjoyed a happy relationship with their physician for years.
Be sure to check if a physician is accepting new patients, and review their education, training and credentials. You will want to make sure they accept your health insurance plan. Also check to see if your health plan covers your preferred hospital.
---
Tips on finding the right cardiologist
Looking for another location?
We also offer quality care at these other locations in our extended network.
The Healthy Living Blog
Fresh knowledge and insights in and around healthcare industry.
7 habits that could be sabotaging your heart health 
Could you be putting your heart health at risk without knowing it? We asked HCA Florida Healthcare cardiologist Dr. Allan Stewart to weigh in on seven bad habits for heart health and tips on how to break them.