Wound care
Wound care involves medical intervention to heal a wound after injury. Specialized treatment is provided for wounds that are non-healing or refuse to heal on their own. To promote healing, learning how to properly dress and care for wounds is vital.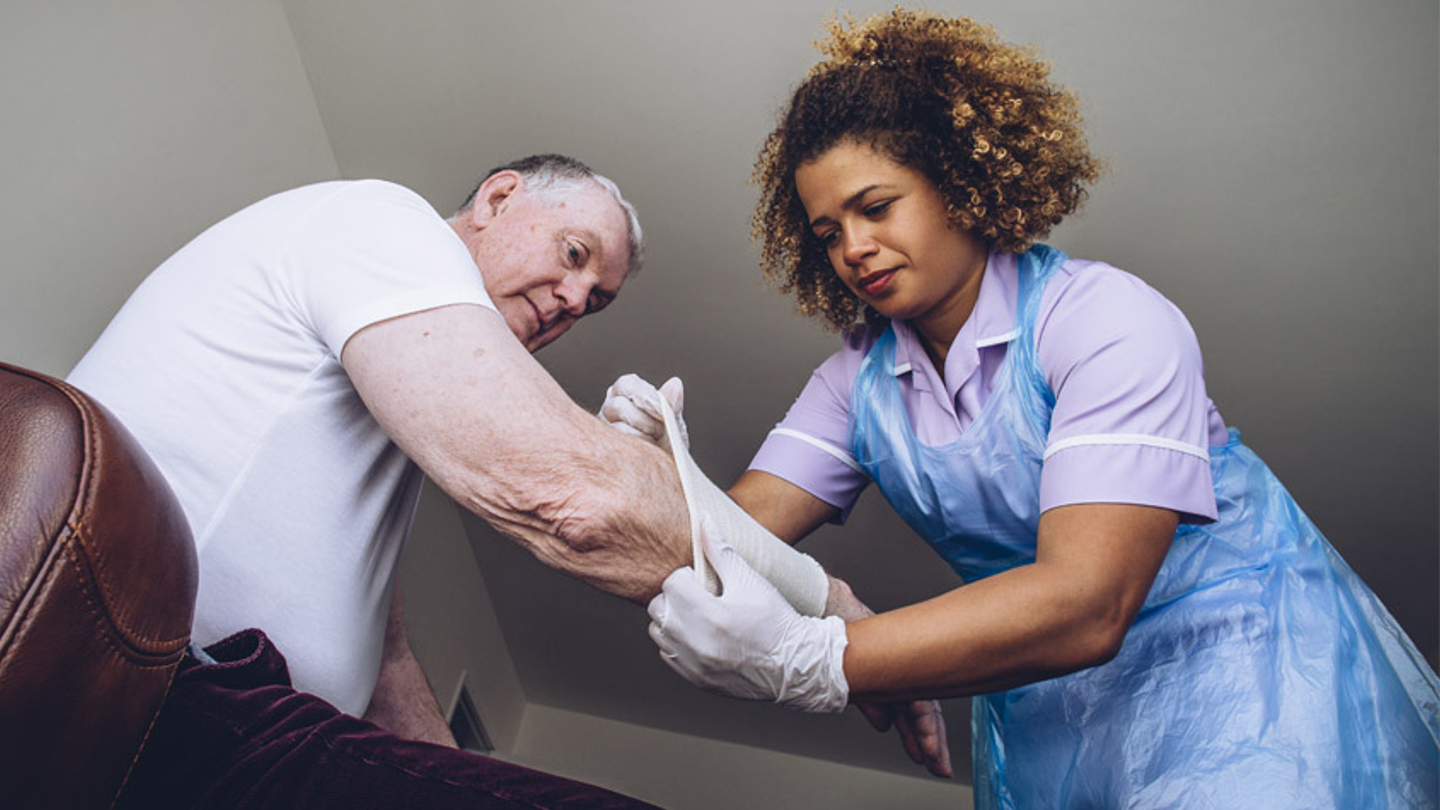 Wound care center in Largo, Florida
If you have a chronic, nonhealing wound, the experts at HCA Florida Largo Hospital's Center for Wound Care and Hyperbaric Medicine can help.
Here, our experienced wound care team is dedicated to healing chronic wounds that have not healed with traditional treatment. Our specialists work together to create a treatment plan based on your unique needs. Additionally, our partnership with the Florida Limb Saving Institute allows us to provide expert and complete limb preservation care to patients who may be at risk of losing a limb due to a wound.
Types of wounds we treat
We treat all types of wounds, including:
Arterial wounds
Autoimmune wounds
Burns
Diabetic foot wounds
Failing surgical flaps
Ischemic wounds
Late effects of radiation
Osteomyelitis
Osteoradionecrosis
Post-surgical wounds
Pressure wounds
Soft tissue necrosis
Traumatic wounds
Venous stasis and varicose vein wounds
About our wound care center
Our Center for Wound Care and Hyperbaric Medicine is located at our Indian Rocks Road campus — HCA Florida Largo West Hospital.
Our address is:
2025 Indian Rocks Road
Largo, FL 33774
Our clinic hours are:
Monday through Friday
8:00am to 4:30pm
---
Our multidisciplinary wound care and limb preservation team
We understand every patient's condition is different. That is why we provide access to a multidisciplinary care team. With our collaborative approach to care, we ensure we can provide just the right type of care for you.
Our wound care and limb preservation programs provide access to specialists in:
Wound healing
Hyperbaric medicine
Rehabilitative medicine
Vascular care
Orthopedic care
Podiatry
Endocrinology
Infectious disease
Interventional cardiology
Nurse navigation
Nutrition
Plastic and reconstructive surgery
Primary care
Sleep medicine
---
Our multidisciplinary wound care and limb preservation team
Wound treatment
Your wound treatment will focus on the cause of the wound, coexisting conditions that impact wound healing and topical wound management. We will provide your primary care physician or referring physician with progress reports.
Please note, if you need emergency care for a wound, you may come to our hospital's 24/7 emergency room (ER) for treatment.
Debridement
Part of our wound care protocol to remove the fibrin is to "trick" the body into thinking it's healed. We do this with a process called debridement, the removal of fibrin with an instrument called a curette.
Debridement starts the body's healing process all over again by making the body think it has a brand new wound. Debridement may need to be done on a weekly basis until the new cell growth, known as epithelialization, has occurred.
Hyperbaric oxygen therapy (HBOT)
During an HBOT session, 100 percent oxygen is administered at a controlled pressure (greater than sea level) for a certain amount of time — usually 90 minutes. This allows oxygen to reach bone and tissue normally inaccessible to red blood cells. HBOT has proven effective in stimulating healing and growth of healthy tissues.
We use hyperbaric chambers — noninvasive, clear, acrylic chambers — to promote optimal healing. While breathing pure oxygen inside of the chamber, the patient's blood plasma becomes saturated, carrying 20 to 30 times the normal amount of oxygen to the body's tissue.
Continued use of HBOT results in more efficient functioning of the body's natural wound-healing mechanisms, which depend on oxygen.
Each hyperbaric chamber has its own TV and CD player for patients to watch movies or listen to music during treatments. The completely transparent chambers allow patients to see and be seen by our wound care team members.
Conditions treated with a hyperbaric chamber
With HBOT, we treat a variety of wounds and wound-related issues, including:
Acute traumatic peripheral ischemia
Carbon monoxide poisoning
Compromised skin grafts and flaps
Crush injuries
Diabetic wounds of the lower extremity
Gangrene
Necrotizing soft tissue infections
Osteomyelitis
Post-radiation tissue injuries
Pressure ulcers
Wounds caused by poor circulation or trauma
Wounds that have not healed in several weeks
Limb preservation program
Patients who have a nonhealing wound with extremity numbness may be at risk of losing a limb. This is why we are pleased to provide the Florida Limb Saving Institute. Here, our multidisciplinary team works together to craft and implement care plans for patients at risk of limb loss.
Our multidisciplinary program features:
Comprehensive evaluation by one of our physicians to develop an individualized care plan based on established protocols and patient-specific needs
Team of specialists who work with the patient and the patient's existing healthcare providers
Nurse navigator who helps patients and families with communication and coordination of healthcare among various healthcare providers
Education on nutrition and diabetes management skills
Education on off-loading, pressure relief and routine foot care
Long-term follow-up care
Factors that may contribute to limb loss
Patients at risk for possible limb loss may also have some or all of the following conditions or factors:
Blood-clotting disorder
Bone infection (osteomyelitis)
Coronary artery disease
Diabetes
Hyperlipidemia
Peripheral arterial disease
Rest claudication
Tobacco use
Looking for a location?
We also offer quality care at these other locations in our extended network.