Pre-Register for an Appointment
We understand your time is valuable. That's why HCA Florida Trinity Hospital offers online preregistration and scheduling. Learn how to pre-register.
Complete the 10-20 minute online preregistration scheduling forms at least two business days prior to your scheduled appointment. Before you begin, be sure you have all of the information listed below:
Social Security number
Name of ordering physician
Date of your scheduled procedure
All insurance cards
Employer information
Check in with our registration staff on the date of your scheduled service to complete the registration process. Please be advised that you will sign all consent forms during your visit.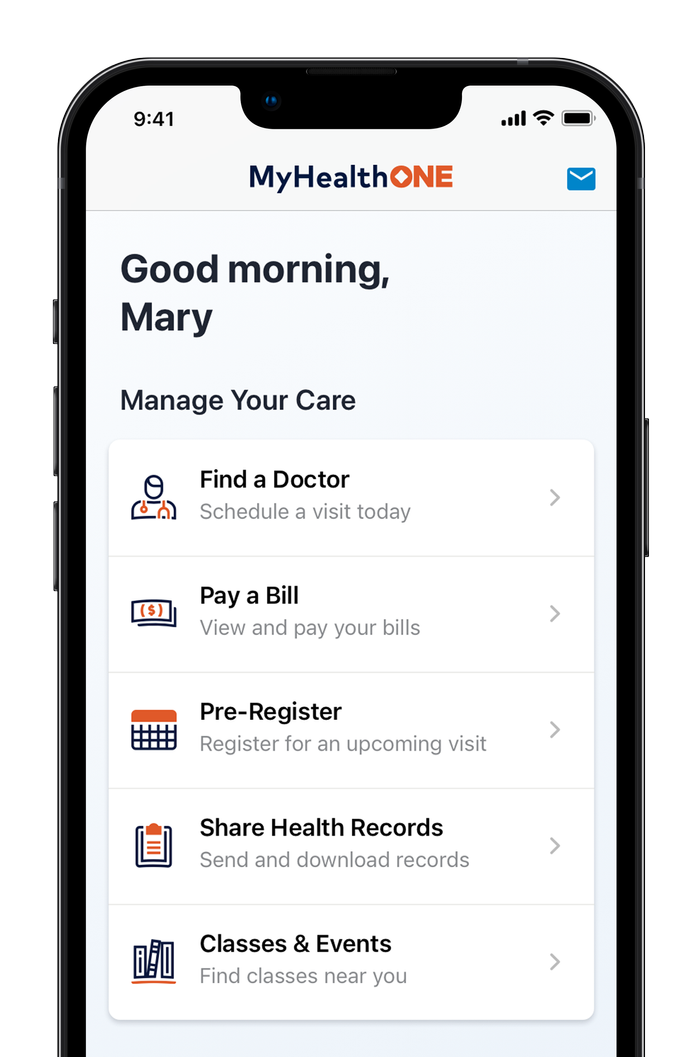 MyHealthONE allows you to manage all parts of your healthcare easily and securely
View health records - lab results, physician notes, imaging reports and more
View your post-visit summary
Schedule a follow-up appointment
Share your health records with a physician or caregiver
And more
Create an Account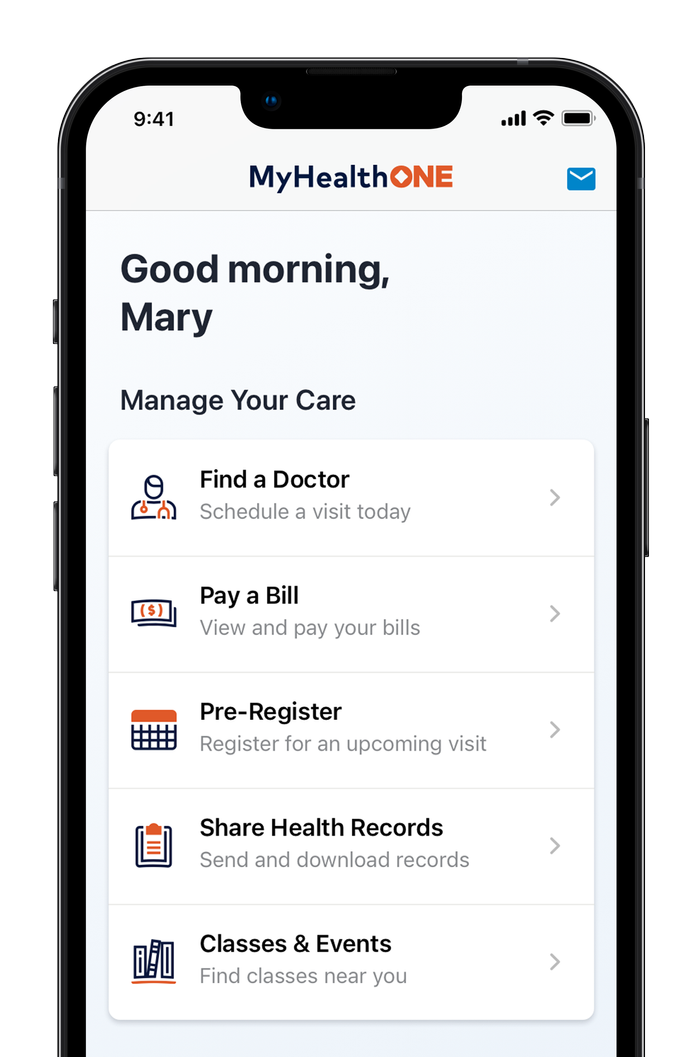 ---
Download the MyHealthONE app on the App Store® Or Google Play
Having trouble? Please contact us at:
Local Phone:

800-617-7108
Hours:

Monday - Friday 7:30 am to 5:30pm
You may also pre-register for surgery, tests or treatment by phone:
What to bring with you
To avoid delays at check-in, please bring the following with you on the day of your appointment:
Your picture ID or driver's license
All insurance cards
Prescription for services from your physician's office
List of current medications and allergies
When appropriate, please bring with you copies of any medical notes, lab results, biopsies, X-ray results, etc.
Your authorization or referral from your physician's office
If you arrive without your necessary authorization and/or referral, you will be expected to pay for your visit prior to receiving services or opt to reschedule your appointment.
Anticipate a call from the preregistration area to collect your required estimated financial responsibility. Unpaid co-payments and deductibles are expected to be paid at the time of your visit.
Personal belongings
Please bring minimal personal belongings with you. You will want to leave valuables at home. The hospital is not responsible for lost or damaged personal property.
Payment
As a courtesy to you, we will file your insurance after discharge. Upon admission, you will be asked to pay a deposit to cover any estimated deductible, co-insurance or non-covered charges. If you need to make financial arrangements, please let the preregistration office know prior to service so as to avoid any delays on the day of service.
At the time of arrival
You will be asked to sign a consent for treatment and authorization to bill your insurance. We will make a copy of your insurance card and your driver's license or photo ID. If you have an Advance Directive or living will, we will make a copy of that. You will be given a copy of our Privacy Practices. If you have pre-registered, you will be given a copy of your demographic and insurance information to review and approve.
Medicare patients
We are required by federal law to ask you questions regarding other payment sources. Although you may have answered these in the past on other visits, we have to ask the questions each time you come for treatment except for recurring treatments 90 days. For patients spending the night, you will also be given a copy of your Medicare Rights.
Frequently Asked Questions
The doctor's office scheduled my procedure at Medical Center of Trinity. What do I do next?
The next step involves Registration and Preadmission Testing. Your physician will order any necessary tests and schedule an appointment for you with a pre-admit nurse to obtain your health history and carry out the tests. You will be called with the appointment time.

Where do I go for Registration and Preadmission Testing?
Patient Registration is located adjacent to the Medical Center of Trinity Main Entrance through the far right entrance door near the Main Lobby. There is a sign above the entrance labeled 'Registration'. The Registration entrance offers convenient, short term parking including wheelchair access and transport assistance. After completion of the registration process, you will be escorted to the Preadmission Testing area by hospital staff.

How long does Preadmission Testing take?
The entire process from registration through testing could take up to 2 hours to complete. Preadmission Testing is an important part of the care you will receive if you are scheduled for a procedure at Medical Center of Trinity. The Preadmission process gives you the opportunity to ask any questions about your upcoming procedure.
Preadmission Testing is open Monday through Friday from 7:00am to 3:30pm. If you have any questions regarding your Preadmission Testing, please call
(727) 834-4820
.
Where do I go for Emergency Care?
The Emergency entrance is located towards the backside of the hospital just off Mercy Way. There is ample parking and a waiting area for Emergency services.