Prostate cancer
Prostate cancer is common in men and occurs when cancer cells form in the tissue of the prostate. Only present in men, the prostate is a walnut-shaped gland that produces fluid that influences nourishment and transportation of sperm.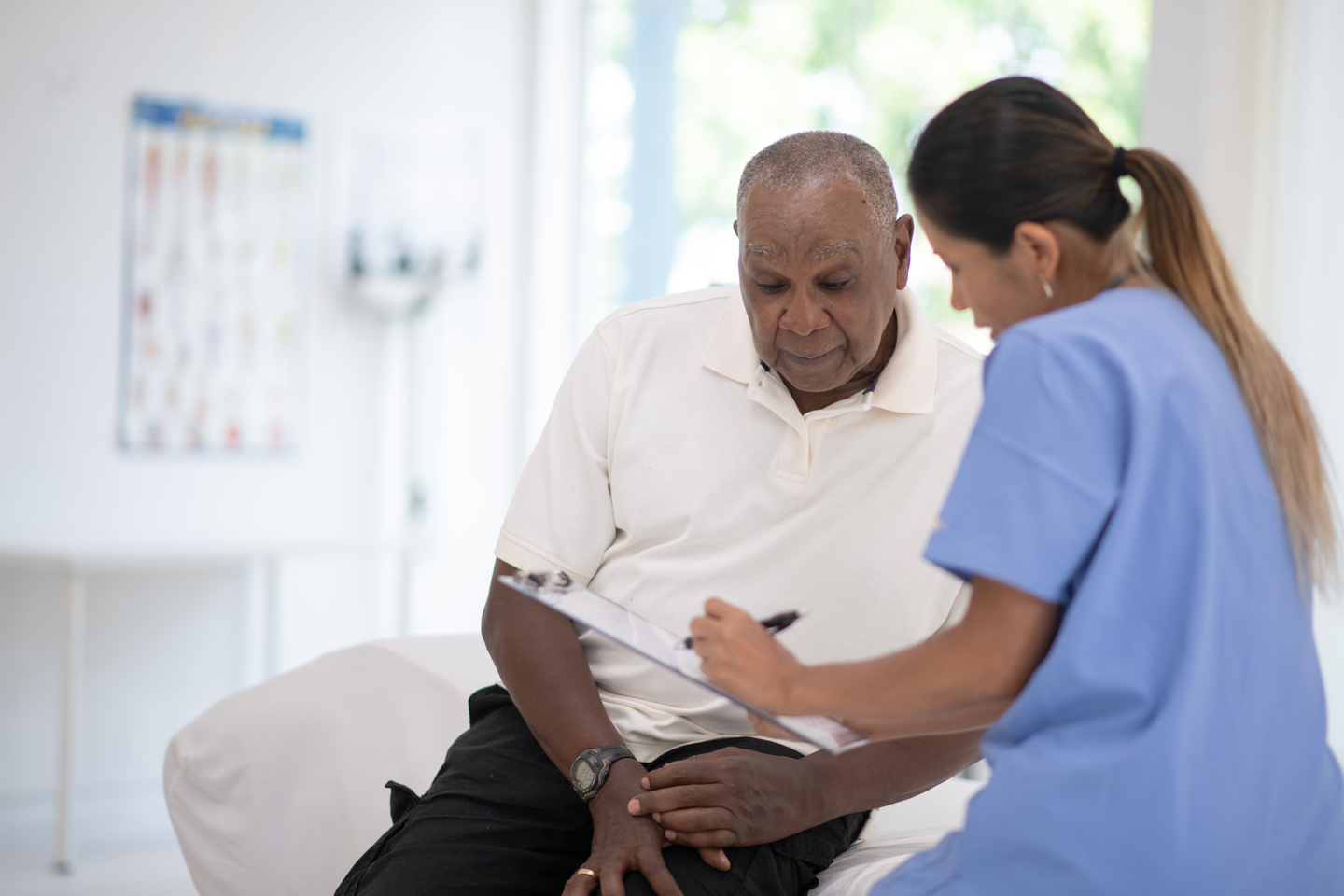 Prostate cancer specialists in Ocala
Whether you've been diagnosed with prostate cancer or want to take control of your health by getting prostate cancer screening, we will help.
Part of HCA Florida Ocala Hospital's cancer care is early detection so our oncologists can provide the appropriate course of treatment. Our trained oncologists also offer a variety of prostate cancer treatments. We work together with Sarah Cannon, the Cancer Institute of HCA Healthcare, to provide patient-centered care throughout diagnosis, treatment and recovery.
Related specialties
Learn more about our related specialties
Diagnosis and treatment of prostate cancer
One of the most common urologic conditions we screen for in men is prostate cancer.
Early detection of prostate cancer
Although most men with prostate cancer have no symptoms, physicians can find prostate cancer during a regular checkup. This is done using a combination of a blood test called a prostate-specific antigen (PSA) and a digital rectal exam.
Prostate cancer treatment
With the early diagnosis of prostate cancer, there is usually a range of treatment options. These may include conservative management, radiation therapy with either external bream therapy or brachytherapy therapy, cryosurgery and/or prostatectomy, the surgical removal of the prostate. Your treatment options will depend on a number of factors, including the stage of the disease, your age and health or personal preference.
Prostatectomy
The gold standard treatment option for men 70 years old and younger with early-stage, organ-confined prostate cancer is a radical prostatectomy. This procedure removes the prostate and its surrounding tissues but spares the nerves.
The primary goal of prostatectomy is removal of the cancer. A secondary goal is to preserve urinary function and — when applicable — erectile function. Preservation of the nerves necessary for erections can be an extremely important goal for patients. These nerves run alongside the prostate and may be damaged when removing the prostate. A nerve-sparing prostatectomy attempts to preserve these nerves so that the patient may be able to return to their prior erectile function.
Prostate cancer surgery has evolved over time, and we now offer options with shorter recovery times and less pain. Types of prostatectomy we offer include:
Traditional open surgery
Conventional, minimally invasive laparoscopic surgery
Robot-assisted
Benefits of minimally invasive and robotic prostate surgery include:
Significantly less pain
Less scarring
Shorter hospital stay
Faster return to normal daily activities
Sarah Cannon Cancer Institute
HCA Florida Ocala Hospital is part of Sarah Cannon, the Cancer Institute of HCA Healthcare.
About Sarah Cannon Cancer Institute
As part of Sarah Cannon, the Cancer Institute of HCA Healthcare, our hospital provides comprehensive cancer services with convenient access to cutting-edge therapies for people facing cancer in our communities. From diagnosis to treatment and survivorship care, our oncology expertise ensures you have access to locally trusted care with the support of a globally recognized network.
---
askSARAH helpline
Have cancer questions? We can help. askSARAH is a dedicated helpline for your cancer-related questions. Our specially trained nurses are available 24/7, and all calls are confidential. Contact askSARAH at (844) 482-4812.
---
About Sarah Cannon Cancer Institute
The Healthy Living Blog
Fresh knowledge and insights in and around healthcare industry.
What you can expect from and how to prep for your mammogram, a recommended screening schedule, and answers to commonly asked questions.
Looking for another location?
We also offer quality care at these other locations in our extended network.