Inpatient rehabilitation
Inpatient rehabilitation provides intense, daily treatment and physician services for people who need 24-hour help while they recover from surgery or conditions such as strokes.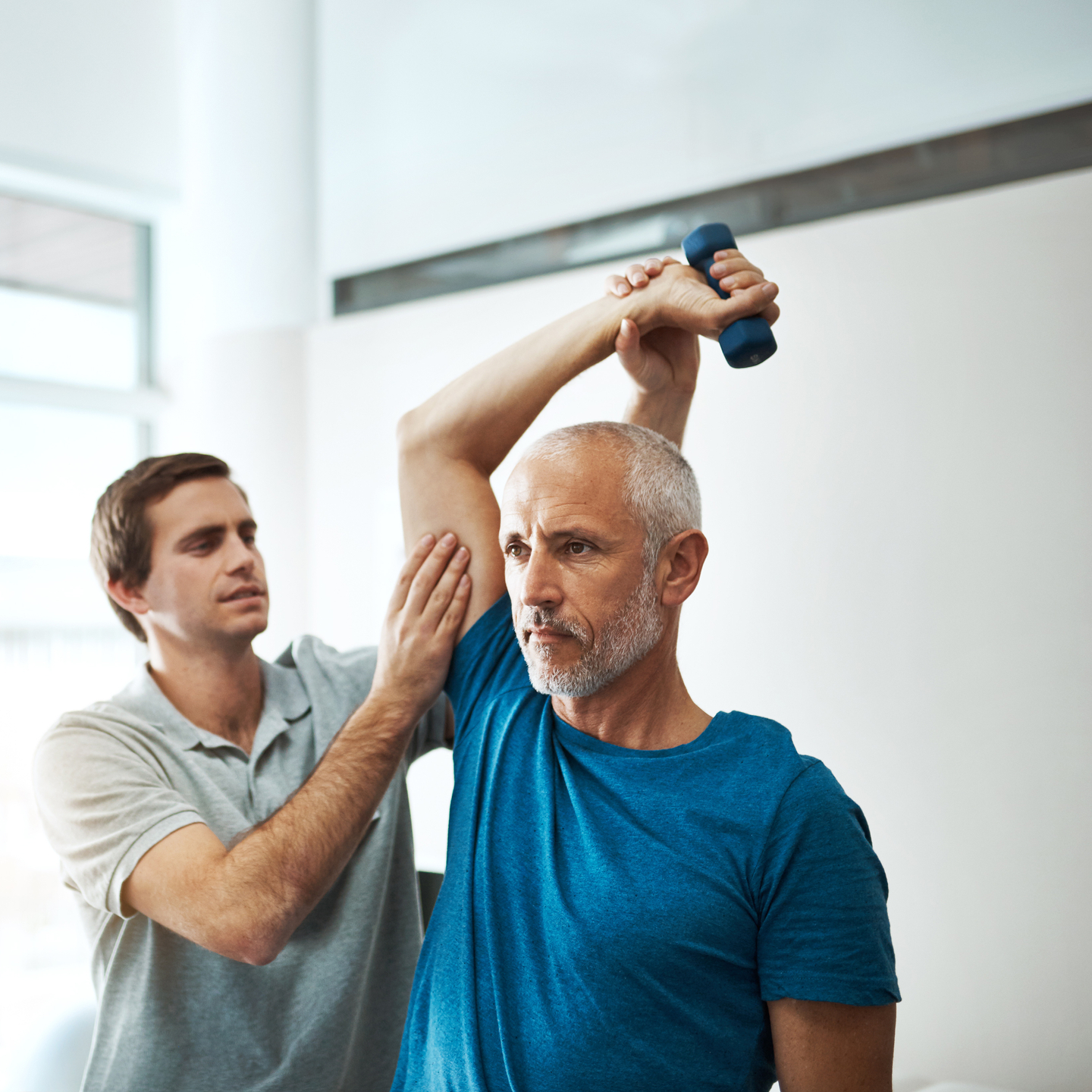 State-of-the-art rehabilitation care in Ocala, FL
We know you have a choice in your healthcare.
At HCA Florida West Marion Hospital, a part of HCA Florida Ocala Hospital, our comprehensive inpatient rehabilitation program helps those with diminished ability to function as a result of an accident, injury, illness/disease or surgery. We realize with these changes, you may find it difficult to take care of yourself. Our goal is to help you return to the most independent life possible.
Our therapy program
The program is individualized, and the goals and treatment plan are developed specifically for you. Therapy is provided to increase independence and function in:
Adaptive aquatics
Bowel and bladder management
Communication
Community reentry
Coping skills
Dressing/grooming
Feeding/swallowing
Homemaking
Hygiene
Leisure skills
Mobility
Problem solving
Skin care
Our admission requirements
To be eligible for admission, you must:
Have an approved referral
Be medically stable and willing to participate in the rehabilitation program
Need two or more therapies (physical, occupational and/or speech)
Have the physical stamina and endurance to tolerate at least three hours of therapy a day, at least five days a week or 15 hours per week
Have an identified discharge plan and support system
Be free of uncontrolled, infectious disease
Be 18 years old or older
Be free of mechanical assistive devices to breathe
Criteria for admission include impairment(s) of:
Mobility
Self-care activities
Cognitive function
Communication
Perceptual motor function
Swallowing
Who can we help
Inpatient programs are geared to those recovering from:
Amputations
Bowel and bladder management
Brain, back and spinal cord injuries
Cardiac and pulmonary events
Cognitive and perceptual deficits
Impaired functional mobility, balance and coordination
Limitation in strength and range of motion
Limitations in self-care
Neuromuscular disorders
Orthopedic fractures
Other debilitating conditions
Speech and communication problems
Strokes
Swallowing disorders
Rehabilitation services we provide
In our rehabilitation program, you receive care in a 24-hour therapeutic environment. The program includes active participation in therapy, a minimum of three hours per day, five days a week or 15 hours per week. A modified program is offered on weekends and holidays. Therapy schedules are individualized to meet your needs.
We offer:
Speech-language therapy
Speech-language pathologists have expertise in evaluating and treating individuals with communication and swallowing problems resulting from stroke, brain injury and other neurologic conditions.
Speech-language pathologists assess and treat:
Cognitive-communication disorders, including trouble with memory, reasoning, problem solving and attention
Imprecise speech sounds caused by muscle weakness, such as dysarthria
Language impairments, known as aphasia, or difficulty understanding and/or producing language, as well as new difficulty with reading or writing
Voice disorders affecting vocal quality, pitch or volume
The speech pathologist works closely with you and your caregiver, as well as with the medical and rehabilitation care team, to create personalized treatment plans.
The therapeutic approach to speech, language and cognitive treatment includes:
Facilitating your activities and participation by helping you develop new skills and strategies
Making use of strengths and addressing weaknesses that affect communication by either direct retraining or compensating for skills that have been affected
Modifying your environment to remove barriers to successful communication and participation, including developing and using new accommodations, such as aids, strategies or devices
Physical therapy
Physical therapy (PT) focuses on training and movement to assist with restoration of function and independence:
Balance and neuromuscular reeducation
Functional mobility training
Gait/assistive device training
Pain management
Seating/positioning
Therapeutic exercise to improve strength and range of motion
Tone management
Prosthetic training
Orthopedic functioning
Vestibular functioning
Pelvic floor functioning
Occupational therapy
Occupational therapy (OT) works on returning you to the normal activities of your daily life. This will include both physical and cognitive skills to help you engage in activities in your environment and resume your self-care, productivity and leisure.
To help you return to everyday life, occupational therapists focus on:
Adaptive equipment use
Driving safety program
Low-vision accommodations
Lymphedema management
Neuromuscular recovery
Positioning
Range of motion
Sensation
Splinting
Strengthening
Tone management
Visual perceptual issues
Your rehabilitation treatment team
The treatment team is directed by a physician who specializes in the field of physical medicine and rehabilitation. The interdisciplinary treatment team consists of rehabilitation nurses, physical therapists, occupational therapists, speech therapists and case managers. All of these team members are experts in rehabilitation and everyone focuses on helping you regain the ability to function.
Our goal is to help you achieve the highest possible level of independence so you may return to the least restrictive environment in the community. To aid in this, we provide access to:
Physician and rehabilitation nursing is available seven days a week.
Case management/social services are available five days a week.
Physical therapy, occupational therapy and speech services are available seven days per week. A modified therapy program is scheduled for Saturday and Sunday as needed.
Psychology services are available as needed.
Other team members may include consulting physicians, dietitians, neuropsychologists and other healthcare professionals. Keep in mind the vast resources of HCA Florida West Marion Hospital are available to you during your stay.
Our physical medicine rehab physicians will continue to follow you throughout your recovery, even after discharge from the inpatient rehab program, to ensure proper continuum of care.
What you should expect
It is important to remember rehabilitation can be challenging. It is important for you to work hard and actively participate in your rehabilitation program.
Following admission to the rehabilitation unit, you will receive an orientation to the unit and the program by a rehabilitation nurse. You will also be involved in an initial assessment by the members of the treatment team (rehabilitation nursing, physical therapy, occupational therapy, speech therapy, case management, dietary and neuropsychology as needed). As part of the assessment process, you have the opportunity to discuss personal goals and participate in the development of an individualized treatment plan leading toward a targeted discharge date.
Your program begins after the assessment process, when your care team has established your plan of care. Reassessments are performed on an ongoing basis and are formally discussed by the therapy team during weekly care team conferences. After the team conference, case management/social services will review the discussion from the conference with you and/or your family/caregiver.
The length of your stay depends on your progress in the program and our ability to continue to meet your needs. You will also practice real world events by participating in community reentry activities.
Recovery is a positive process, but can also be a challenging journey. We are dedicated to giving you the space and privacy you need to recover – body and mind. Our therapy areas offer the latest equipment and real life home environments for therapy.
On a typical day, you will:
Wake up, get ready for the day (wash up, brush your teeth, etc.) and get dressed in street clothes.
Eat in the dining room with your peers at lunch time.
Take part in individualized therapy for at least three hours per day. This includes physical therapy, occupational therapy and speech therapy. Some of the therapy may be provided in a group setting. Psychology may also be part of the day.
Learn about medical and dietary issues, as well as how the lives of you and your family/caregivers will be impacted by the change that has brought you to rehabilitation.
Attend patient and family/caregiver training.
Get ready for bed and rest.
Going home
Your discharge plan is an important part of your care. On average, a patient's length of stay is two weeks, depending on their diagnosis. During your stay, we help you set and reach goals throughout the course of your treatment. We work with your family and other members of your support network to prepare for a safe and happy transition to home life and continued recovery. If services are required following discharge, our case management team will make the necessary referrals on your behalf.
Our experienced team of rehabilitation experts provide high-quality, safe and compassionate care to patients who have experienced brain injuries, strokes, spinal cord injuries and orthopedic conditions.
To get you back to life, our team works hard to offer you proactive around-the-clock care, including daily physician rounding with the primary goal of gaining your independence.
We provide an intensive course of physical rehabilitation services, including:
Case management
Medical director oversight
Nutritional counseling
Occupational therapy
Orthotic consults
Pharmaceutical care
Physical therapy
Prosthetics consults
Psychiatry consults
Specialized rehabilitation nursing care
Speech-language therapy
Wheelchair seating