Stroke
A stroke is a medical emergency where blood flow to the brain is either reduced or stopped, depriving brain tissue of essential oxygen and nutrients. A stroke may cause loss in brain function and affect movement and speech.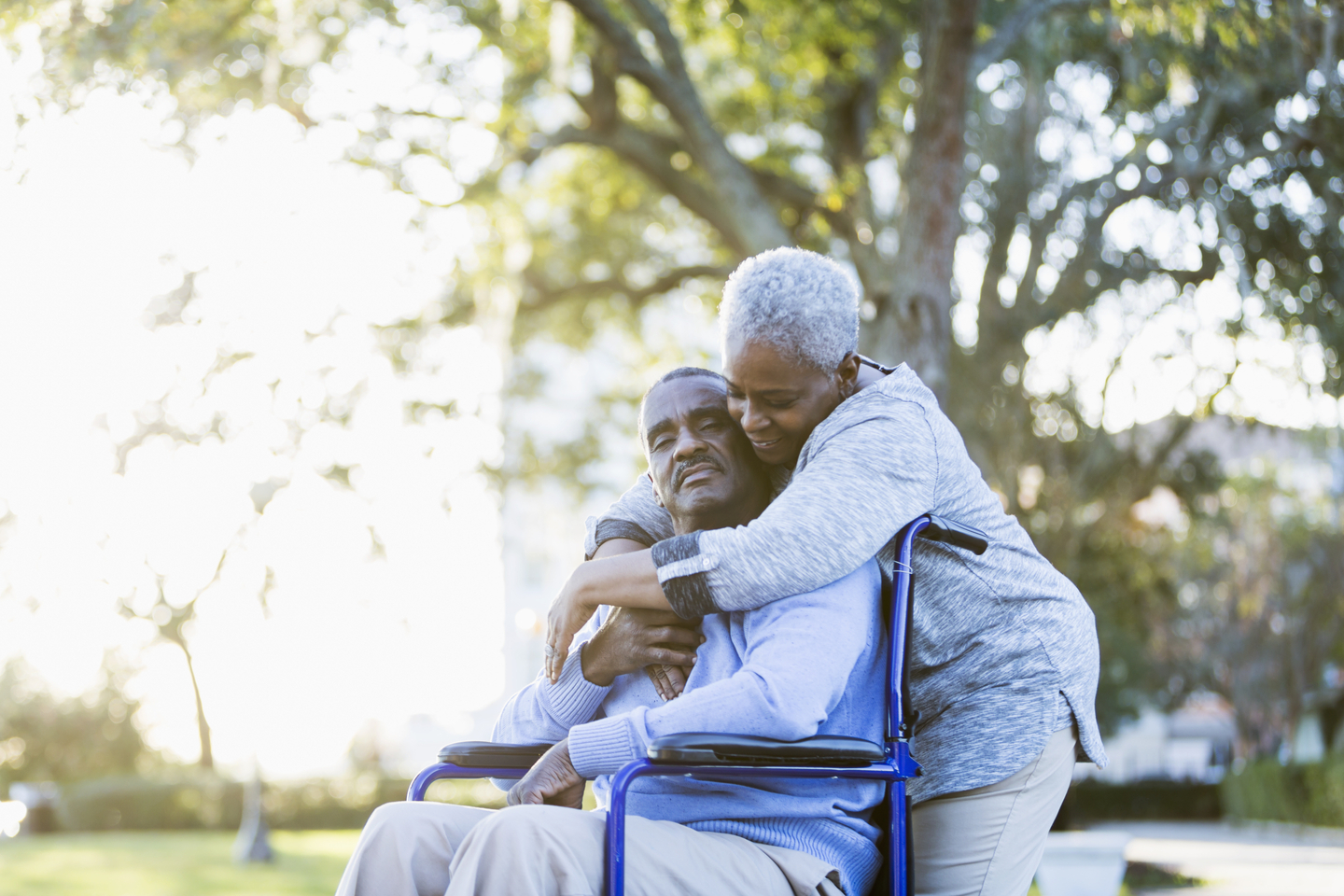 Stroke treatment in Port Charlotte, Florida
When you or a loved one is experiencing a stroke, it's essential to act quickly. 
HCA Florida Fawcett Hospital offers lifesaving stroke care in your critical time of need, 24/7. Our stroke care team works together to quickly and effectively deliver stroke treatment focused on your long-term health and well-being.
Stroke is a medical emergency.
If you believe someone is experiencing a stroke, call 911 immediately.
If you believe someone is experiencing a stroke, call 911 immediately.
Comprehensive stroke services
From diagnosis to stroke care treatment, our team is dedicated to ensuring you receive coordinated and high quality care.
Nationally recognized stroke care center
We are designated as a Comprehensive Stroke Center by the Florida Agency for Healthcare Administration and a Primary Stroke Center certified by The Joint Commission. These recognitions reflect our hospital's dedication to providing Charlotte County patients with immediate access to exceptional stroke care.
Our neurologists and stroke treatment team
Our stroke treatment team is made up of highly skilled medical professionals who are specially trained to give patients quick and effective stroke care. Our team members include:
Certified nurses
Emergency physicians
Laboratory technicians
Neurologists
Neurosurgeons
Pharmacist staff
Radiologists
Therapists
Advanced stroke care and treatment
Our multidisciplinary team members work together to provide fast, effective stroke care. One way we do this is by using advanced technology, which allows our physicians to view real-time images of neuroendovascular events, including strokes, and perform lifesaving neurointerventions.
Although each patient experiences a stroke differently, our stroke doctors and their team ensure all patients receive fast, effective treatment by ensuring the following:
Communication between the ambulance team and the hospital are in place before the patient arrives in our emergency room (ER). A "stroke alert" can be initiated by emergency personnel in the field, a triage nurse in our emergency room or a medical professional caring for an in-hospital patient.
Each patient is evaluated immediately and treated using a uniform and extensive set of guidelines that address both emergency treatment and ongoing care.
A head computerized tomography (CT) scan or brain magnetic resonance imaging (MRI) scan is performed and interpreted within 45 minutes of the patient being admitted.
A fully functioning medical laboratory is open 24/7 to analyze and provide test results in a timely manner.
Our interventional radiology suite offers the latest biplane system technology, allowing our neurology team to treat ischemic stroke, brain aneurysm and other vascular abnormalities.
Stroke rehabilitation begins immediately after hospitalization to improve long-term outcomes and decrease stroke-related complications.
Ongoing acute care is offered to facilitate a fast return to a patient's regular daily activities.
Interventional radiology
Interventional radiology is a subspecialty of radiology, which uses imaging technology to guide advanced, minimally invasive procedures. Our interventional radiology suite hosts some of the most technologically advanced medical equipment available. Many procedures that once required surgery can now be performed by an interventional radiologist, without general anesthesia or incisions. This means that with interventional radiology, procedures that once required an overnight stay in the hospital can now be performed as outpatient procedures.
Stroke Support Group
We offer a monthly Stroke Support Group. Social support can be a significant part of stroke recovery. Social interaction and feeling connected to others can help ease feelings of depression and isolation, which are common after a stroke.
To share your journey, learn from others or make new friends, please contact our stroke coordinator at (941) 624-8084.
This group meets in our hospital's Executive Dining Room.
The address is:
21298 Olean Blvd.
Port Charlotte, FL 33952
Understanding stroke
A stroke is a serious medical condition that requires immediate emergency care, which is why being knowledgeable about stroke can help save a life.
Types of stroke
A stroke is caused by interrupted blood flow to part of the brain. When blood flow is stopped, that part of the brain can't receive oxygen and other nutrients. This causes brain cells to die and can result in permanent damage, even death.
There are different types of strokes, including:
Hemorrhagic stroke: when a blood vessel ruptures and blood leaks into the brain
Ischemic stroke: when a blood clot blocks blood flow to part of the brain
Transient ischemic attack (TIA) or "mini stroke": when there is temporary interruption of blood flow to part of the brain
---
Stroke symptoms
It's important to be able to recognize signs of a stroke so you can act quickly when they occur. Common stroke symptoms include sudden:
Confusion
Dizziness
Loss of balance or coordination
Numbness, weakness or paralysis of the face, arm or leg (especially on one side of the body)
Severe headache with no known cause (may be accompanied by pain in the face or stiffness in the neck)
Trouble seeing in one or both eyes (such as blurred, blackened or double vision)
Trouble speaking
Trouble walking
The symptoms of a TIA are the same as those of a stroke, but they usually last only a few minutes. If you think you are experiencing a stroke, don't drive. Call 911.
---
Stroke risk factors
There are certain factors and conditions that may put you at risk for stroke. However, some of those conditions can often be treated. Some of the major risk factors for stroke include:
Being 55 years old and older
Having a family history of stroke
Having atrial fibrillation (AFib)
Having diabetes
Having heart disease
Having high blood pressure
Having high cholesterol
Having poor circulation
---
The Healthy Living Blog
Fresh knowledge and insights in and around healthcare industry.
5 essential health screenings for men 
Health screenings are essential for all men to maintain good health. From cholesterol testing to prostate cancer screenings, learn what tests are recommended based on your age, health and family history.
What's the connection between dementia and heart health? 
What's the link between dementia and heart health? Can having high cholesterol lead to developing Alzheimer's? Can having high blood pressure or diabetes lead to vascular dementia? Learn more about the connection between heart health and brain health.
Looking for a location?
We also offer quality care at these other locations in our extended network.