Physical therapy and rehabilitation
Rehabilitation refers to the process of helping a patient recover from a serious injury or illness. Patients often have to regain strength and learn new ways of completing normal, daily activities. Physical therapy, a branch of rehabilitation, focuses on building strength and mobility after disease, injury or surgery.
Inpatient physical rehabilitation on the Treasure Coast
Inpatient rehabilitative care focuses on restoring function and independence after an injury or medical event.
At HCA Florida Lawnwood Hospital's Physical Rehabilitation Center, we are a leading provider of physical therapy, occupational therapy, speech therapy and rehab nursing for patients requiring intense inpatient rehabilitation. Working together, our dedicated team will carefully assess your unique needs and work toward restoring your ability to function independently. With clinical collaboration and advanced technologies, we provide a personalized care plan designed to meet your unique needs to help you achieve your goals. Our inpatient rehabilitation hospital uses an interdisciplinary team approach that includes physical, speech and occupational therapists, rehabilitation physicians, rehabilitation nurses, case managers, dietitians and more. This, combined with our advanced technology and expertise, will help you achieve your goals.
Some conditions treated with rehabilitation
Physical therapy, occupational therapy, and speech therapy services can greatly improve your quality of life following an illness or injury.
Amputation
Arthritis
Brain injury
Hip fracture
Joint replacement
Spine injury
Multi-trauma
Neuromuscular disorders, such as multiple sclerosis and Parkinson's disease
Our physical rehabilitation center 
Our facility offers a healing environment, including a state-of-the-art gym where we help improve your balance, coordination, physical function, mobility and safety.
Accredited rehabilitative care
We're the only facility on the Treasure Coast accredited by the Commission on Accreditation of Rehabilitation Facilities (CARF). This achievement recognizes our commitment to internationally recognized standards and best practices for inpatient rehabilitation.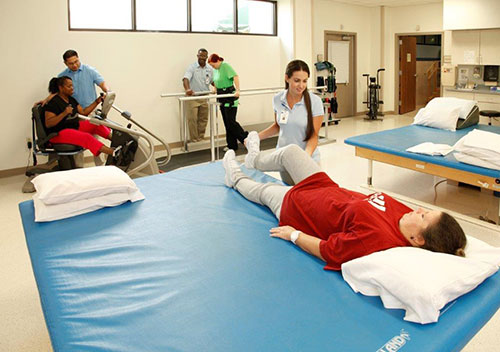 Challenges we address with therapy and rehabilitation
Through our inpatient rehabilitative care program, we can address a wide range of challenges and limitations, including:
Cognitive and perceptual deficits
Impaired mobility, balance and coordination
Limitations in self-care
Limitations in strength and endurance
Speech and communication problems
Swallowing disorders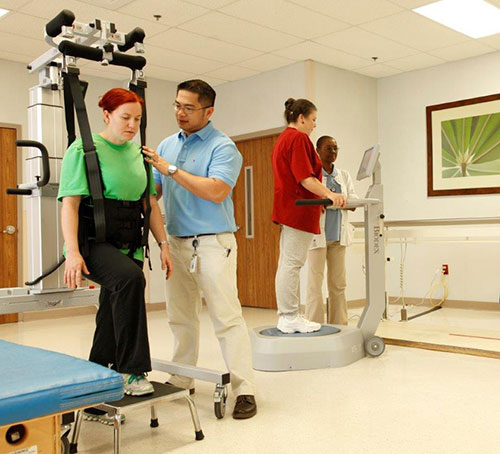 Multidisciplinary rehabilitative care
Our highly trained rehabilitation specialists tailor treatment plans to meet every patient's physical, cognitive and emotional needs. To create your treatment plan, we'll rely on input from:
Physiatrists
Occupational therapists
Physical therapists
Speech-language pathologists
Respiratory therapists
Clinical psychologists
Nurses
Dietitians
Case managers
Specialized rehabilitation for young stroke survivors 
The Young Stroke Program at our rehabilitation center is designed to address the unique needs of young stroke survivors. We're going to do our best every day to get you back to doing the things you love most.
Our young adult stroke rehabilitation program
Having a stroke at a young age poses an array of unique challenges. You want your active lifestyle back, and it's our goal to help you get there. That is why, as part of our hospital's stroke care services, we have designed a highly specialized stroke rehabilitation program to help young adults meet their specific recovery goals. Rehabilitation does not reverse the brain damage caused by a stroke, but it can go far to help achieve the best possible outcome for long-term recovery.
If you have questions about our program, we are here 24 hours a day, seven days a week. Call us at (772) 467-3577 for more information.
---
Our young adult stroke rehabilitation team
Led by a board-certified physician with expertise in stroke rehabilitation, our stroke rehabilitation team includes specially trained rehabilitation nurses and psychologists as well as physical, occupational and speech therapists. Additionally, social services, case management, orthotic consultants, nutritional counseling and spiritual counseling play key roles in our program for each patient's path to recovery.
---
Features of our young adult stroke rehabilitation program
Our interdisciplinary team will use their collective expertise to make the best plans for the progress you desire. We celebrate the progress you have already made, and we are ready to help you with the next improvements of your rehabilitation journey. Our program offers high-quality stroke recovery care as well as comprehensive amenities and resources, including:
A rehabilitation program based on what research shows is best for young stroke patients
Equipment and education for family/caregiver training
Intense, one-on-one therapy provided by physical, occupational and speech therapists for a combined total of at least three hours of one-on-one individualized therapy
Newly renovated gym with 3,000 square feet
State-of-the-art exercise equipment and resistance strengthening to help you regain balance and mobility to your highest potential
Stroke prevention education
Support groups for stroke and trauma
Therapeutic treatments designed to reintroduce the use of technology into your day-to-day living, including virtual reality
Therapy sessions in real-life settings, such as a fully equipped kitchen, bedroom, bathroom, laundry room and various outdoor training environments
Visitation with loved ones encouraged as we consider your family part of your care team
Vocational, family, financial and intimacy counseling
Wi-Fi access
---
Our young adult stroke rehabilitation program
Our young adult stroke rehabilitation team
Features of our young adult stroke rehabilitation program
Looking for another Location?
We also offer quality care at these other locations in our extended network.
Our Physical therapy and rehabilitation Locations