Wound care
Wound care involves medical intervention to heal a wound after injury. Specialized treatment is provided for wounds that are non-healing or refuse to heal on their own. To promote healing, learning how to properly dress and care for wounds is vital.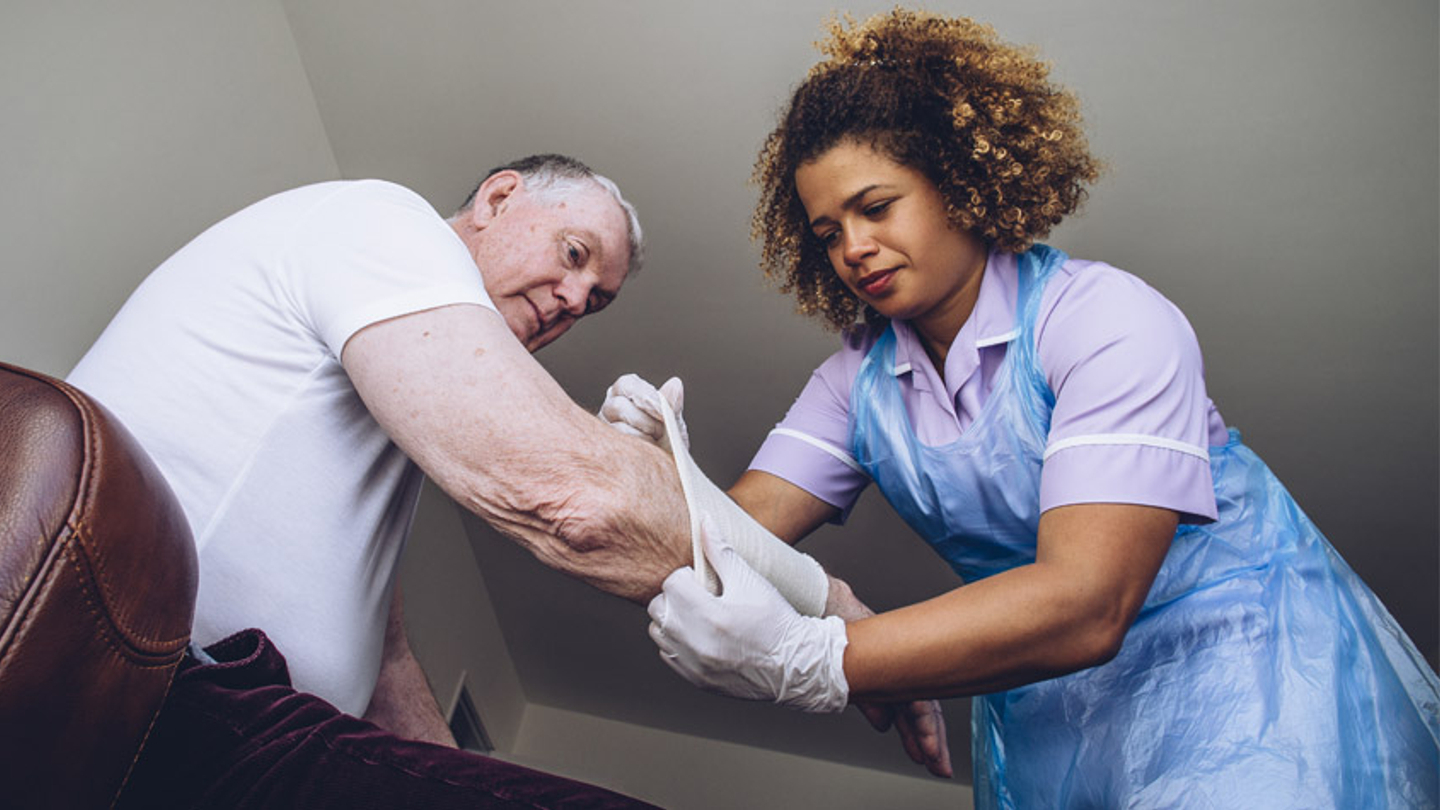 Wound care center in Aventura, Florida
Wounds can be uncomfortable and even painful, which means they can easily impact your mobility, quality of life and daily activities.
That's why the specialists at the Wound Healing Center at HCA Florida Aventura Hospital offer advanced treatments to help you heal. Our wound care team brings together experts with knowledge in wound management and hyperbaric medicine. This team includes wound care doctors, vascular surgeons and other physicians who work together to fully treat and heal chronic, non-healing wounds in Miami, Florida.
Our wound care treatments and services
You can trust our hospital to provide the wound care services you need to fully heal.
Comprehensive wound care
Our specialists understand that every person and wound is different. So, they take time to fully evaluate and understand your medical history, overall health and unique type of wound. This allows us to identify any potential reasons for slow healing, so we can address those factors in your treatment plan.
Together, our wound care team will form a wound healing plan specially tailored to your condition. We are here to listen to you, answer your questions and provide support and expertise, so you can get better as quickly as possible.
Additionally, our Wound Healing Center offers:
A convenient outpatient setting
Collaborative, multispecialty team approach to wound care
Easy process for referrals
Wound treatments we offer
At our Wound Healing Center, we use advanced medical research and technology to craft our patients' treatment plans. Your wound care team will work together and with you to determine an effective treatment plan to help your body heal.
Some of our treatment options include:
Bioengineered tissue substitutes — aids in the regeneration of skin tissue
Compression wraps — pushes out extra fluid through compression to improve blood flow
Endovascular interventional procedures — minimally invasive procedures to treat affected blood vessels
Growth factors — manufactured wound healing proteins
Hyperbaric oxygen therapy — involves breathing pure oxygen within a pressurized chamber to promote wound healing
Nutritional and diabetic counseling — offers recommendations for dietary changes to patients with poor diets or patients with diabetes
Vacuum-assisted closures — decreases air pressure to promote wound healing
Vascular and podiatric assessments — examinations of veins, arteries and lower extremities
Vascular surgery — procedures to improve blood circulation within the veins and arteries or vascular system
Please note if you need emergency care for a wound, you may come to our hospital's 24/7 emergency room (ER) for treatment.
Hyperbaric oxygen therapy
To expedite the wound healing process, our hospital uses hyperbaric oxygen therapy (HBOT). This treatment involves breathing 100 percent oxygen while you're inside of a sealed hyperbaric chamber.
The concentration of oxygen is five times higher than the normal air we breathe, and the chamber is also pressurized to create up to three times the normal atmospheric pressure.
What to expect at our wound care center
Before beginning treatment, our team will evaluate your wound and review your medical history and general health. We may request further testing to provide information about the flow of blood and oxygen to your wound.
Once any test results are back, your wound care specialists will develop a treatment program based on your individual needs. We will schedule regular appointments at our center for treatment, and we'll evaluate your wound and its healing progress at each follow-up visit.
Our team will also provide you and/or your caregiver with instructions on home wound care, including dressing changes and ways to protect your wound from further injury.
---
Your role in the wound healing process
Your wound treatment plan depends upon your own participation and commitment. This is because you are an active member of your wound management team. To help your wound heal as quickly and efficiently as possible, it's important to attend your appointments, follow care instructions and closely monitor your progress between visits.
Our wound healing team is readily available to answer questions about treatments and at-home care.
---
Insurance information for wound care services
Many health insurance plans will pay for treatment at our Wound Healing Center. Your coverage will be based on your specific insurance plan. Please be sure to bring your insurance card with you when you visit our center.
---
What to expect at our wound care center
Your role in the wound healing process
Insurance information for wound care services
The Healthy Living Blog
Fresh knowledge and insights in and around healthcare industry.