Physical therapy and rehabilitation
Rehabilitation refers to the process of helping a patient recover from a serious injury or illness. Patients often have to regain strength and learn new ways of completing normal, daily activities. Physical therapy, a branch of rehabilitation, focuses on building strength and mobility after disease, injury or surgery.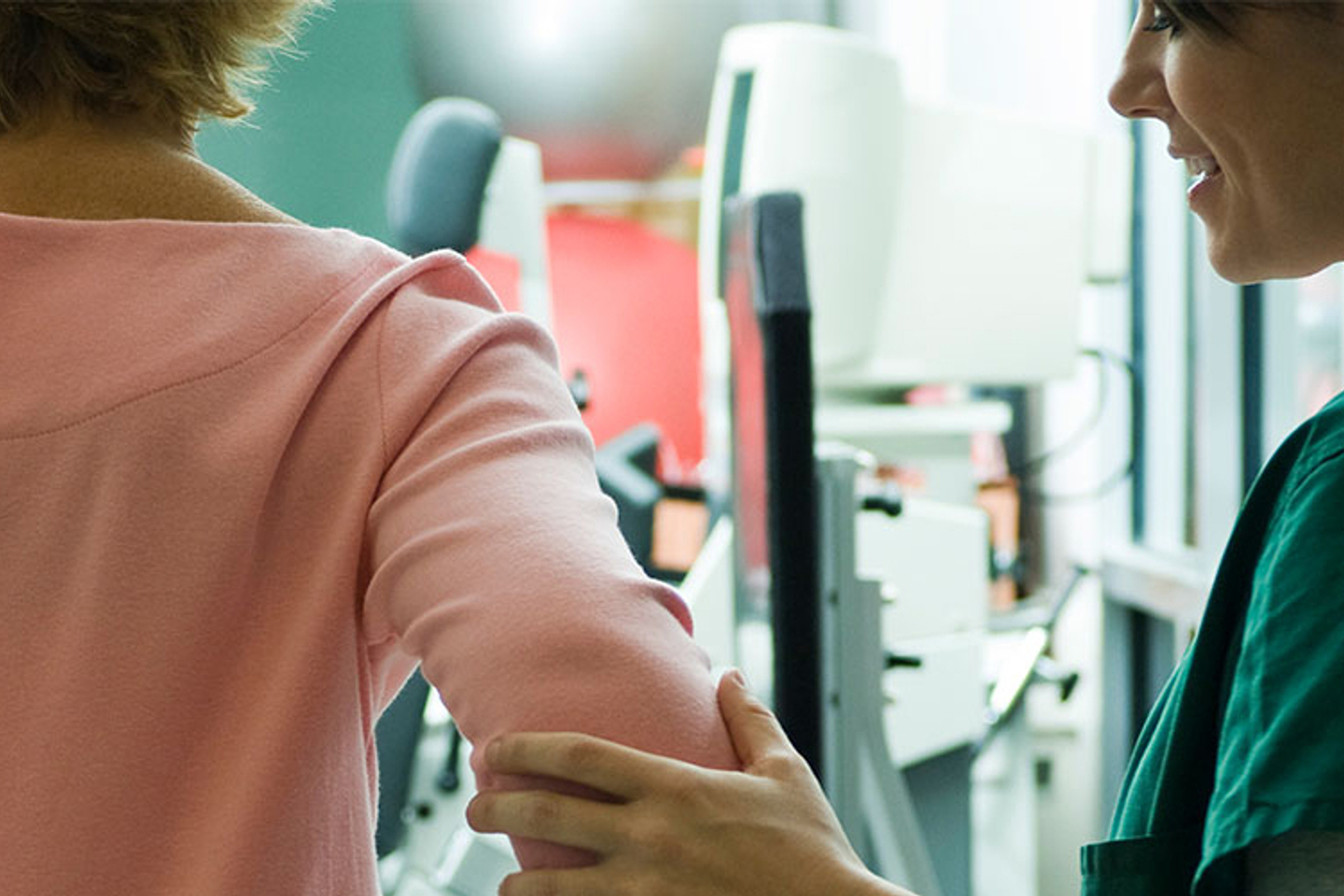 Rehabilitation services in Plantation, Florida
Our goal at HCA Florida Westside Hospital is to get you back to your life following an injury, illness or medical procedure.
Our experienced physical therapy team develops tailored rehabilitation plans to help you recover. We work to improve your function and mobility while helping you regain your independence. We are dedicated to providing one-on-one, compassionate care with a focus on your specific needs and goals.
Our inpatient rehabilitation services
Our physical therapists and rehabilitation specialists are committed to helping restore your maximum abilities. They do this by providing unmatched evaluation and customized treatment planning. 
Physical therapy
We offer comprehensive inpatient physical therapy in a relaxed and friendly environment pertaining to:
Orthopedic and sports injuries
Neurological and neurosurgical rehabilitation
Cancer rehabilitation
Stroke rehabilitation
Our inpatient physical therapy program offers:
Cutting-edge therapy programs with "hands-on" approaches: Our experienced physical therapists use soft-tissue mobilization, joint mobilization and various connective tissue techniques.
Updated equipment and the latest techniques: We offer a hospital-based therapy and exercise program, which uses the best in fitness equipment and training with a focus on your unique needs.
One-on-one treatment plans: We offer individualized assessments, training, therapeutic interventions and performance-enhancement programs.
Therapeutic intervention methods from licensed therapists: Our therapists are licensed in a variety of rehabilitation practices, including specialty rehabilitation programs, general re-strengthening programs and injury recovery.
Speech therapy
We offer a range of specialized rehabilitative speech services for patients with:
Swallowing challenges (also called dysphagia)
Speech and voice difficulties
Language impairment (also called aphasia)
Often, people who have had a stroke benefit from swallowing therapy. Our trained speech pathologists guide you along a path of recovery using specific therapeutic intervention techniques. They may use speech pathology exercise programs and modified video fluoroscopy.
Pelvic floor therapy
We understand how issues related to pelvic floor dysfunction or pain can lead to major difficulties in life. We are here to help you minimize and eliminate these pelvic health obstacles. To do that, we treat a wide variety of conditions in men and women, including:
Urinary and fecal incontinence
Urinary urgency and frequency
Urinary retention
Constipation
Pelvic pain
Painful intercourse
Pelvic organ prolapse
Postpartum back spasm/pain
Types of pelvic floor therapy
Our specialists employ a range of treatment techniques during pelvic floor therapy, including:
Education
Electrical stimulation and biofeedback
Bladder retraining
Manual therapy
Myofascial release
Muscle relaxation and diaphragmatic breathing techniques
Therapeutic exercises
Pelvic floor muscle training
Goals of pelvic floor muscle training are to:
Engage levator ani (the broad, thin muscle on either side of the pelvis) and promote relaxation
Self-manage urinary incontinence, urgency or frequency
Reduce muscle resting tone
Develop pelvic organ support
Decrease pain with urination and/or intercourse
Advance pelvic floor bracing against intra-abdominal pressure
Improve lumbar pelvic stabilization
Looking for a location?
We also offer quality care at these other locations in our extended network.
Thrive Blog
Read our blogs to learn about preventive care and ways you can lead a healthier lifestyle.
Did you know that exercise not only boosts your mental and physical health, but also combats chronic health conditions? Learn more about the benefits of exercising and get moving!
Did you know that exercise not only boosts your mental and physical health, but also combats chronic health conditions? Learn more about the benefits of exercising and get moving!