Citrus Memorial Hospital is a 5-star recipient for vaginal delivery as recognized by Healthgrades
Citrus Memorial Hospital is a 5-star recipient for vaginal delivery as recognized by Healthgrades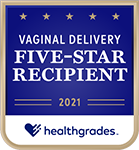 Inverness, FL — Citrus Memorial Hospital announced today that it is a 5-star recipient for vaginal delivery as recognized by Healthgrades, the leading resource that connects consumers, physicians and health systems. This 5-star rating indicates that Citrus Memorial Hospital's clinical outcomes for vaginal delivery are statistically significantly better than expected, and placed the Inverness hospital among the national leaders in women's care.
"It's no secret that our labor and delivery caregivers provide consistently outstanding experiences," said Citrus Memorial CEO Ginger Carroll. "Being recognized once again by Healthgrades for exceptional outcomes proves their commitment to providing patients with the best possible clinical care, as well."
"Women can feel confident selecting a hospital recognized with a 5-star rating for providing exceptional women's care. We commend the organizations that receive this achievement and for their ongoing commitment to providing exceptional care for their patients," said Brad Bowman, MD, Chief Medical Officer, Healthgrades.
Healthgrades analyzed all-payer state data for 16 states for years 2017 through 2019. Healthgrades found that there is a significant variation in hospital quality between those that have received 5-stars and those that have not. For example, from 2017 through 2019, women delivering vaginally in hospitals rated 5-stars have a lower risk of experiencing a complication while in the hospital than if they were treated by hospitals rated 1-star.
Healthgrades provides hospital quality awards and methodologies. find out how hospitals partner with Healthgrades.
Published:
August 30, 2021
Location:
HCA Florida Citrus Hospital
Related Newsroom Articles