Orthopedic care
Orthopedic doctors, called orthopedists, take care of bones and joints. This includes knee pain, total joint replacement, issues that impact your spine and more. You might need to see an orthopedist if you have arthritis or osteoporosis, or if you've had a recent sprain, strain or broken bone.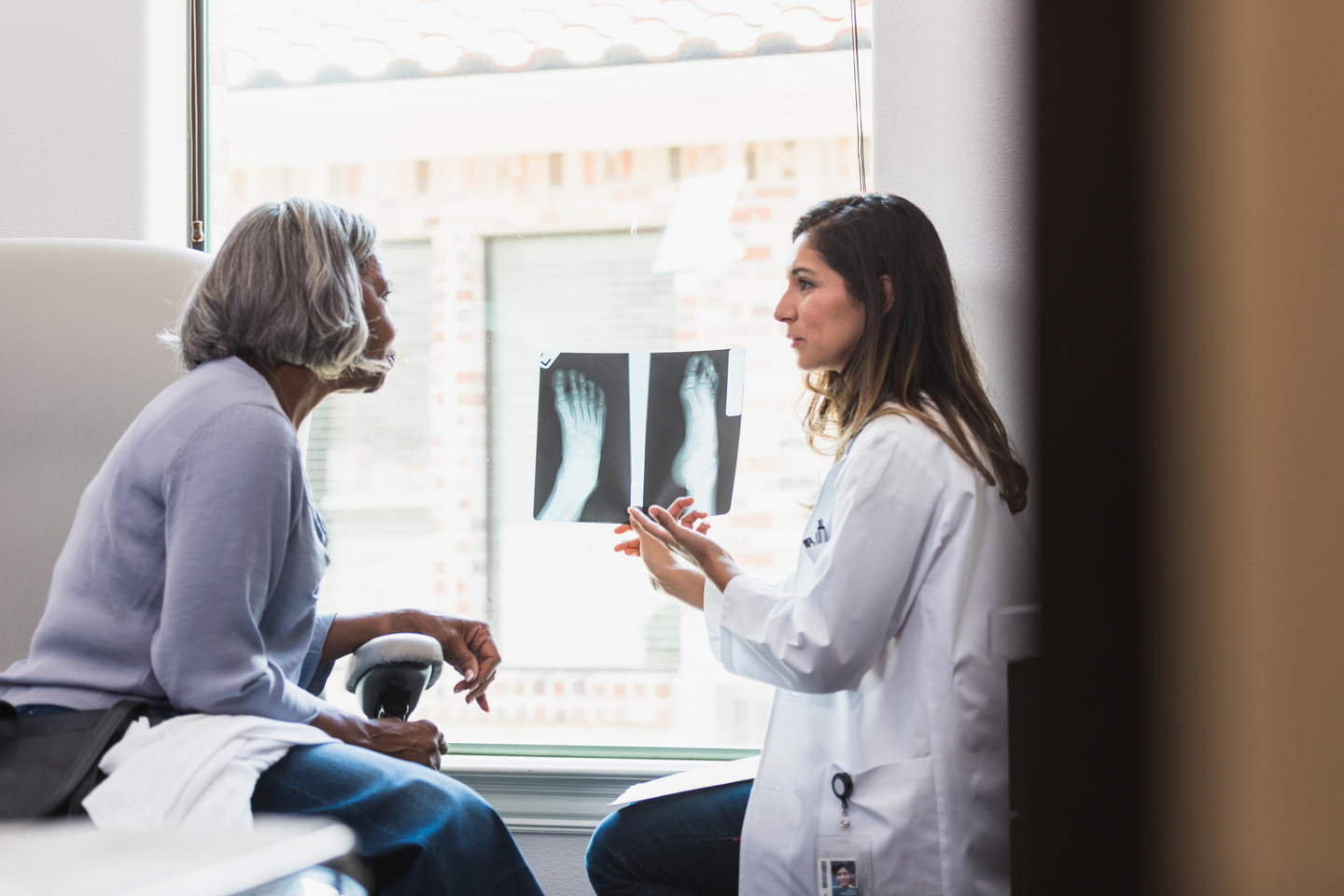 Bone and joint care in Hudson, Florida
No matter what orthopedic condition you may be facing, our team works together to make sure you receive the care you need.
The orthopedic doctors at HCA Florida Bayonet Point Hospital are here to help restore your range of motion and treat chronic bone and joint pain. We are equipped to provide advanced care for a wide range of conditions, such as carpal tunnel syndrome, arthritis and sports injuries.
Are your bones and joints healthy?
When something is wrong with your bones or joints, it can be painful and debilitating. We offer you a bone and joint health risk assessment to help you get started on a path to recovery and wellness.
When something is wrong with your bones or joints, it can be painful and debilitating. We offer you a bone and joint health risk assessment to help you get started on a path to recovery and wellness.
Looking for a Location?
We also offer quality care at these other locations in our extended network.
Bone and joint conditions we treat
Our orthopedic doctors specialize in treating medical conditions affecting the joints, muscles, bones and tendons. Our priorities in orthopedic care are two-fold: to provide the best treatment option and to help you feel well-informed and secure every step of the way. We commonly treat:
Arthritis
Carpal tunnel syndrome
Foot and ankle conditions and injuries
Hand and upper extremity conditions and injuries
Hip pain
Knee pain
Spine conditions and injuries
Sports injuries
Traumatic injuries
Our orthopedic services and treatments
We offer a wide range of bone, joint and muscle services, including:
Coordinated joint care
We participate in Comprehensive Care for Joint Replacement (CJR), a Medicare program. This program promotes cost efficient, coordinated care if you are undergoing hip or knee replacement surgery. Our hospital works closely with community physicians and post-acute care providers to improve coordinated care from initial hospitalization through recovery. The CJR program permits facilities to enter into financial gain sharing relationships with its collaborators to share in the success of the program.
The Hospital's written policy for selecting CJR Collaborators is available for download here.
Orthopedic diagnostics
To understand the source of your orthopedic pain or condition, we start with diagnostic imaging. This allows your doctor to accurately diagnose your condition and determine the most effective treatment.
Our diagnostic services includes:
Computerized tomography (CT)
Fluoroscopy
Magnetic resonance imaging (MRI)
Nuclear medicine
Ultrasound
X-ray
Foot and ankle care
Our orthopedic surgeons specialize in treating disorders, injuries and conditions affecting the foot and ankle. The feet and ankle joints are critical to movement, so when an injury occurs, it can put limitations on daily life.
We offer advanced surgery for foot and ankle conditions, including:
Ankle joint replacement
Arthrodesis (ankle joint immobilization)
Bunion surgery
Fracture repair
Hammertoe surgery
Morton's neuroma surgery
Surgery for diabetic ulcers
Tendon transfer via the Bridle procedure
Hand and upper extremity care
Your hands, arms and shoulders are vital to upper body movement. When an injury to one of these areas occurs, daily tasks (such as emptying the dishwasher or typing on a computer) can become challenging.
Our orthopedic surgeons specialize in hand and upper extremity treatments, including:
Acromioclavicular (AC) joint surgery
Anterior acromioplasty
Arthroscopy
Bankart procedure
Elbow, wrist and hand fracture treatment
Excision of cysts and masses
Joint reconstruction
Minimally invasive carpal tunnel release
Nerve and tendon injury repairs
Reverse shoulder surgery
Rotator cuff repair
Shoulder replacement
Subacromial decompression
Tendon transfers
Trigger digit surgery
Hip and knee care
Whether you're a professional athlete or weekend warrior, hip and knee pain can get in the way of the activities you enjoy doing. We are here to offer surgical solutions to reduce chronic hip and knee pain.
Our treatments include:
Joint replacement revision surgery
Ligament reconstruction and repair for the:

Anterior cruciate ligament (ACL)
Lateral collateral ligament (LCL)
Medial collateral ligament (MCL)
Posterior cruciate ligament (PCL)

Meniscus surgery
Total hip replacement
Total knee replacement
Orthopedic trauma care
You can trust our hospital to provide fast orthopedic treatment during your crucial time of need. Our hospital has a Level II Trauma Center Level II Trauma Center on-site that partners with our orthopedic specialists to offer critical care after a traumatic accident.
Our orthopedic/trauma surgical services include:
Acute and sub-acute fracture repair
Pelvic/acetabular fracture repair
Pelvic reconstruction
Trauma and critical care surgery
Fall prevention class
Our hospital is proud to offer A Matter of Balance, a free course dedicated to managing your or a loved one's fall risk and increasing personal activity levels. During this class, we have group discussions and teach problem-solving strategies and gentle physical exercise.
To sign up for the class, please register online or call (727) 869-5498.
The Healthy Living Blog
Fresh knowledge and insights in and around healthcare industry.