Imaging services
Imaging services refers to the performance of imaging exams for better visualization and treatment of medical conditions. Different exams allow radiologists and physicians to view structures and activity within the body. Imaging exams are vital for diagnosis and there are a wide range of tests that can be performed.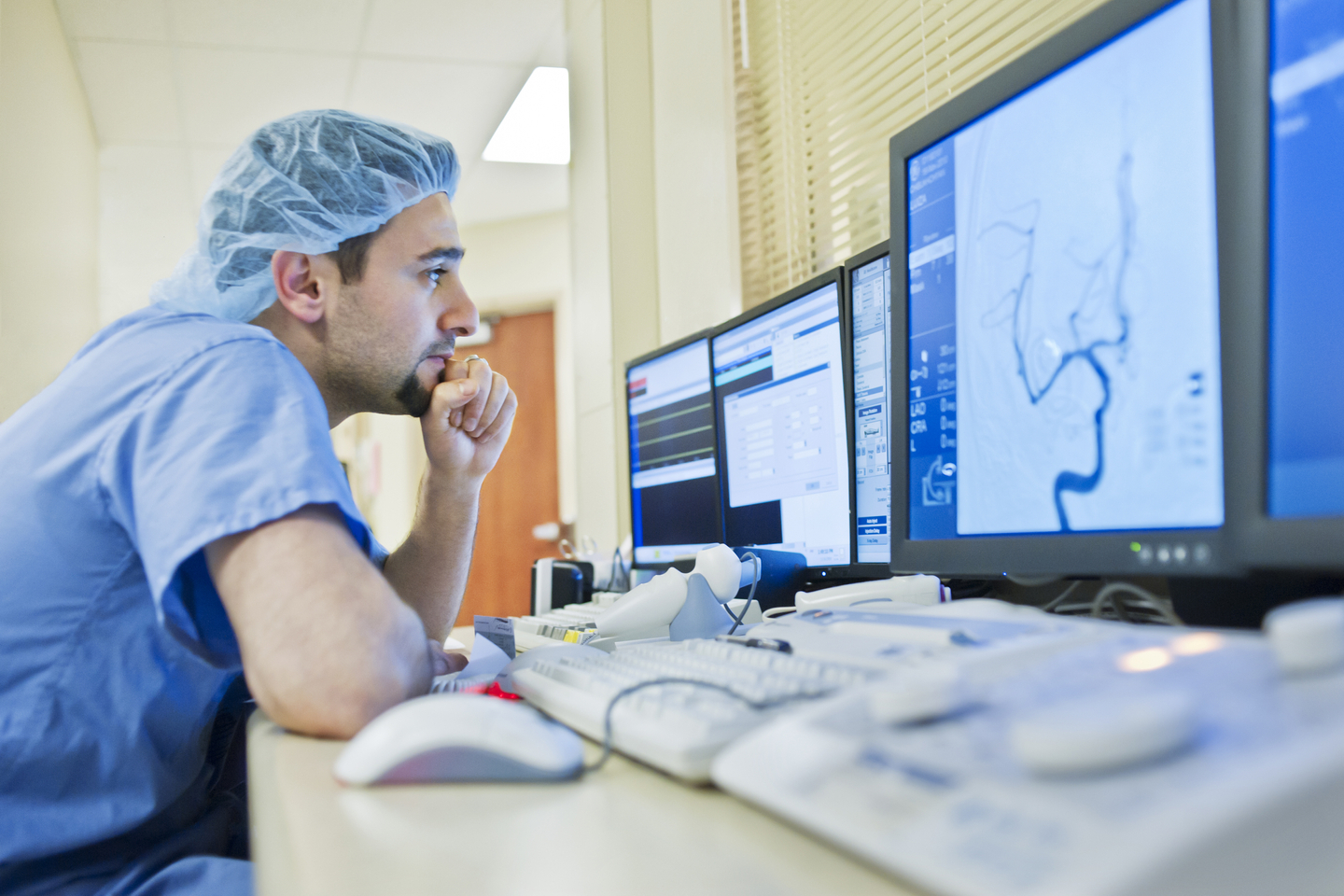 Imaging center in West Palm Beach, Florida
The diagnostic imaging center at HCA Florida JFK North Hospital provides full-service medical imaging. 
We use advanced technology, resulting in superior image quality and quick scans. Our specialties include interventional procedures and women's imaging. Our radiology team includes registered and licensed technologists by the American Registry of Radiologic Technologists. Together, they make your experience with us as quick and comfortable as possible.
Looking for a location?
We also offer quality care at these other locations in our extended network.
Our diagnostic imaging services 
Our imaging services include: 
Bone density testing
Bone density tests are effective at diagnosing osteoporosis by determining the relative strength of a patient's bones through the amount of calcium in a specific region of the bones.

We use dual energy X-ray absorptiometry (DEXA) to measure the density of your bones. The DEXA scan is an X-ray scan that uses a small amount of radiation to take images of different bones.

Our advanced bone densitometer is the most complete bone assessment tool ever devised for diagnosing osteoporosis and assessing a patient's fracture risk. This technology offers excellent precision in detecting bone changes in a variety of clinical conditions.
Computerized tomography (CT) scan
A CT scan uses X-ray technology to capture images of the inside of the body. It can take more precise and detailed pictures than X-rays. CT scans are often used to examine the brain, chest, abdomen and pelvis to help doctors diagnose diseases or life-threatening illnesses.

Our advanced CT scanner offers the latest in CT technology, allowing physicians to perform multiple diagnostic exams quickly and accurately.

CT scans have several diagnostic capabilities, including:
Viewing bleeding inside the body, especially in the skull
Studying the chest and abdomen
Determining the size and site of a tumor
Diagnosing skeletal problems
Diagnosing blood vessel diseases
Planning radiation treatments for cancer
Guiding biopsies and other tests
Planning surgery
Identifying injuries from trauma
Fluoroscopy
With fluoroscopy, physicians can visualize internal organs in motion and in real time. Joints and blood passing through veins can also be viewed with this diagnostic technology. For example, our cardiology program uses fluoroscopy for many cardiac procedures, including cardiac catheterization.

Magnetic resonance imaging (MRI)
Our treatment teams at JFK North use MRI to see details inside the body, view the extent of injuries and detect diseases. MRI uses a high-powered magnet and radio waves to create accurate and detailed images.

Our advanced MRI technology delivers breakthrough results, including enhanced image quality and ease of application. The combination of faster and better scanning has proven to decrease the time for the patient in the magnet significantly.

When it comes to breast MRI, our innovative and powerful MRI system enables simultaneous, contrast-enhanced acquisition with high spatial resolution imaging of both breasts. Patients no longer have to come back a second time to obtain the highest quality images.
Ultrasound
Ultrasound imaging uses sound waves to produce images inside the body. With ultrasounds, we can evaluate blood flow, internal organs, pregnancies, cancer, abdominal disorders, blood vessel problems, pelvic disorders and more.

X-ray
X-ray is a high energy form of electromagnetic waves that helps physicians visualize bones, soft tissues and some organs.

Interventional radiology
Interventional radiology is a medical sub-specialty where imaging technology is used to guide a minimally invasive diagnostic procedure or treatment. Our hospital offers a wide range of interventional radiology procedures, including:
Arteriography and venography
Vertebroplasty for back pain
Vascular stent placements, including aortic artery stenting
Interventional MRI of the breast
CT scan of the sinuses
Non-invasive treatment of fibroids
Stereotactic breast biopsy
Imaging total joint replacement with MRI
Carotid stenting
Interventional vascular procedures
Our Special Procedures Room is the largest interventional vascular procedures room in West Palm Beach. Full anesthesia capabilities are built into our Special Procedures Room along with an advanced angiography system.
Advanced radiology technology
Our radiologists use a picture archiving communication system (PACS). 
PACS allows a team of physicians to view and manipulate images simultaneously, even from separate locations. This technology improves turnaround time for reporting of studies, and it allows for accelerated decision making in critical situations.
---
Imaging Services Blog
Fresh knowledge and insights in and around healthcare industry.
Why you should not ignore groin pain 
May 25, 2022
They are pretty common, but groin hernias shouldn't be ignored. Here's how to spot one, and how it should be treated to avoid dangerous complications.
Why you should not ignore groin pain 
May 25, 2022
They are pretty common, but groin hernias shouldn't be ignored. Here's how to spot one, and how it should be treated to avoid dangerous complications.