Stroke
A stroke is a medical emergency where blood flow to the brain is either reduced or stopped, depriving brain tissue of essential oxygen and nutrients. A stroke may cause loss in brain function and affect movement and speech.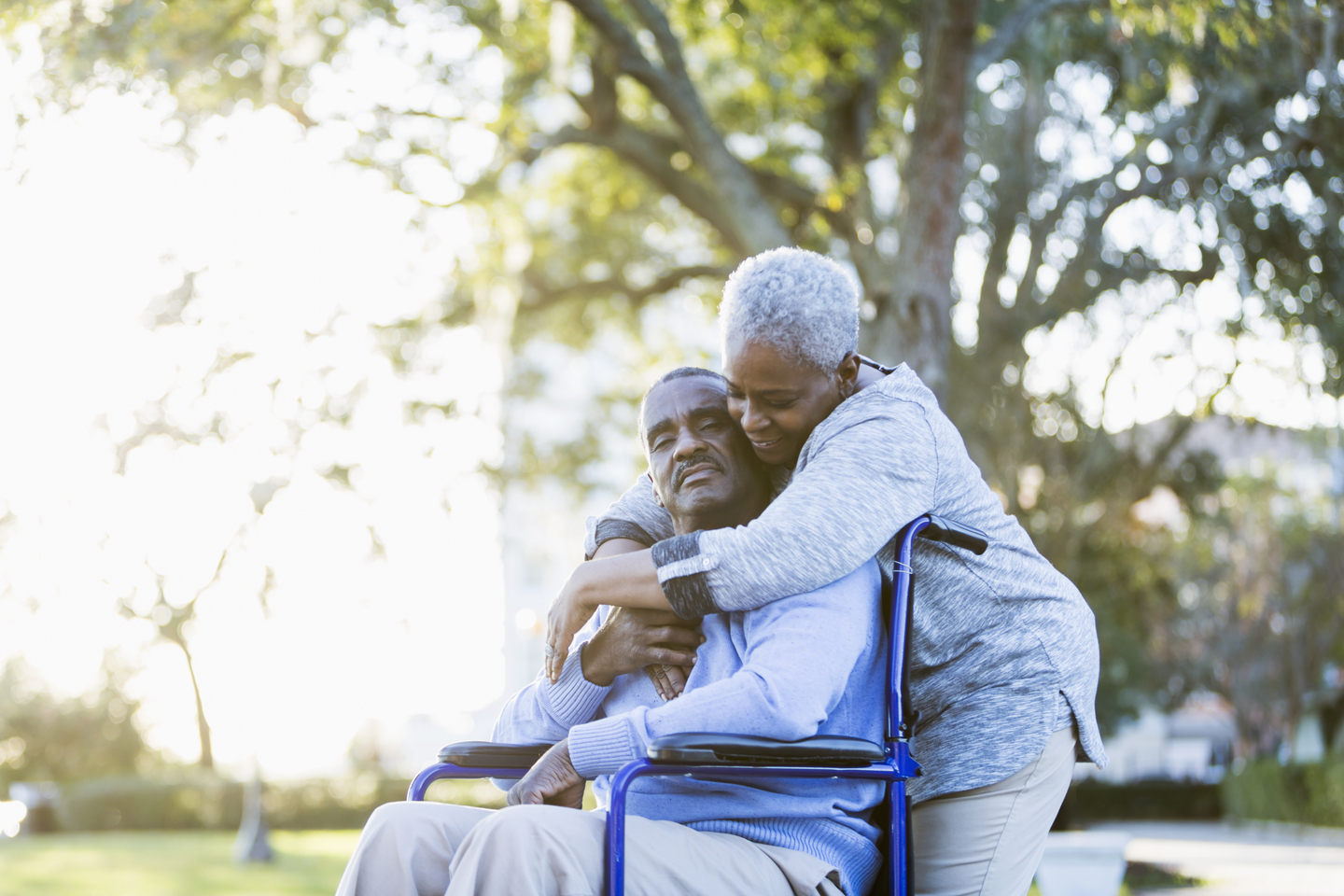 Stroke treatment in Palm Beach County, Florida
When you or a loved one come to HCA Florida JFK Hospital for stroke care, you are in trusted, experienced hands.
Our emergency care physicians are ready 24/7 to respond and treat incoming stroke patients. Because stroke recovery can extend beyond treatment in the emergency room, our specialized stroke care continues through our specialized intensive care unit and comprehensive stroke rehabilitation services.
Stroke is a medical emergency
If you believe someone is experiencing a stroke, call 911 immediately.
If you believe someone is experiencing a stroke, call 911 immediately.
Related specialties
Learn more about our related specialties
Our comprehensive stroke care program
We offer complete stroke care services, from initial diagnosis and treatment through rehabilitation and recovery. This is to ensure you have access to the high quality care and support you need. 
Locally and nationally recognized stroke center
Our hospital is nationally recognized for our advanced stroke services. We have been recognized by The Joint Commission as a Comprehensive Stroke Center, and we've been awarded the American Heart Association's Get With The Guidelines — Stroke Gold Plus Quality Achievement Award.
Multidisciplinary stroke treatment team
When you choose us for your emergency and continued stroke care, you gain access to a multidisciplinary team of professionals who are dedicated to you and your recovery. Our stroke care team includes:
Diagnostic and interventional radiologists
Emergency medical services (EMS) providers
Emergency physicians
Intensivists and hospitalists
Neurointerventionalists
Neurologists
Neuroradiologists
Neurosurgeons
Neurology-trained nurses and staff
Treatment for stroke
Our staff is skilled at immediately determining the best treatment plan through rapid diagnosis and treatment. Our emergency room (ER) is open 24/7, so we are always prepared to provide top-level care for incoming stroke patients.
Expedited computerized tomography (CT) scans and/or magnetic resonance imaging (MRI), combined with a neurological consultation, are used to make an accurate diagnosis and help determine the best course of treatment.
Hemorrhagic stroke treatment
Our specialists are experienced in several methods to treat hemorrhagic strokes, including:
Coiling and clipping of aneurysms: involves cutting off blood flow an aneurysm (coiling) or placing a tiny tip across the aneurysm to prevent bleeding (clipping)
Ventricular drainage: a procedure that relieves pressure caused by fluids in the brain
Ischemic stroke treatment
We also provide specialized treatments for ischemic strokes, including:
Cerebral stenting: the placement of stents in the arteries of the brain to maintain proper blood flow
Intra-arterial tPA: an endovascular catheterization procedure to disperse a blood clot using locally injected tPA
Mechanical thrombectomy: a treatment method for removing large blood clots through the use of catheterization and stent placement to restore blood flow
Tissue plasminogen activator (tPA) administration: intravenous administration of tPA, a blood-thinning, clot-busting drug that restores blood flow to the brain. Our 2022 door to median time for alteplase was 27 minutes.
Neurological intensive care
After initial treatment, patients continue receiving specialized stroke care in our Neuro Intensive Care Unit (Neuro ICU). Nurses in this unit have expertise in neurological assessments and provide comprehensive intensive care and education to stroke patients and their families.
Stroke rehabilitation
We offer a specialized stroke rehabilitation program as part of our physical therapy and rehab services so patients can receive professional, high quality help to regain their independence and quality of life. Our program incorporates aspects of physical therapy, occupational therapy, speech therapy and psychological assessment.
Physical therapy (PT)
For most patients, physical therapy (PT) is the cornerstone of the rehabilitation process. A physical therapist uses exercises and physical manipulation of the patient's body with the intent of restoring movement, balance and coordination. The aim of PT is to have the patient relearn simple motor activities, such as walking, sitting, standing, lying down and the process of switching from one type of movement to another.
Occupational therapy (OT)
Another type of therapy involving relearning daily activities is occupational therapy (OT). OT also involves exercise and training to help the patient relearn everyday activities, such as eating, drinking and swallowing, dressing, bathing, cooking, reading, writing and toileting. The goal of OT is to help the patient become independent or semi-independent.
Speech therapy
Speech and language problems arise when brain damage occurs in the language centers of the brain. Due to the brain's ability to learn and change (called brain plasticity), other areas can adapt to take over some of the lost functions. Speech therapy helps patients relearn language and speaking skills or learn other forms of communication.
Psychological support during stroke recovery
Many stroke patients need mental health and wellness support following a stroke. Psychological problems, such as depression, anxiety, frustration and anger, are common post-stroke symptoms. Talk therapy, along with appropriate medication, can help alleviate some of the mental and emotional problems that result from stroke. Sometimes it is also beneficial for family members of the stroke patient to seek psychological help as well.
Understanding stroke
A stroke is a serious medical condition that requires immediate emergency care, which is why being knowledgeable about stroke can help save a life.
Types of stroke
A stroke is caused by interrupted blood flow to part of the brain. When blood flow is stopped, that part of the brain can't receive oxygen and other nutrients. This causes brain cells to die and can result in permanent damage, even death.
There are different types of strokes, including:
Hemorrhagic stroke: when a blood vessel ruptures and blood leaks into the brain
Ischemic stroke: when a blood clot blocks blood flow to part of the brain
Transient ischemic attack (TIA) or "mini stroke": when there is temporary interruption of blood flow to part of the brain
Stroke symptoms
It's important to be able to recognize signs of a stroke so you can act quickly when they occur. Common stroke symptoms include sudden:
Confusion
Dizziness
Loss of balance or coordination
Numbness, weakness or paralysis of the face, arm or leg (especially on one side of the body)
Severe headache with no known cause (may be accompanied by pain in the face or stiffness in the neck)
Trouble seeing in one or both eyes (such as blurred, blackened or double vision)
Trouble speaking
Trouble walking
The symptoms of a TIA are the same as those of a stroke, but they usually last only a few minutes. If you think you are experiencing a stroke, don't drive. Call 911.
Stroke risk factors
There are certain factors and conditions that may put you at risk for stroke. However, some of those conditions can often be treated. Some of the major risk factors for stroke include:
Being 55 years old and older
Having a family history of stroke
Having atrial fibrillation (AFib)
Having diabetes
Having heart disease
Having high blood pressure
Having high cholesterol
Having poor circulation
Looking for a location?
We also offer quality care at these other locations in our extended network.
The Healthy Living Blog
Fresh knowledge and insights in and around healthcare industry.
What's the connection between dementia and heart health? 
What's the link between dementia and heart health? Can having high cholesterol lead to developing Alzheimer's? Can having high blood pressure or diabetes lead to vascular dementia? Learn more about the connection between heart health and brain health.
What's the connection between dementia and heart health? 
What's the link between dementia and heart health? Can having high cholesterol lead to developing Alzheimer's? Can having high blood pressure or diabetes lead to vascular dementia? Learn more about the connection between heart health and brain health.
Your child has a concussion. Now what? 
What you need to know about recognizing telltale signs, knowing when to seek medical help and following the necessary steps to ensure a safe and effective recovery.