Calvin Nesset's Story
Groundbreaking cardiovascular care enables patient to return to the dance floor.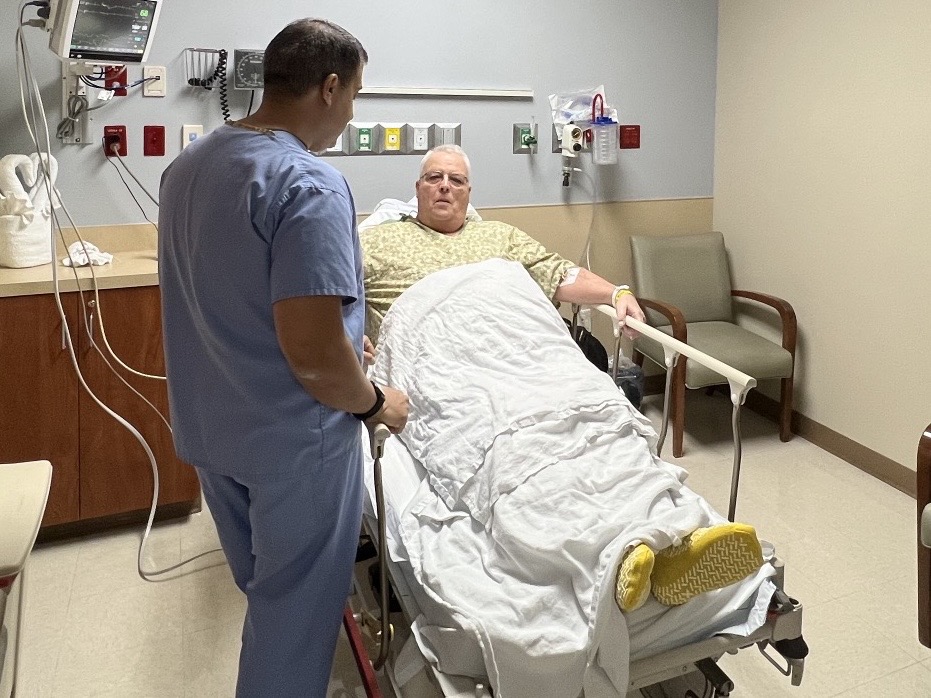 Groundbreaking cardiovascular care enables patient to return to the dance floor.
At HCA Florida Healthcare we're dedicated to providing excellent cardiovascular care for every patient. Our specialists, surgeons and expert care teams approach every heart as being unique, and work together to determine the best treatment plan for the individual patient while leveraging the latest technology and research. For Calvin Nesset of Kingsland, Georgia, this meant a groundbreaking new treatment that allowed him to return to ballroom dancing with his wife.
Nesset had been suffering from blood clots in his legs for around ten or more years. The 66-year old had been on the typical treatment of blood thinners, but the circulation in his leg was failing, causing swelling, pain, and turning the skin of his ankle purple. If not for a new treatment option the blood clot could cause him to lose his limb, or worse, it could travel to another organ like his lung and ultimately cost him his life. He sought out HCA Florida Healthcare interventionalist cardiologist, Dr. Mohannad Bisharat, for a solution.
Dr. Bisharat and the expert care team of HCA Floridas Memorial Hospital worked with Nesset and determined a deep vein thrombosis was the best treatment option. Although not a new procedure, the minimally invasive method of treatment was pioneered by Dr. Bisharat and his team three years ago. In doing so, the team also worked with hospital leadership to establish the Pulmonary Embolism Response (PERT) Team, which is on call 24/7.
Through a tiny incision at the back of the knee a small catheter equipped with a camera is inserted into the vein of the awake patient. In real-time the care team follows ultrasound imaging as the physician guides the catheter up to the blood clot and is ultimately able to remove it and restore blood flow. It's been shown to reduce hospital stays and provides a care plan that involves less medication for the patient. Research around their work suggests it could save thousands of lives and was featured in the Official Journal of the Society for Cardiovascular Angiography and Interventions this spring.
The entire procedure takes around 45 minutes, but the impact to the patient is life-saving. "Everything we've done here is geared towards improving the quality of life," explains Dr. Bisharat, "but the other advantage is we've eliminated the chance of other blood clots to break off and go to the heart or lungs and cause more damage."
If you're interested in learning more about Nesset's surgery and hearing from Dr. Bisharat, check out this video created as part of a story with First Coast News.
Connect with a cardiologist
HCA Florida Healthcare physicians, like Dr. Bisharat, perform more than 115,000 cardiovascular-related procedures every year and are currently participating in approximately 30 cardiovascular clinical trials. We are proud to say that more physicians in Florida recommend cardiologists practicing in the HCA Florida Healthcare network than any other Florida health system. This is a sign of our dedication to you and your family, and our ability to uphold and surpass high standards of care across all of our cardiology programs. This includes achieving the highest levels of clinical performance and more than 80 cardiovascular recognitions in 2022 from Healthgrades.
Published:
August 04, 2023