Trauma center
Trauma centers provide highly-trained physicians, specialists, critical care nurses and support staff who are available around the clock to care for your most serious healthcare needs. Trauma centers often provide burn care for individuals suffering from minor to severe burns.
Trauma surgeons in Miami
When you or a loved one has experienced a severe injury, you can trust HCA Florida Kendall Hospital to be there for you.
We have earned the designation of Level I Trauma Center from the Florida Department of Health and are verified as a Level I Trauma Center by the American College of Surgeons. HCA Florida Kendall Hospital is one of only two trauma centers in Miami-Dade County. As a Level I Trauma Center, we are proud to offer the highest level of trauma care to both adults and children.
Related specialties
Learn more about our related specialties
Chest Wall Injury Center in South Florida
Our specialized team follows the Chest Wall Injury Society's guidelines to treat patients with chest wall injuries from mild to severe. Our multidisciplinary approach and minimally invasive techniques help patients recover quickly.

HCA Florida Kendall Hospital has the only Chest Wall Injury Center in South Florida. As a Level 1 Trauma Center, we can better manage complex chest wall injuries and rib fractures. Quality of procedures is assured by thorough internal quality assurance, leading to excellent outcomes for our patients.

Features of our Level I Trauma Center
Our Level I Trauma Center in Miami offers:
Anesthesiologist available 24/7
Commitment to teaching and research efforts related to advancements in trauma care
Continuance of care through physical therapy and rehabilitation as well as behavioral health services
Dedicated operating room for trauma surgery
Highest level of trauma care available
Immediate access to a full range of specialists
Advanced technology and medical equipment
Support group for trauma patients and their families
Trauma education and prevention to local communities
Trauma surgeon on site 24/7
Trauma team
Our trauma team is led by a trauma surgeon and may also include:
Case managers
Emergency medicine physicians
Heart surgeons
Neurosurgeons
Orthopedic surgeons
Paramedics
Radiologists
Respiratory therapists
Social workers
Trauma nurses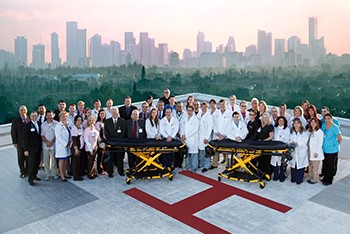 The difference between a trauma center and an emergency room (ER)
Our trauma center is a special division within our emergency department.
It is equipped to provide emergency medical services to patients suffering extreme, life-threatening injuries, such as gunshot wounds, severe burns and traumatic car crash injuries.
We are able to provide rapid assessment of injuries so you can receive the treatment you need quickly. Additionally, a trauma surgeon will be available within minutes of your arrival.
---
The difference between a trauma center and an emergency room (ER)
Dr. Mark McKenney describes trauma care's "Golden Hour"
Dr. Mark McKenney discusses the critical one-hour window that occurs after a patient is subjected to trauma, and the specific measures that should be taken during this time.
Your Level I Trauma Center in South Florida
Kendall Hospital offers a level one trauma center for adults and pediatrics, providing the highest level of care for the most urgent trauma cases.
Looking for another location?
We also offer quality care at these other locations in our extended network.
Our Trauma center Locations