Breast cancer
Breast cancer is most common in women, but can also affect men. Often, breast cancer is detected through a lump in the breast or a noticeable change in the size, shape or skin of a breast. Mammograms are crucial for diagnosis and early detection of breast cancer.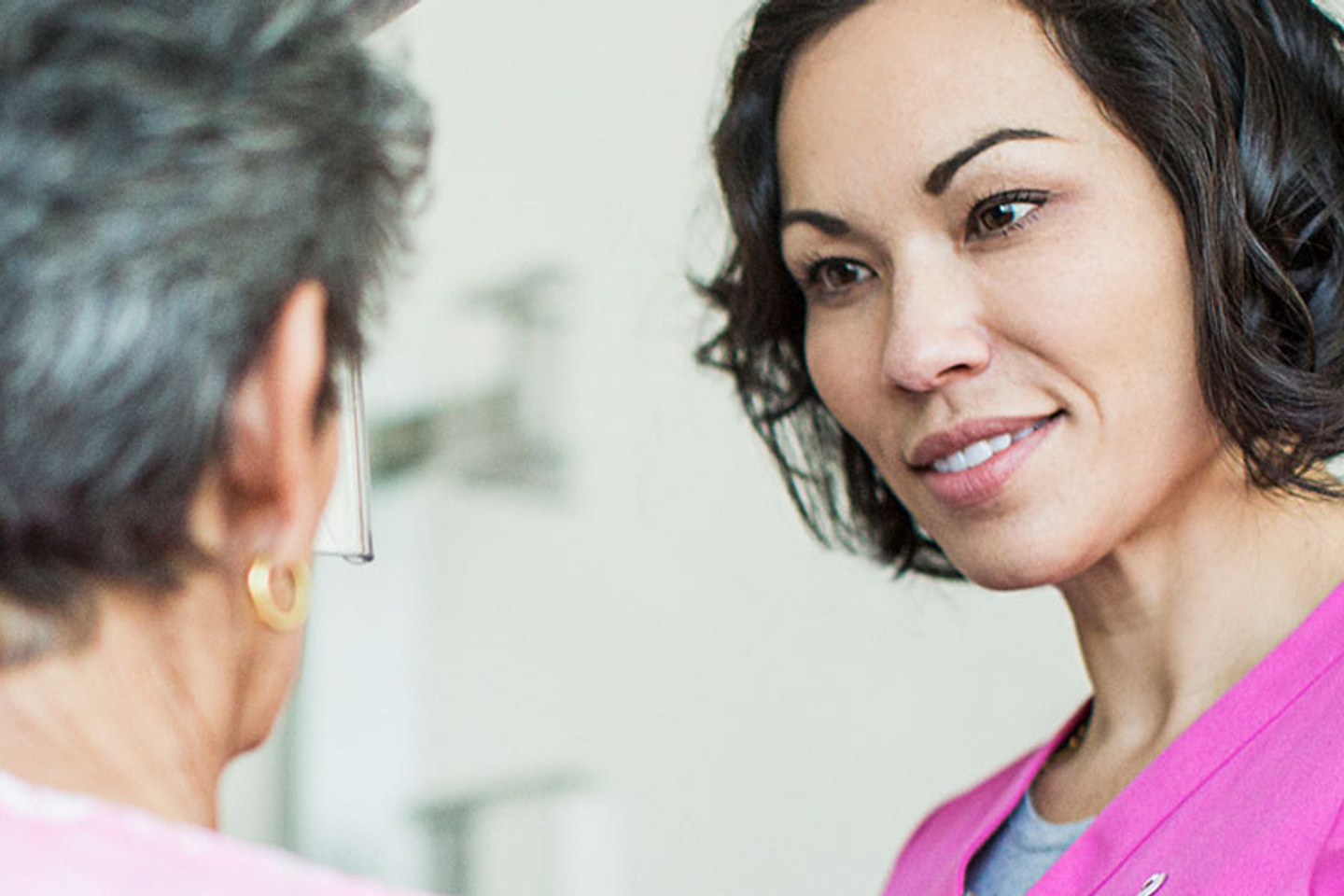 Breast cancer care in Gainesville
The Breast Center at HCA Florida North Florida Hospital is dedicated to the early detection of breast disease.
We offer truly comprehensive breast care. From breast screening and imaging to breast cancer treatment, we are here to detect cancer early and provide the care you need to get well. We partner with Sarah Cannon, the Cancer Institute of HCA Healthcare, to offer our patients advanced treatments and access to our entire network of resources.
Screening mammogram
You can now schedule a screening mammogram online.
You can now schedule a screening mammogram online.
Related Specialties
Learn more about our related specialties.
Types of breast cancer we treat
There are multiple types of breast cancer. Our cancer care team diagnoses and treats:
Anaplastic large cell lymphoma
Breast cancers caused by BRCA gene mutations
Breast cancer during pregnancy
Breast cancer in men
HER2-positive breast cancer
Hormone receptor-positive/ER-positive breast cancer
Inflammatory breast cancer
Lymphedema
Triple-negative breast cancer
Rare breast tumors
Our breast cancer treatment program
Our breast care program offers the latest in breast health screening and diagnostic procedures to advanced cancer care.
Accredited cancer care
We are recognized as a Comprehensive Community Cancer Program by the American College of Surgeons' Commission on Cancer. This designation reflects our dedication to providing full-service, high-quality cancer care to our community.
Our wide range of services, including:
Breast cancer nurse navigation
Clinical trials through Sarah Cannon
Diagnostic breast biopsies, including sentinel node studies
Financial counseling
Genetic counseling
Lymphedema therapy
Multidisciplinary care
Survivorship planning
For questions about our breast cancer services, please call askSARAH at (352) 339-7000.
Breast cancer diagnostics
Depending on your symptoms and the location and size of your tumor, our team will order tests to learn more about your condition. These tests may include additional diagnostic imaging, blood work, biopsies and/or surgical procedures to accurately diagnose and stage your cancer.
Breast cancer treatments
Your nurse navigator and team of doctors will work together to identify the best treatment option for you. We offer the following breast cancer treatments:
Access to clinical trials through our partnership with Sarah Cannon
Breast surgery
Breast reconstruction
Medical oncology

Chemotherapy
Hormone therapy
We also connect our patients with cancer rehabilitation services to help them regain strength and endurance following cancer treatment.
Reconstructive surgery
Following a lumpectomy or mastectomy, many women may choose to undergo a breast reconstruction. This is a surgical procedure that recreates a natural breast shape and allows for daily comfort and ease without any need for a prosthesis.
We know the choice to undergo reconstructive surgery is a personal one. Our breast health specialists include general and plastic surgeons who are happy to discuss surgical options with you.
Lymphedema care
We design a personalized treatment plan based on a comprehensive evaluation by our certified specialists.
What is lymphedema?
Lymphedema is a chronic condition that occurs when the lymphatic system is impaired resulting in swelling of the limbs or other parts of the body. Lymphedema is a serious condition because of the long-term physical and psychosocial consequences for the patient.
Is lymphedema preventable?
There is not medical proof lymphedema can be prevented. But early detection and adherence to our treatment plans designed by a certified lymphedema specialist will help reduce the lymphedema symptoms, prevent the progression of the disease and improve your daily life.
How is lymphedema treated?
Treatment may include manual lymph drainage, range of motion exercises, stretching and strengthening program, pressure garments and patient education on how to manage activities of daily living.
Upon completion of your physical therapy, we will provide you with guidance for self-management and a home exercise program. You may also participate in our cancer fatigue treatment program, offered through our partners at ReQuest Physical Therapy.
Our breast cancer care team
Our breast cancer specialists include:
Medical, surgical and radiation oncologists
Plastic surgeons
Breast imaging technologists
Pathologists
Genetic counselors
Nurse navigation
Our compassionate nurse navigators are here for you throughout your breast cancer journey, from cancer discovery to post-treatment recovery.
The goal of our nurse navigators is to provide the support you need as you go through the stages of living with cancer. This may include understanding your diagnosis, discussing available treatment options, providing educational resources and coordinating your care with the rest of your healthcare team.
Your nurse navigator serves as your advocate and helps you and your family understand each phase of treatment. They are here to provide guidance and support throughout your care.
Support services
Together with The Cancer Center, we host support groups at no cost. Our goal is for cancer survivors to find love, support and encouragement in an atmosphere filled with people who share similar experiences.
Our support groups include:
Yoga for cancer patients — This group is offered Monday at 6:00pm. For more information, please email erin@whereintheworldyoga.com.
Breast cancer support group — This group is offered the second Tuesday of each month at 6:00pm. For more information, please email gnvbreastcancer@gmail.com.
These groups take place in the Health and Healing Place at The Cancer Center.
Sarah Cannon Cancer Institute
HCA Florida North Florida Hospital is part of Sarah Cannon, the Cancer Institute of HCA Healthcare.
About Sarah Cannon Cancer Institute
We are part of Sarah Cannon, the Cancer Institute of HCA Healthcare. Our family of hospitals provides comprehensive cancer services with convenient access to cutting-edge therapies for people facing cancer in our communities. From diagnosis to treatment and survivorship care, our oncology expertise ensures you have access to locally trusted care with the support of a globally recognized network.
---
askSARAH helpline
Have cancer questions? We can help. askSARAH is a dedicated helpline for your cancer-related questions. Our specially trained nurses are available 24/7, and all calls are confidential. Contact askSARAH at (352) 339-7000.
---
About Sarah Cannon Cancer Institute
The Healthy Living Blog
Fresh knowledge and insights in and around healthcare industry.
June 28, 2022
Tayla Holman
Sarcoma is a rare type of cancer that arises in the musculoskeletal system.
June 28, 2022
Tayla Holman
Sarcoma is a rare type of cancer that arises in the musculoskeletal system.
Looking for another location?
We also offer quality care at these other locations in our extended network.