Pediatric emergency care
Specialized staff provide pediatric emergency care in a pediatric-friendly emergency room (ER). Highly trained pediatric doctors and nurses use child-sized medical equipment to evaluate and treat your child for medical emergencies.
Pediatric emergency room (ER) in Panama City, Florida
When your child needs emergency services in the Panama City Beach area, our doctors and nurses provide compassionate care.
At HCA Florida Gulf Coast Hospital, we have a 24/7 pediatric emergency department designed for children of all ages. Our board-certified pediatricians work with you and your child to deliver personalized care in a kid-friendly environment. Should your child need to be admitted to the hospital, we provide the region's only pediatric intensive care unit (PICU).
If you think you may be experiencing a medical emergency, call 911 immediately.
Related specialties
Learn more about our related specialties
Pediatric emergency conditions we treat
We offer specialized care and treatment for pediatric patients who have experienced:
Drug overdoses
Illnesses
Injuries, including traumatic injuries
Poisoning
Respiratory failure
Severe infections
Other pediatric emergency conditions
Our children's emergency department
Our children's emergency room was designed with you and your family in mind.
Full-service pediatric emergency care
Our children's emergency room is staffed with pediatricians trained in emergency medicine and nurses and support staff trained in pediatrics. We also provide convenient access to numerous specialists, including pediatric surgeons.
We understand children have unique needs, especially in the hospital environment. That's why we provide:
Kid-friendly rooms
Pediatric-specific beds
Pediatric triage
Pediatric intensive care
With our hospital's critical care expansion, children can receive the highest level of care available within the region, right here in Panama City. We offer the region's only PICU where we care for critically ill and injured infants, children and adolescents.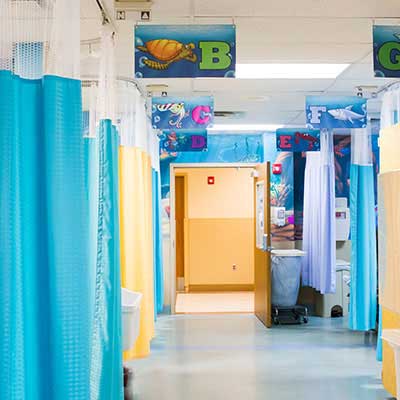 The Healthy Living Blog
Fresh knowledge and insights in and around healthcare industry.
Your child has a concussion. Now what? 
Children and young adults who participate in sports have a higher chance of concussion. Here are some telltale signs for when you should seek medical help.
Looking for a location?
We also offer quality care at these other locations in our extended network.
Our Pediatric emergency care Locations