Transitional Year Residency Program at HCA Florida North Florida Hospital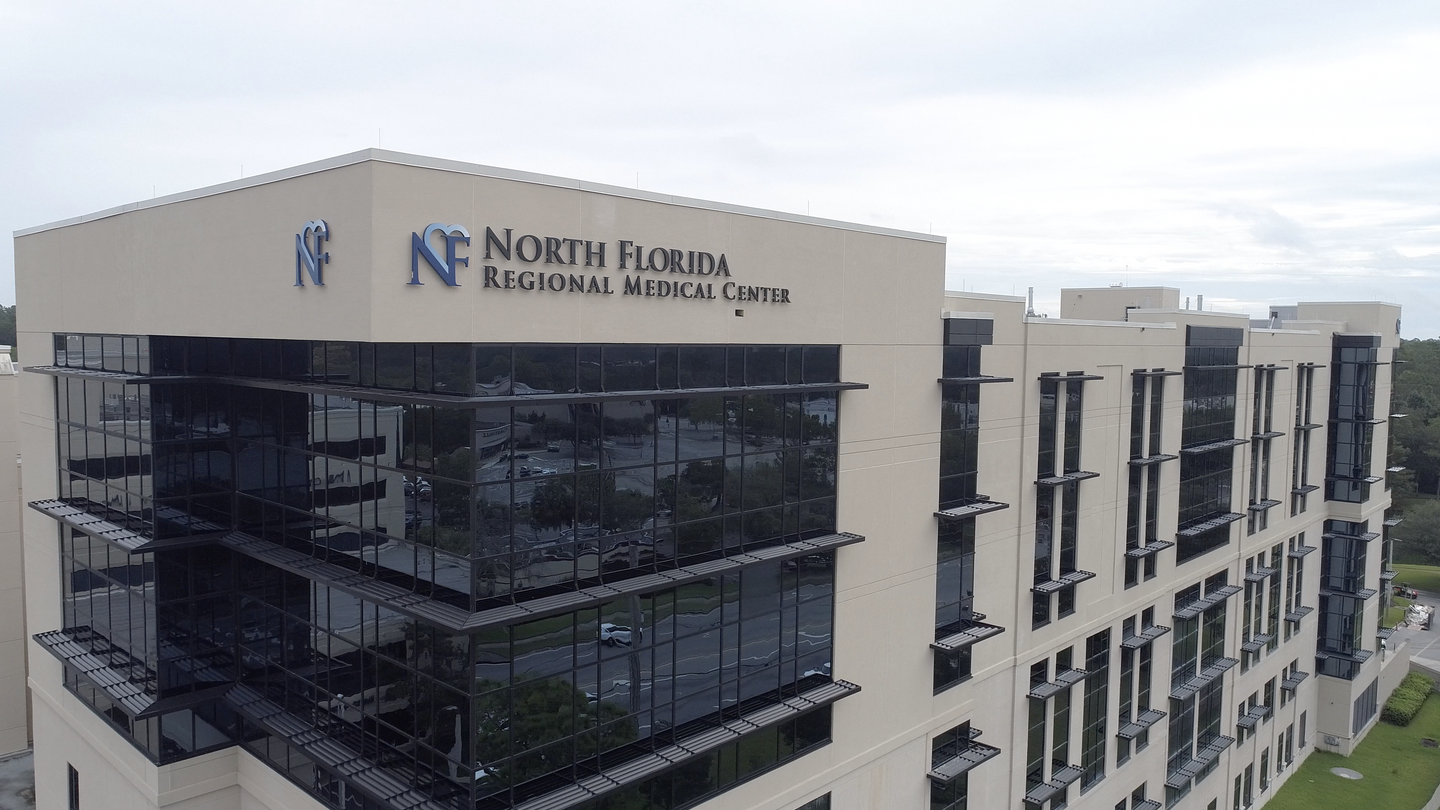 Welcome from our Program Director
Welcome to our Transitional Year Residency Program at HCA Florida North Florida Hospital in Gainesville, Florida! Our program is affiliated with the University of Central Florida School of Medicine in Orlando. Our program faculty strive to recruit a diverse array of applicants who require a Transitional Year internship prior to beginning their secondary specialty program.
NRMP: 1587999P2
ACGME: 9991100242
Have any questions? Reach out to us!
For more information, please contact our program coordinator.
Program overview
Fully accredited by the Accreditation Council for Graduate Medical Education (ACGME)
Medical school affiliation: University of Central Florida (UCF) School of Medicine
Program type: community-based
Resident positions: 12 residents accepted per year
Curriculum/rotation: patient care, research, community service and leadership amid a backdrop of physicians practices and hospital clinical services.
The Transitional Year Residency Program is designed to provide a comprehensive educational experience in an integrated health care delivery system. The residency endorses a team approach to patient care and progressive levels of independent decision-making in order to prepare interns for their future residency program training.
We are ACGME accredited for up to 12 residents per year. Our program will evaluate resident performance based on ACGME's Transitional Year Milestones. We complete evaluations regularly throughout the year.
The program promotes and supports shared responsibility by both residents and attending staff in a collegial and intellectually stimulating environment that imparts knowledge and skills in the areas of patient care, research, community service and leadership. The program works collaboratively with physician practices and hospital clinical services.
Our hospital is part of the UCF/HCA Healthcare Consortium. It is a 510-bed facility that specializes in cardiovascular, oncologic, neuroscience, orthopedic, surgical, and women's health services.
Curriculum
Our expertly crafted programs are designed to provide residents and fellow physicians with all the experiences and training necessary for professional success.
Our Program Director and staff
Our team is comprised of skilled experts with deep experience and knowledge from which residents and fellows can benefit.
Program details
Salary
Residents in ACGME accredited programs sponsored by the Consortium have many of the same benefits as regular UCF employees. However, there are differences in the retirement plans and the leave policy for residents.

Transitional Year: $58,191
The above salary is for the 2022-2023 fiscal year and may differ from future years' stipends.
---
Leave
15 days paid vacation per year for PGY1 residents
10 days paid sick time per year
Up to five days continuing education (Conference attendance, residency interviews, board review, etc.)
Denial of a specific request for vacation is a leadership decision on the part of the officers of the program and is not considered a grievance
It is strongly encouraged that residents review the board eligibility requirements for their own specialty. Many boards require 33 months of training. Paid leave (e.g., vacation, sick) cannot be accumulated or carried over from contract year to contract year. It is at the discretion of the program director to require verification from a clinical provider.
---
Insurance
Our Human Resources website for UCF provides many details of the types of insurance provided to residents.
Medical insurance
Disability insurance
Life insurance
Dental insurance
Other supplemental policies
---
Malpractice coverage
Residents are provided with professional liability coverage for $200,000/$1,000,000.
---
Step 3 exam
Our program is unique in that we will cover the cost of your Step 3 exam. Residents are encouraged to take it in the first 6 months, as they will also receive a free 6-month subscription to either UWorld or TrueLearn during orientation.
Unfortunately, residents who have already purchased their Step 3 exam's prior to our program starting are not eligible for reimbursement of those fees.
---
Technology devices
Residents will be issued an iPhone and laptop. Items will be returned at the conclusion of the residency. Please note that these items are not meant to be used for personal calls or activities.
---
Licensing/DEA
The cost for training licenses in the state of Florida will be paid by the program. Residents receive a "fee exempt" DEA certificate during their training, which can only be used at training sites.
---
Life support training
Costs incurred for obtaining required life support training (primarily advanced cardiac life support and basic life support), including any required renewals are covered by the program.
---
Parking
Residents may park in any area that is not designated as patient/visitor parking. This includes available spaces with the covered parking structures at the Medical Arts Building and the Main Entrance. Parking is always available in the GME lot, which is a short walk to the hospital.
---
Meals/snacks
Residents are provided lunch during most educational activities that occur over the lunch hour. Residents also receive a monthly $100 stipend, referred to as Knight Bites, that they can use within the hospital cafeteria/shops for snacks and meals.
---
Uniform
The program will provide one laboratory coat per academic year.
---
Educational fund
Each resident in our program is provided a $450 budget for educational purchases (books, conferences, training, etc.)
---
Resident call rooms
The call rooms located in the basement of the Women's Center are dedicated to the use of the residents. There are 11 call rooms and several shower facilities available. There is also a resident lounge area with outlets for charging electronics. This is available when not in use for group or individual program activities.
---
VPN accounts
VPN accounts for home access to our hospital's medical records and library resources.
---
Mission statement
The HCA Florida North Florida Hospital Transitional Year program's mission is to develop the next generation of physicians and physician leaders.
As a part of HCA Healthcare, we are driven by a single mission: Above all else, we are committed to the care and improvement of human life.
This program is designed to offer residents a rewarding, educational environment where residents are provided individualized learning opportunities by faculty and staff who support and sustain one another throughout quality care delivery. Our faculty are committed to ensuring the residents' clinical experience and educational needs are fulfilled while expanding residents' perspectives to be inclusive of cultures, values, and ideals.
Frequently asked questions about our HCA Florida North Florida Hospital Transitional Year Program
You can find answers to the most common questions about our program below.
How many residents are accepted each year?
We are ACGME accredited for up to 12 residents per year.
What is your accreditation status?
We have received continued accreditation effective December 5th, 2022.
Will I be considered for a position in your other programs if I complete my transitional year at HCA Florida North Florida Hospital Transitional Year program?
Your participation in our transitional year program does not automatically grant you consideration for or a position in any other HCA Florida programs. Please reach out to the Program Director to inquire further.
Will completing this program fulfill the requirements for a preliminary year in my chosen specialty?
The block schedule for transitional year residents is customized to align with the requirements for such a year for each chosen specialty. The specialties that require a preliminary year are as follows: Anesthesiology, Dermatology, Diagnostic Radiology, Nuclear Medicine, Ophthalmology, Osteopathic Neuro-musculoskeletal Medicine, Physical Medicine and Rehabilitation, Preventive Medicine and Radiation Oncology. The specific requirements for each specialty can be found on the ACGME website.
Do you offer medical student rotations?
We do not offer rotations in the transitional year program at this time. Learn about other medical student rotation opportunities.
Do you have a USMLE/COMLEX score requirement?
There is no specific requirement, but the recruitment committee will take scores into consideration when reviewing applications. Of note, Step 1 and Step 2 need to be passed prior to the submission of the rank order list.
Is the program university or community-based?
Our program is university-sponsored and community-based. We are affiliated with the University of Central Florida. Residents will be rotating at North Florida Regional Medical Center, a 510-bed community hospital.
When will my insurance take effect?
Insurance will be available with a July 1st start date, as long as you pay the first month in advance (prior to your residency starting, further details to come). Otherwise, your health insurance benefits will begin on August 1st.
Which types of benefits do you offer?
Learn more about our benefits information.